From fluctuating commodity prices to possible rate hikes, we can only be sure of one thing in today's market: uncertainty. To be fair, if you are investing in equities (SPY, DIA, QQQ), you should be willing to accept uncertainty; because if you panic, you'll lose (read "What To Do During A Crash"). However, it never hurts to be prepared. Today, I'll talk about three sectors/industries that I don't like.
mREITs
Mortgage REITs are offering some of the highest yields right now. Annaly Capital (NYSE:NLY) is currently yielding 11%, and American Capital Agency (NASDAQ:AGNC) is yielding almost 13%. These are truly attractive yields for an income investor. However, danger lurks right around the corner.
When we think about companies that can afford regular dividends, we typically think about stable companies like Procter & Gamble (NYSE:PG), Wal-Mart (NYSE:WM), and any number of utility companies (NYSEARCA:XLU) - not companies that live and die by the yield curve. However, some mREITs were able to maintain stable payouts. For example, Annaly paid $0.30/quarter throughout 2015, and the company recently confirmed it will be maintaining the dividend.
The hidden problem is that many mREITs that invest in fixed-rate MBS will have their margins compressed significantly as the Fed increases the interest rate. Because these companies take on huge leverage in order to take advantage of the paper thing spread between short and long-term rates, even a minute increase in short-term rates will completely eliminate their profits. However, because many companies still have substantial book value, they can afford to maintain the existing dividend payout. This creates a false sense of security for investors.
Airlines
Full disclosure: The V20 Portfolio has a position in Spirit Airlines (NASDAQ:SAVE). Am I not eating my own cooking? Not necessarily. As I've mentioned in other articles, an investor can look for value in all places, even if the industry is not particularly attractive.
Airline stocks didn't do very well in 2015, with the industry index (XAL) falling 20%. This occurred despite record profits, as fuel prices declined along with oil.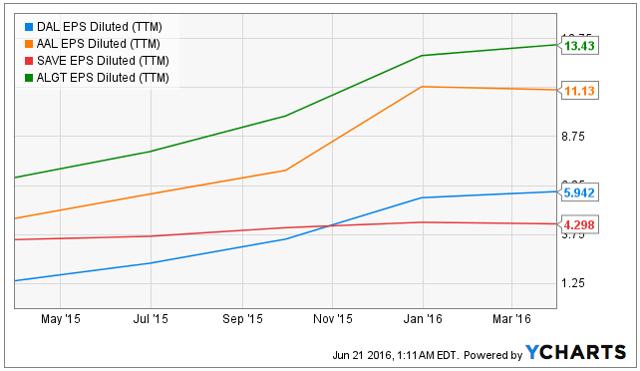 However, with oil climbing back up, airlines' margins may soon take a beating. So why am I holding Spirit Airlines? The general idea is that the company has one of the lowest operating costs in the industry, and it is growing rapidly; hence, I believe it will handily outperform its peers. It certainly has since the V20 Portfolio took a position in late October last year.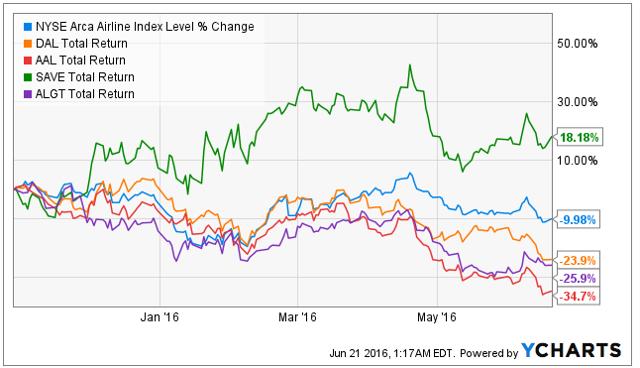 Oil & Gas E&P
Despite the fact that oil and natural gas have recovered significantly, many E&P players (NYSEARCA:XOP) are still operating at a loss. Given higher commodity prices and lower capex, some will achieve cash breakeven, or even generate excess cash; but over the long term, drilling must pick up for the company to sustain production, increasing the cash outflow.
Many have suggested that domestic production will continue to decline in the short term, and I concur. But as I've discussed in my other article (read "Oil Has Lost Steam"), we have been replacing the missing barrels with imports, so demand isn't outpacing total supply. Furthermore, the implication of falling domestic supply (which energy investors seem to like) is that more and more companies will go under. If new wells are not drilled (since companies are strapped for cash), production naturally declines until the company stops paying its bills. That's already the reality of many of the fringe operators. Until international supply cools down, I believe investors would do well to avoid pure-play E&P companies . If you wish to maintain some exposure to oil and gas, integrated majors such as Exxon Mobil (NYSE:XOM), BP Plc (NYSE:BP), or Chevron (NYSE:CVX) would be much better choices.
Click the "Follow" button beside my name on the top of the page to be updated with my latest insights. To learn more about the V20 Portfolio (+40% in 2015), whose goal is to compound capital at 20% over the long term, I encourage you to read the introduction to my investment process. Premium subscribers get full access to the V20 Portfolio. Track the portfolio through the latest update, here.
Disclosure: I am/we are long SAVE.
I wrote this article myself, and it expresses my own opinions. I am not receiving compensation for it (other than from Seeking Alpha). I have no business relationship with any company whose stock is mentioned in this article.