In my previous article here, I discussed rising default rates, falling recovery rates, record corporate debt, and a hawkish Fed looking for a rate hike in Sept. or Dec., as bearish indicators for the high yield bond market.
As leave fears have surfaced, the S&P has taken a hit, up until the Jo Cox shooting Thursday, after which the remain camp polls have rallied along with the S&P and general market sentiment. This can be seen by increasing investor risk appetite in the days following, as long term Treasury ETF TLT has fallen 1.5% since the shooting, and high yield corporate ETF JNK has risen almost 1%, while the S&P has also risen 1.5%. While not huge, these changes over a short period in direct response to Brexit sentiment are notable.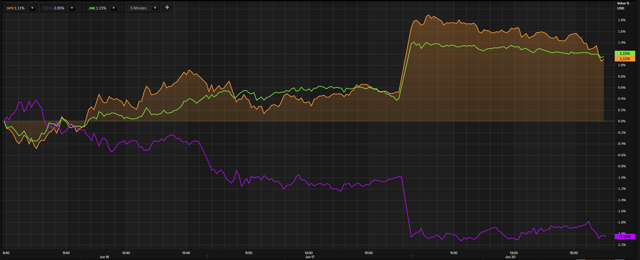 (Note that percent change displayed on the chart is slightly different, as up until news of the shooting became widespread, markets were still being repressed by leave fears.)
The Problem
Despite high yield inflows and safe haven asset outflows, the high yield market is still at risk. Markets have had a habit of aggressively pricing in changes in Brexit sentiment, and I don't believe it is a time to go long on high yield (or short Treasuries) as fundamentally, nothing has changed so far. A rally in high-yield assets as general market sentiment improves and a remain verdict is priced in is merely due to the fact that an investor looking for more yield may now feel that many equities and government bonds are becoming over valued. Just look at the S&P trading at just over 24x earnings (historical avg. 15.59x), the highest it has been since the 2008 crisis. Government yields around the world are likewise flirting with record lows.
With a positive outlook ahead and junk bonds yielding above the five year average, many will buy, but expecting a bullish high yield bond market is a mistake. Though personally I am inclined toward a remain verdict, a leave verdict would hit high yield markets doubly hard now. Following the upward trend and trying to profit on a macro level in the short term is akin to picking up pennies in front of a steam roller.
So... What Now?
I'm not going to reiterate my previous bearish thesis on the high yield market as the data driving it remains the same. Instead, I will say that Brexit leave/remain sentiment will continue to introduce widespread volatility across assets. As markets price in a remain verdict, asset reallocation towards junk bonds or a bullish position on the high yield corporate bond index as a whole may look tempting, but ultimately the potential reward is not worth the uncertainty and downside risk, especially in the event that Britain exits the EU.
As of now, I myself do not plan on initiating or closing any positions, only monitoring, in the days leading up to the referendum. While I do see a junk bond buying opportunity in the future, the short term is becoming increasingly uncertain, better now to ride the waves than try to capitalize on their timing and movement.
For those interested, here is an interesting chart to compare against broad market indices.

(Dates captioned along the chart are represented by the dark grey vertical lines.)
Disclosure: I am/we are short JNK.
I wrote this article myself, and it expresses my own opinions. I am not receiving compensation for it (other than from Seeking Alpha). I have no business relationship with any company whose stock is mentioned in this article.
Additional disclosure: This does not constitute as an offering of securities or a rendering of investment advice. All views expressed are those of BlackVault Investments, LP. I am receiving compensation from BlackVault Investments and Seeking Alpha.