It happens, from time to time, that brands presume they are more than what they are; that they believe they are "irreplaceable" and "unique". They start to believe their own advertising and their own press and set a course for failure. That's what's happening now with Michael Kors (NYSE:KORS).
KORS is what is known in the trade as an "'accessible' luxury brand". Lay people would call it a middle-market or, less charitably, a "second tier" brand.
Such brands are fine, in their own right. They appeal to a category of mostly professional women because they are both fashionable and affordable.
But they are obviously not of the caliber of more venerable brands like Louis Vuitton, Prada, Fendi or Gucci. They make a lot of money from middle-market consumers in the short term; then, they plateau as their styles and brand become ubiquitous, then move into less mature markets in Asia. But after that, they become veritable commodity brands; the stuff of flea markets and discount stores. In the words of Mario Ortelli, a senior brand analyst at Sanford C. Bernstein,
"Accessible luxury brands enjoy a lot of success, but only for a limited period of time. Most of them expire after a few years, but they try to keep on going as long as possible."
KORS is following the typical model for accessible luxury brands: saturate the primary domestic and European market and then move overseas to exploit that market; then, try to develop new domestic markets (men's, juniors, children's, etc.) and new product lines, either owned or licensed, (watches, shoes, "wearable tech", fragrances, etc.) to remain relevant at home. The strategy rarely works for more than a decade or so; usually less.
Unlike Prada, Valentino, Gucci or the other first tier luxury brands, KORS lacks the art of sprezzatura, the art of effortless, graceful, understated elegance that defines luxury branding. Instead, KORS designs sometimes mimic the designs of venerable luxury brands.
KORS simply tries too hard to be a "luxury brand" and offers little beyond its name and logo on its offerings and an aspirational advertising campaign of a fantasy "jet set" lifestyle that appears, frankly, somewhat tacky. Think "Baume-Mercier"; then think "Swatch". Then think Swatch is using Baume-Mercier's ad agency and advertising media platforms.
But KORS seems to genuinely think - or wants its investors to believe - it is a genuine "luxury" brand in the same league as the older, better-established, luxury brand names. And its management is basing its business strategy - erratic, unfocused, and grandiose - on that presumption.
I'm afraid the outcome won't be pretty because there really is very little, at this point, to distinguish KORS from every other accessible luxury brand.
At various time in the earnings call June 1, KORS CEO John Idol said,
"We sit next to the finest luxury brands from Europe, whether it's Vuitton or Prada or Gucci. We're right in the same shopping mall, same streets, etcetera.

"We're a retail company".

"I'll say Fitbit is a competitor of ours".
Is he kidding?
THE KORS STRATEGY
Michael Kors growth as a luxury brand has been slowing in the US and Europe for some time, as most other accessible luxury brands have. It's reflected in their stock prices: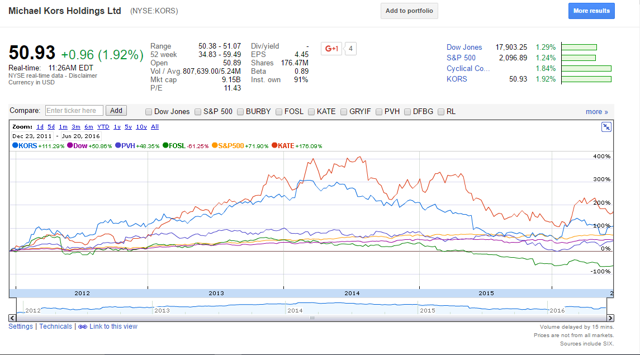 Source: Google Stock Charts
KORS strategy to remain relevant and profitable appears to be desultory and, in my opinion, of limited consumer appeal, even assuming its multiple prongs can be executed. Its current strategy is destined to guide it along the well-trod path of its accessible luxury brand predecessors, most of which no longer exist.
First, KORS wants to cut its wholesale inventory to limit discounting by third-party retailers so as to preserve margins. But the reason the retailers are discounting is because the designs didn't sell. That suggests a "spaghetti" design and inventory management strategy: throw it out to the marketplace and see if it sticks. That's not how smart companies launch designs.
Second, among other things, KORS envisions it can execute a new multi-pronged strategy: a men's fashion label; "smart jewelry" and "wearable technology", along the lines of the Apple (NASDAQ:AAPL) Watch and the Fitbit (NYSE:FIT); bring its ecommerce in-house; pursue a "billion-dollar market" in China; and successfully bring foreign KORS brand licensees in-house.
A Delve Into the Numbers
To do so, KORS has and will spend heavily on executive talent, infrastructure and technology, which is one of the multiple reasons its operating margins are declining (by nearly four percentage points from FYE 2015 to FYE 2016). KORS retail operating margin dropped 3.6% and its wholesale operating margin dropped 1.9%.
For the year ended 2016, Operating Expense and SG&A increased a whopping 16.6% and 14.1%, respectively while revenues increased just 7.8%. The higher costs included $37.0 million in compensation related costs and $12.2 million in store advertising and promotional spending that management ties mostly to its 142 new additional stores.
All this while global same store sales increased just 0.3% or 1.5% in constant currency!
While European retail sales improved nicely thanks to a new Regent Street location, a new European distribution center, and mid-single digit comp sales, the most significant portion of the 7.8% revenue growth - more than 43% - came from expanded operations in Asia, strong double digit comps in Japan, and bringing Asian licenses in-house, as illustrated below: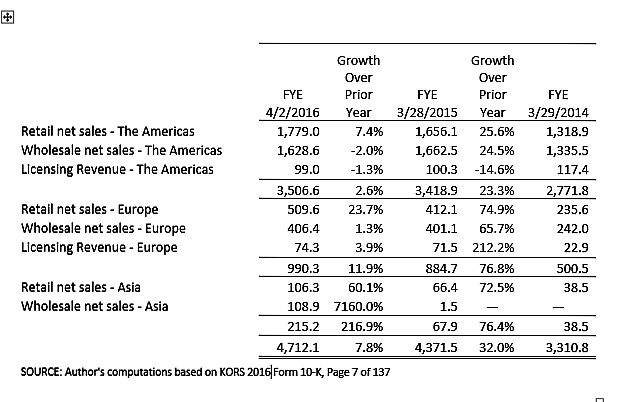 It's all well and good to grow a fashion label in new markets (here, Asia), but it can be disastrous to cannibalize the label's growth from existing markets for growth in developing markets, as other accessible luxury brands have learned. That's because developing markets mostly rely on Europe and North America to set global fashion baselines. Call it "imperialistic fashion", but it's true. Even in Japan, American and European luxury brands mostly set the fashion standard.
For the Michael Kors brand to survive over many more decades, it needs to maintain growth in its developed markets in Europe and North America. But that does not appear to be happening.
KORS revenue growth in retail sales can be largely attributed to the 142 new retail stores it opened, as well as decent comps in Europe and strong comps in Japan. But when one eliminates the growth from the Michael Kors retail stores and simply examines the much more stable wholesale market, where third party retailers buy Michael Kors products for resale based on the estimated market demand, one can discern that wholesale sales in the Americas and Europe actually decreased by 1.4%. While KORS is showing strong growth in Asia, that growth will only continue if KORS is a strong brand in Europe and North America.
EPS "Growth" by Financial Engineering
KORS has a $2 billion share repurchase program through March of 2018. From FYE 2015 to FYE 2016, the company repurchased 16.8 million shares on a fully-diluted basis.
Accordingly, fully diluted FYE 2016 EPS earnings of $4.44 was up 3.7% from FYE 2016, but would have been only $4.08, or down 4.8% from FYE 2015, had shares outstanding remained stable over the two years.
TIME TO JETTISON A FAILING STRATEGY
John Idols' strategy, as laid out in his earnings call, and as discussed above, seems to be to try to compete, head-to-head, with the more venerable, better-recognized, luxury brands to stay viable. I suspect that a half hour with a customer focus group would lead Idol or the board to jettison that strategy.
Its customers like KORS products because they like the design and they are mostly affordable. They know that KORS isn't Prada, but its products are "fashionable enough" without the outrageous price tags of the more venerable brands.
Get Real
KORS should embrace what it is: an accessible luxury brand for mid-scale and slightly upscale working and college-aged women; a costly, but not out-of-reach, brand for all but the furthest right portion of the Bell Curve of American and European working women.
The "jet-set lifestyle" KORS purports to represent as its customers' daily existence is disingenuous and, frankly, ridiculous. A KORS customer is more likely to be found riding an UBER or yellow taxi than a Lear Jet; more likely to pick up her child at day care than pick up dice in the gaming rooms of Monte Carlo. The "jet set" thing is simply stupid; they should just stop it. It actually detracts from the brand.
For China and other developing markets, KORS can stick to its faux "jet-set" branding with the yachts and helicopters, as that imagery can sometimes appeal to customers in newly affluent markets. KORS might even keep a wider array of products beyond leather goods for those markets. But it would be wise to focus-group each country before creating a "one-size fits all" marketing and advertising campaign for Asia, the Middle East, Latin American and South Asian markets.
Make Michael Kors be More Than "Just" a Brand
Instead of the phony "Jet Set" theme, KORS should adopt its brand to its customers' lifestyle: active, intelligent, hard-working, and, very often, involved and concerned with social issues like ethical sourcing, women's health and safety (breast cancer, domestic violence, child welfare, educational opportunities for women, and the hunger programs in which it is already involved.)
Michael Kors doesn't have to become the Bono of the fashion industry, but the brand would benefit immensely from a smart, targeted, re-launch of the "Michael Kors" brand around socially conscious causes.
Michael Kors substantial contributions to the World Food Program and "God's Love, We Deliver" are barely in the news and are relegated to only a small portion in the "Destination KORS" portion of the KORS website.
Having Michael Kors himself lead from the front as a high-profile charitable ambassador of the brand would engage a wider audience of prospective customers and earn the KORS brand free media in important media outlets besides the flipped pages of women's fashion magazines.
Small steps at the corporate level, like a formal policy for the ethical sourcing of products (no child labor, no sweatshops, prevailing national wage for manufacturers), co-branding of print advertising with selected charities, and a high profile Michael Kors Foundation annual "Kors Gala" devoted to non-controversial women's causes (think domestic violence and education, not abortion) would give the brand that extra panache that would allow women to wear the brand much more proudly than just the chintzy ads of purportedly wealthy, beautiful women and handsome men in their 20's exiting "their" helicopters. (This was much of the 2013 Kors ad campaign and one that it is continuing under its men's fragrance campaign. Unless you've been asleep, "The One Percent", even chimerical representations of the same, aren't terribly popular, even among upscale, professional, working people these days.)
Downsize the Retail and the Product Line
A visit to a KORS Flatiron retail store, about 12,000 sq.ft. of retail space, shows that it is dominated by handbags and wallets. Shoes and even the clothing on which Michael Kors first made his bones as a designer have far less space. There are just a half dozen or so mannequins mostly in the windows, with other clothing designs simply hung on a single six-foot long rack, as if they were in a college girl's dorm closet. There are also the licensed products like watches and jewelry which seem, frankly, out-of-place in what is, essentially, a handbag store.
KORS should stick to what it does best: handbags, wallets and leather goods. The fashion lines can be spun off or sold. They're not working.
Next, it should drop the majority of its "stand-alone" retail stores and concentrate its retail operations in a few, deluxe, "store-in-store" affluent shopping malls and stand-alone store locations. KORS needs to give up the notion of being a "retail company"; it's not. It's a brand and a label.
It's a mistake for KORS to have a Fifth Avenue location in about 12,000 sq. ft. at the corner of East 20th Street in the Flatiron district of Manhattan. It doesn't fit CEO John Idol's assertion that KORS stores sit "next to the finest luxury brands from Europe, whether it's Vuitton or Prada or Gucci." The Flatiron store sits near a bunch of running shoe stores [Nike (NYSE:NKE), New Balance] and across the street from Kate Spade (NYSE:KATE), another "accessible luxury" brand. There's a generic New York pizzeria a few stores down the block across the avenue. The venue is not quite in keeping with the image the brand purports.
KORS should instead concentrate on its prime Rockefeller Center location or even consolidate all its Manhattan stores into a single, higher-profile location with more signage further uptown, in the mid-50's, even if the bigger store itself runs at a loss. Most "uptown" luxury retailers lose money on their stores in high-profile shopping areas; they are simply marketing vehicles in tourist areas, as they should be for KORS. The print advertising that defines most luxury brands says, "London * New York * Paris* Tokyo * Hong Kong * Dubai"; it doesn't need to say "New York" multiple times.
KORS should keep or open shops in prestige shopping venues like Rodeo Drive, the Ginza, Bond Street, etc. But these stores will be mostly be showrooms; a way for the brand to say "we're players" in the luxury space.
KORS should substantially reduce its wholesale market to "store-in-store" shopping venues in more upscale stores like Neiman Marcus and Bloomingdales. Forget Target (where KORS is selling its fragrances, another product it should drop) or any other store where Michael Kors products will be displayed side-by-side with the same products under different names. Nothing cheapens an upscale brand than displaying it among scores of other "upscale brands", as though the products are a commodity.*
Those wholesale sales to retailers who would "commoditize" the KORS brand can, instead, be realized through the KORS website and, at least in major cities, a promise of "same-day delivery" and a "no questions asked" return guarantee (within reasonable limits, of course.)
Instead of restricting new inventory to retailers, KORS should be doing everything it can to aggressively discount old inventory on its own website and at close-outs in its own outlet stores -- and even gift smaller items, like wallets and key fobs, to loyal KORS customers - instead of selling it on sites like Overstock.com. They're discounted because they didn't sell. Clean out the excess inventory as quickly as possible; then, get a tighter handle on inventory and production runs. Use test markets, limited production runs, and focus groups far more aggressively than KORS seems to have in the past. If a particular model isn't selling off a test run, kill it as quickly as possible.
Go Beyond the Sale
To survive and thrive, KORS should infuse its customers with a brand experience that develops a high level of brand loyalty and word-of-mouth recommendations.
Customers should be encouraged to register their products (say, for a lifetime warranty against product defects or a discount on future purchases) so that KORS can build their customer base and list. KORS should extend invitations to special events such as its charitable activities, its shows, or "exclusive" regional presentations where Kate Hudson, a Kors Care "Watch Hunger Stop" advocate and Michael Kors himself appear to advance KORS charitable activities.
KORS should provide a monitored blog on the KORS website to encourage customers to blog about their products or their support for KORS charitable activities. This would allow sales associates to suggest other products and resolve any issues with quality promptly. Every KORS product sold should contain the real first name and contact information of a sales associate and every sale should be followed up by a call or an e-mail 30 days after the product is sold from the selling associate to ensure it is up to the customer's expectations. A dollar or two in "snail mail" marketing collateral and a two-minute phone call from a sales associate could lead to thousands of dollars in sales and life-long customers. A customer loyalty and referral program could be administered for a pittance compared to the sales it would bring and the current absurd "jet set" advertising campaign.
Leverage the Michael Kors Brand With New Designers
Fashion and taste change constantly. KORS should hedge its brand identity and placement by mentoring other up-and-coming designers in the manner of a merchant banker.
Designs like OAD would provide KORS an opportunity to use its enormous distribution channels and stores to highlight the latest fashions for talented designers breaking into the industry. Small loans (convertible to equity) and outright equity investments, assistance in distribution and sourcing, and prime space in major retail locations could yield the kind of huge gains for KORS shareholders that are found only in venture capital. The new designers (who tend to earn media much more than older brands) would also bring needed additional foot traffic into KORS retail stores
SUMMARY
If KORS continues on its current course, I would predict a fall in the stock price to the high 30-dollar range in the next year or two; then to the high twenty-/low thirty dollar range in three years; then, to the high teens/low twenties in five years.
KORS has a wonderful opportunity to make its brand relevant and lasting; its newer leather goods designs are quite good. But it has to abandon its kitschy "jet-set" lifestyle branding among European and American customers (who mostly know better) and recognize the overwhelming strength of a market it could easily command by differentiating itself from other accessible luxury brands. It can do so by leveraging the brand's assets among new designers and by recognizing who its customers really are, not the chimerical "people" KORS displays in its advertising.
________________
*A friend, whose eponymous boutique luxury jewelry brand is among the most desirable in New York City, tells the story of a sales clerk at a major luxury brand jeweler reaching into a drawer filled with the exact same diamond solitaire my friend's customer was hoping to buy. In disgust, the customer left the store immediately and sought out my friend.
__________________________________________
Author's note: My commentaries are mostly in the consumer discretionary space and, most often, tend to be event-driven. I also write mostly from a management consulting perspective for companies that I believe are underperforming; that is, I sometimes lay out strategies that I would recommend to the company to improve its business and strategy were they my clients. I think this approach lends special value to contrarian investors who see the opportunities that I do in companies that are otherwise in downturn. My opinions with respect to the company here, however, assume the company will not change.
If you like my perspective, you might consider following me by clicking the "follow" link below.
Disclosure: I/we have no positions in any stocks mentioned, and no plans to initiate any positions within the next 72 hours.
I wrote this article myself, and it expresses my own opinions. I am not receiving compensation for it (other than from Seeking Alpha). I have no business relationship with any company whose stock is mentioned in this article.
Additional disclosure: The views expressed are the opinions of the writer and do not represent, and should not be considered to be, investment advice. You should not use this article for that purpose. Before making any investment decision you should consult your own business, legal, tax, and financial advisers.