You might have noticed that everything seemed to be fixed on Monday.
As I wrote just after the opening bell sounded on Wall Street, it all started Sunday evening when the British pound suddenly surged above 1.46. From there it was classic risk-on, with the yen subdued, the Nikkei soaring, and European bourses rallying hard (and I mean hard). Along for the ride was of course crude (NYSEARCA:USO), which surged with risk appetite.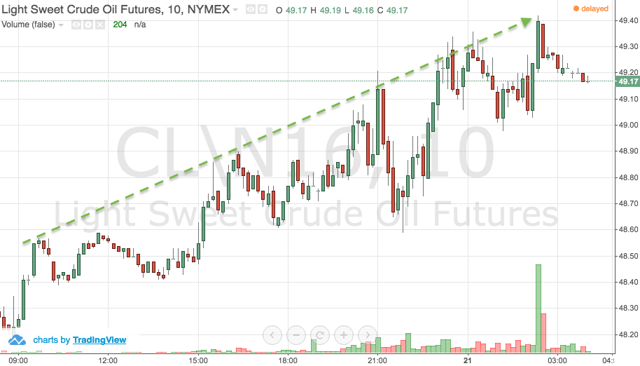 This is a pretty critical juncture for oil prices. $50 is apparently the magic number for US production. As Goldman put it earlier this month, "there's upside risk to producer activity near $50/bbl." The bank continued:
...while we don't expect current prices to drive a sharp rebound in activity globally, we are seeing signs that the recovery in prices already helps. The international oil rig count was up 9 rigs in May vs. April, the first overall rig count increase since Sep-15, and despite the fall in the Venezuela rig count.

(Chart: Goldman)

We further believe that at current prices, we can see a pick up in brownfield investment, consistent with our conversations with producers looking to maximize cash flow while limiting incremental spending. Importantly, this is a short-cycle investment which can drive large production rebounds, as was the case in 2009. Further, our European and US Energy equity analysts recently commented on how producers are guiding to even faster and larger cost declines than they had expected. Companies also appear ready to start sanctioning projects again after an 18-month hiatus, aggressively competing for capital and helped by governments ready to reduce tax take or local content requirements to attract investment.
Got it. Basically we get to $50 and then stall as supply starts to come back online. Reuters had an entire piece on this dynamic out Monday. Here are some key excerpts:
Two years into the worst oil price rout in a generation, large and mid-sized U.S. independent producers are surviving and eyeing growth again as oil nears $50 a barrel, confounding OPEC and Saudi Arabia with their resiliency.

So far, no U.S. producer that pumps more than 100,000 barrels per day (bpd) has gone bankrupt. The survival of these big producers partly explains why overall U.S. production has slipped only about 10 percent since peaking at 9.69 million bpd.

Their agility - which required slashing costs in half while doubling down on improved techniques to squeeze more oil from each new well - is now allowing the industry to cautiously focus on growth again.

To be sure, some executives say a bit more is needed - at least $60 a barrel - to ramp up drilling and fracking operations across most U.S. shale plays.

"People are not necessarily freaking out anymore," said Sam Xu, an investment banker with CohnReznick Capital Market Securities LLC.

"Instead of trying to keep their heads above the water, they're now trying to get back in the game."
Right. It's time to "get back in the game," which means that oil prices will effectively be capped at around $50 as US producers take another likely ill-fated run at the Saudis. Some contend this is an exercise in futility. For one thing, the balance sheets here are a disaster. Look, for instance, at leverage in the US HY space. Note how it's essentially flat ex-energy (so extrapolate from that):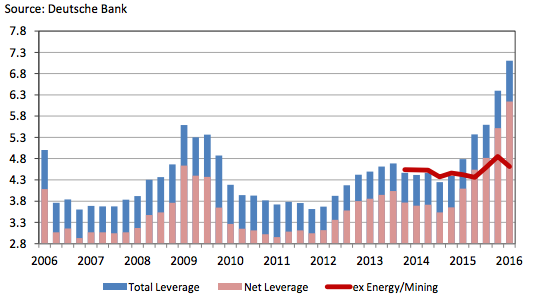 (Chart: Deutsche Bank)
A similar picture emerges when we look at interest coverage and Y/Y EBITDA growth:

(Charts: Deutsche Bank)
But beyond that, the Saudis simply aren't going to capitulate until they've spent every last penny of reserves they have. And it's not because Riyadh cares about US production. As I've been pounding the table on for months, the Saudis care far more about doing whatever they can to limit the amount of revenue Iran brings in from crude sales than they do about shale oil in the US. Bloomberg discussed this over the weekend. To wit:
Saudi Arabia is poised to boost its share of OPEC oil production in the coming months.

Outsiders won't be too fussed about Riyadh's share of OPEC output, but within the kingdom and the group this matters. Saudi Arabia wants to stay dominant in its biggest export markets, plus it desperately wants to avoid losing ground to arch-rival Iran.

The circumstances that have eaten into its market share since last summer are changing, while the kingdom holds almost all the world's readily available spare production capacity, leaving it the only country that can raise output quickly.

(Chart: Bloomberg)

Iran [has been] nibbling away at the Saudi market [but] Tehran's spectacular rise may have come to an end already.

If Iranian exports do keep faltering, don't be surprised if those of its rival across the Persian Gulf head in the opposite direction. Even as Riyadh eyes a post-oil future through its "Vision 2030" plan to diversify the economy, expect it to seize advantage of any slowing rival. The game is still about grabbing long-term markets for its own crude.
I couldn't have said it better myself.
Meanwhile, the sectarian proxy wars continue to rage unabated across the region.
Deputy crown prince Mohammed bin Salman (the architect of "Vision 2030") is due to meet with UN secretary general Ban Ki-Moon this week regarding Riyadh's incursion into Yemen where Iran-backed militiamen are still holding out despite more than a year of bombardment by a Saudi-led coalition determined to deny Tehran what would amount to an Iranian colony with a cozy view of the Bab-el-Mandeb (a key oil chokepoint).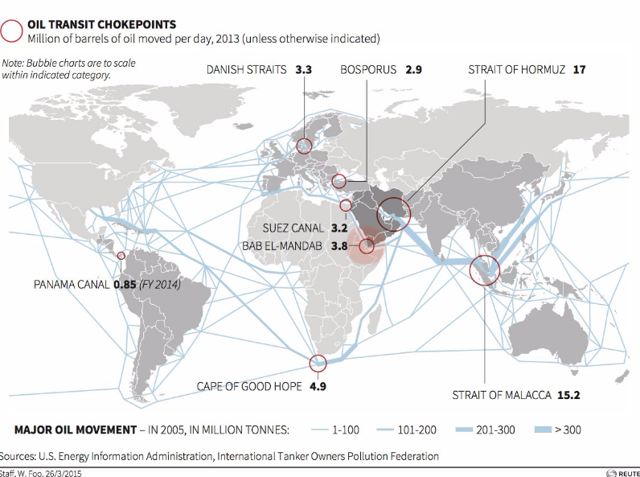 (Map: Reuters)
Earlier this month, Riyadh flipped out (to put it colloquially) after the UN added the coalition to an annual blacklist of states and armed groups that violate children's rights in the course of war.
"Grave violations against children increased dramatically as a result of the escalating conflict," Ban said in the report, adding that "in Yemen, owing to the very large number of violations attributed to the two parties, the Houthis/Ansar Allah and the Saudi Arabia-led coalition are listed for killing and maiming and attacks on schools and hospitals."
The Saudis contended the action was taken based on unsubstantiated claims. Around 24 hours later, the UN reversed its decision. Of course the Houthis are still on the list - turns out they don't have a whole bunch of oil to use as leverage.
Meanwhile, in Syria, it looks as though Russia, the US and the Syrian government are tightening the noose around ISIS as everyone looks to be slowly but surely converging on Raqqa. The question is not whether ISIS will be stamped out (they will because they have become a liability to any and all state sponsors that may or may not have been supporting them up to now), but rather what happens next. The other Sunni opposition forces in Syria are explicitly backed by the Gulf monarchies while Hezbollah and Iran won't be in any mood to negotiate. And don't forget that dozens of State Department officials are ready to stage a mutiny unless someone bombs Assad directly. Here's WSJ:
The 'dissent channel cable' was signed by 51 State Department officers involved with advising on Syria policy in various capacities, according to an official familiar with the document. The Wall Street Journal reviewed a copy of the cable, which repeatedly calls for 'targeted military strikes' against the Syrian government in light of the near-collapse of the ceasefire brokered earlier this year.

The views expressed by the U.S. officials in the cable amount to a scalding internal critique of a longstanding U.S. policy against taking sides in the Syrian war, a policy that has survived even though the regime of President Bashar al-Assad has been repeatedly accused of violating ceasefire agreements and Russian-backed forces have attacked U.S.-trained rebels.
So it's still the same as it always was - Russia and the Shiite crescent versus the US and the Sunni monarchies.
And just in case you thought anyone had learned a lesson from the riots and diplomatic breakdown that followed Saudi Arabia's execution of prominent Shiite cleric Nimr al-Nimr back in January, think again because Bahrain just revoked Isa Qassem's citizenship "for forming organizations affiliated with overseas religious and political groups." He's accused of "inciting sectarianism, violence and using religion for political purposes." You'll recall that Bahrain is majority Shiite, but the country is ruled by Sunnis. Here's a handy map which breaks down the Sunni-Shiite divide: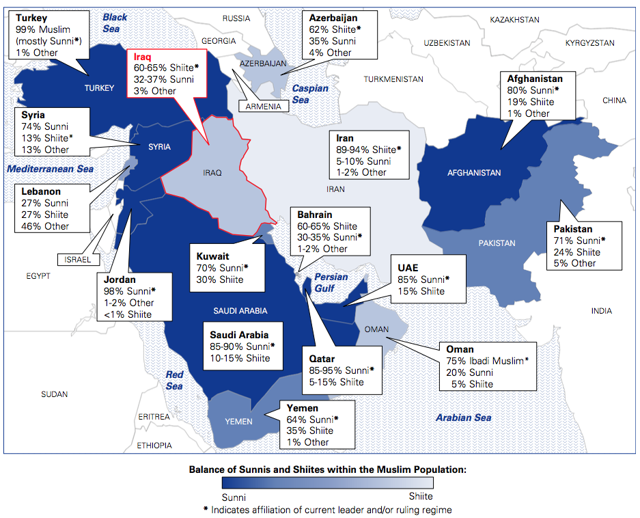 (Map: Goldman)
Just to put the pieces together for you, consider the following from The Atlantic:
Saudi Arabia's Shia population is concentrated in al-Ahsa, an eastern province which abuts Bahrain.

The region remains one of Saudi Arabia's poorest. Nimr was born in the village of al-Awamiyah, in al-Ahsa, in 1960.
This was the scene in Bahrain following Nimr's execution: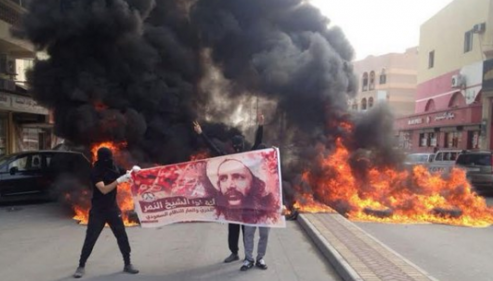 Last week, Bahrain froze the assets of Al-Wefaq National Islamic Society (the main Shiite opposition party) and closed its headquarters. The Justice Ministry accused them of "providing suitable environment of terrorism, extremism, violence and calling for foreign interference in internal affairs."
As for Iran and the Shiite community, they aren't about to back down in any of the proxy wars no matter where they are fought. That goes double for the oil market. Here's what Oil Minister Bijan Namdar Zanganeh said last week: "We'll continue increasing production even if the price of crude drops to $20/barrel."
There you go.
Earlier on Monday, Iran announced it had foiled a major terrorist plot targeting Tehran. Guess who was allegedly behind it? That's right, Sunni extremists or, in the words of IRNA, "Wahhabi takfiris." Here's AP stating the obvious:
Mentioning Wahhabism, however, also may be an Iranian dig at Saudi Arabia.
What should be abundantly clear here is that Saudi Arabia and Iran don't care too much about what a handful of cash-flow negative US producers are or aren't doing. Sorry. This is an all-out sectarian showdown and oil is a weapon just like any other, only more powerful if you can wield it effectively. This is truly a case where geopolitical turmoil is driving oil lower, not higher. Here's a snapshot of Saudi, Iraqi and Iranian exports:

(Charts: Credit Suisse)
Of course this is taking an increasingly heavy toll on the Gulf monarchies. First, here's a reference guide that shows you what the production capacity is on the peninsula: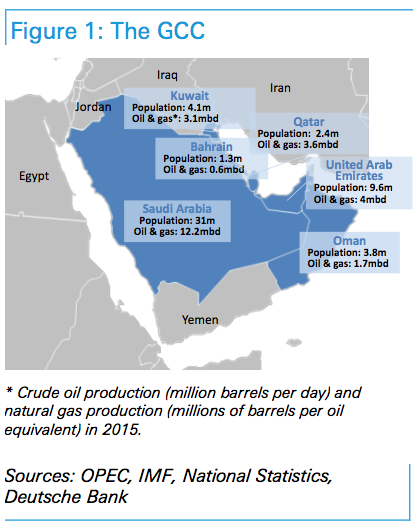 (Map: Deutsche Bank)
Now remember that the budget breakeven prices for all of these countries are far higher than the levels we've seen this year, with the notable exception of Kuwait: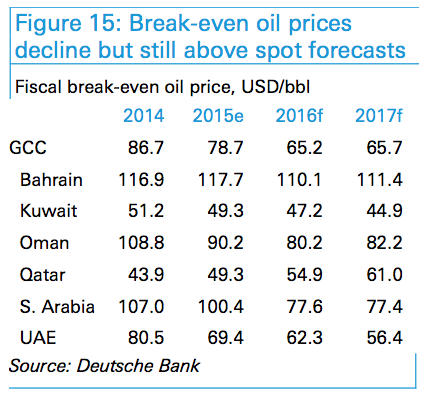 (Table: Deutsche Bank)
Which means: they're pretty much all going to have to borrow to avoid burning through their reserves which they'll need to ward off social unrest and to maintain the various currency pegs: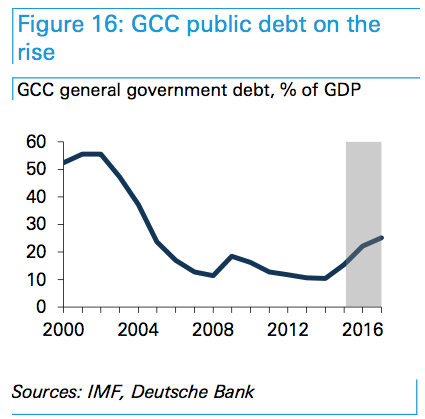 (Chart: Deutsche Bank)
In fact, just last week, Oman said it will issue $2.5 billion in bonds to finance its deficit while Qatar's Ministry of Development Planning and Statistics projects the country's fiscal deficit to come in at "just under 8% of nominal GDP" in 2016 due to the oil price slump. Bloomberg also cited Qatar's central bank in reporting that "government deposits declined to 62.2b riyals in May from 70.4b in April, dragging domestic deposits -1.2% to 542.3b riyals despite gains from private sector."
So once again, everyone's going broke - it's just that some will get there faster than others, and my money is still on US shale biting the dust before the Saudis bite the sand.
But hey, it's not all bad news (where "bad" means downward pressure on prices); here's Credit Suisse on the demand side:
The latest upward IEA revisions fit in to the broader long-term trend of wide spread,resilient oil demand growth: Looking at 50 years of demand history released last week in the BP's annual Statistical Review of World Energy 2016, oil demand keeps on growing at a faster clip than is commonly understood. Furthermore, this growth is so widespread that it is far more resilient than the consensus assumes. Perhaps most significant, the oil share of total primary energy consumption is falling really only in the developed markets outside the US, which implies significant residual headwinds for future substitution.

(Chart: Credit Suisse)
So bottom line: the prevailing dynamic in the Mid-East is going to weigh on the extent to which prices can recover as is US producers' eagerness to start producing again as soon as prices hit $50. One event to watch is obviously the UK referendum. If the "remain" vote wins decisively, you'll get a risk-on move that could set the stage for the next move higher in crude.
If you're in US stocks (NYSEARCA:SPY) you need to be watching this closely, and on that note, I'll leave you with an excerpt from Deutsche's David Bianco:
The strong oil price bounce from Feb low meets some resistance. Disruption in Canadian output recedes; US rig count rose for 3 weeks; and no output freeze pact is in sight from OPEC. Our $118.50 2016E S&P EPS - which by quarter is $27.00 $29.50, $30.50, $31.50 - depends on 2H16 oil price of ~$50/bbl. If WTI oil revisits $40 or lower on renewed supply glut concerns, our 2H EPS growth estimate would be at risk. The lowered FOMC dot plot helps relieve risk of dollar putting a heavier foot on oil, but Brexit would strengthen dollar and weaken oil.
Disclosure: I/we have no positions in any stocks mentioned, and no plans to initiate any positions within the next 72 hours.
I wrote this article myself, and it expresses my own opinions. I am not receiving compensation for it (other than from Seeking Alpha). I have no business relationship with any company whose stock is mentioned in this article.