Introduction
The past two articles I wrote about Teranga Gold (OTC:TGCDF) were quite bullish and fortunately the market has proven me right as the higher gold price caused the company's share price to double, giving it a current market capitalization of approximately US$350M. Earlier today, Teranga announced it has entered into an agreement with ASX-listed Gryphon Minerals to acquire the company, which owns 90% of the Banfora gold project in Africa.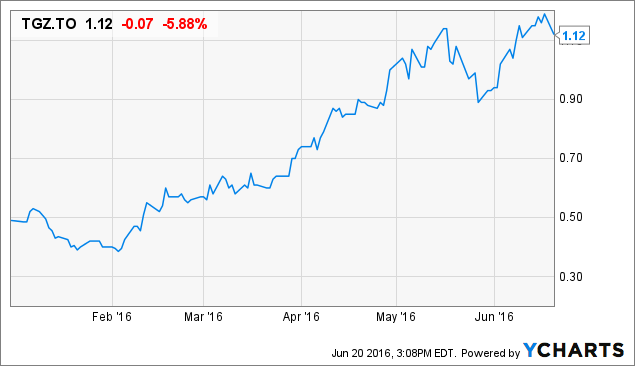 TGZ data by YCharts
Teranga is a Canadian company and its main listing is on the Toronto Stock Exchange where it's trading with TGZ as its ticker symbol. The average daily volume is in excess of 1.5 million shares, so there's plenty of volume!
What are the terms of the offer?
Teranga has entered into an agreement with Gryphon Minerals (OTCPK:GPHYF) (but you should try to trade in this company's shares through the facilities of the Australian Stock Exchange, as the average daily volume of almost 2 million shares is much higher than the average volume on its US listing).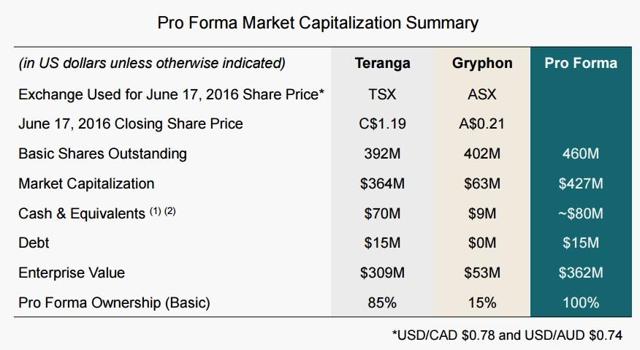 Source: company presentation
Teranga is offering 0.169 of its own shares per share of Gryphon Minerals it will acquire (no additional cash will be payable), which means Teranga is valuing Gryphon Minerals at approximately US$60M, which isn't outrageously high (see later). As part of the deal, Tablo Corporation, one of Teranga's largest shareholders, plans to exercise its anti-dilution right which will result in Tablo investing an additional $9M in Teranga Gold, further boosting its cash position.
Why does the combination of both companies make sense?
It's not surprising to see Teranga Gold chasing Gryphon Minerals. After all, both companies are focusing on the same metal (GOLD) in the same geographic region (Africa). As Teranga has finally cleaned up its balance sheet in the past 12 months moving from a net debt position to a net cash position set to increase even further thanks to its highly profitable gold mine in Senegal, I guess nobody will be really astonished by seeing the company making a move on the M&A front.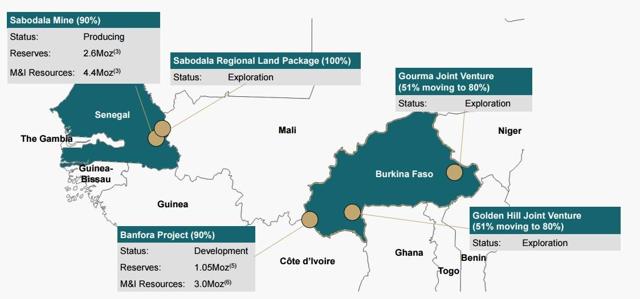 Source: company presentation
Gryphon is an interesting target, because even though the company's share price has increased by several hundred percents since the start of this year, the company still wasn't outrageously expensive. Gryphon's flagship project is the Banfora gold project in Burkina Faso is already fully permitted and could considered to be in the feasibility study stage. There's a total resource estimate of approximately 3 million ounces in the measured and indicated resource categories, at an average grade of 1.38 g/t. On top of that, Banfora also contains an additional 660,000 ounces of gold in the inferred category at an average grade of 1.3 g/t. These M&I resources include a reserve estimate which contains 1.05 million ounces of gold at an average grade of 1.9 g/t, which basically means the M&I resources excluding the reserves contain approximately 1.9 million ounces of gold at an average grade of roughly 1.2 g/t.
Banfora released the results of a first feasibility study in the summer of 2014 (updated in 2015), but Teranga thinks it can do a better job as it will probably restart the exploration program at Banfora to increase the total amount of reserves by converting a part of the 2 million ounces in the M&I resources that aren't part of the reserve calculation into reserves to boost the increase the mine life and to boost the economics of Banfora.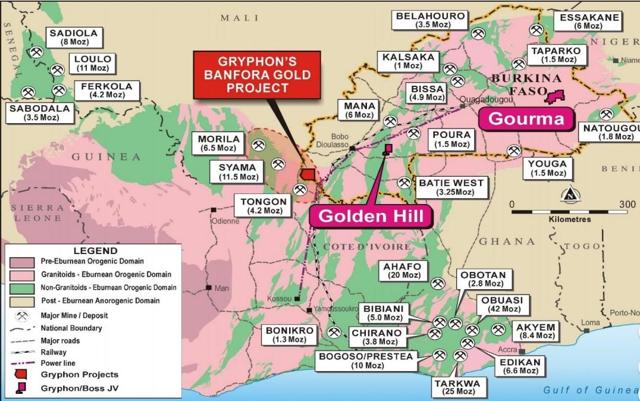 Source: company presentation
That being said, the 2015 study wasn't too bad at all, as the company was planning a 7 year mine life with an average annual production rate of 133,000 ounces of gold at a cash cost of $707/oz and an all-in cost of just $800/oz (indicating a net margin of almost $500/oz at the current gold price). The initial capex was estimated at US$85M, whilst an additional $75M would be needed as sustaining capex and to construct the 1M tpa CIL plant. The after-tax NPV5% was estimated at US$154M
So, should you tender your shares to Teranga?
I think the deal makes a lot of sense for both parties. Teranga is paying 0.4 times the NPV of the Banfora project whilst getting the additional exploration projects for free. Banfora-shareholders might be a bit disappointed with the 0.4 X NPV price tag, but keep in mind Teranga very likely won't have to issue any new shares to fund the development of Banfora, whereas Gryphon Minerals' market capitalization of less than US$50M would have made the capex commitment a bit more difficult (likely leading to a dilution factor of in excess of 50%).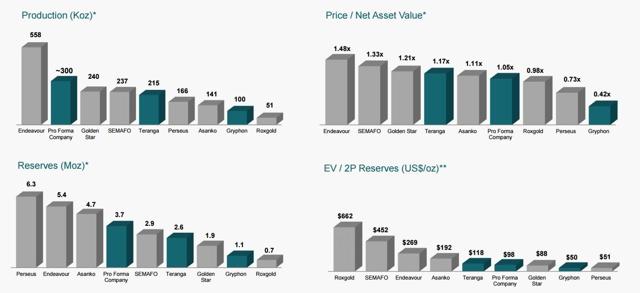 Source: company presentation
So, yes, I do think the combination of both companies is a fair deal. Upon completing the merger, Teranga Gold will have in excess of $80M in cash, which will be boosted by selling in excess of 200,000 ounces of gold this year that will be produced at an AISC of less than $975/oz.
Investment thesis
If you're a shareholder of Gryphon Minerals it would make sense to tender your shares to Teranga Gold, as Teranga is a reputable producer with a net cash position, which will reduce the financing risk as well as the operating risk by operating in two different countries. A higher offer might always emerge, but for now it would make the most sense to accept Teranga's offer. The acquisition is anticipated to close in October of this year.
Disclosure: I/we have no positions in any stocks mentioned, and no plans to initiate any positions within the next 72 hours.
I wrote this article myself, and it expresses my own opinions. I am not receiving compensation for it (other than from Seeking Alpha). I have no business relationship with any company whose stock is mentioned in this article.