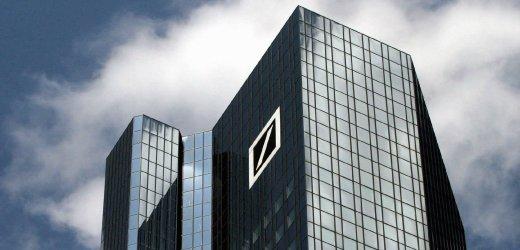 Company Overview
Deutsche Bank (NYSE:DB) is one of the largest global banks with a balance sheet totaling nearly €1.6T. Headquartered in Frankfurt, Germany it is the largest bank in Germany. After a series of international acquisitions in the 1990s including Morgan, Grenfell & Co. in the UK and Bankers Trust in the U.S, DB became a leading global investment bank. Today it has more than 100,000 employees in over 70 countries, and has a large presence in Europe, the Americas, Asia-Pacific and the emerging markets. Since 2001 the company is listed on the NYSE.
Its main operating entities include:
1. Global Markets - includes sales and trading of debt and equity
2. Corporate and Investment Banking - includes debt and equity capital markets, M&A, and commercial banking
3. Corporate Transaction Banking
4. Private Wealth and Commercial Clients
5. Deutsche Asset Management
Regulatory and Litigation Issues
In 2015 the bank agreed to pay in aggregate of $2.5BN of fines to U.S. and UK authorities for its involvement in the LIBOR rate rigging scandal. The company also pled guilty to wire fraud, acknowledging that at least 29 employees had engaged in illegal activity. It will be required to dismiss all employees who were involved with the fraudulent transactions.
On April 14, 2016, DB agreed to settle lawsuits that had been brought against the bank accusing it of conspiring with other banks to manipulate gold and silver prices at investors' expense. The settlements were disclosed in letters filed in Manhattan federal court by lawyers representing investors and traders who accused Deutsche Bank of violating U.S. antitrust law. Terms were not disclosed, but both settlements will include monetary payments by the bank. DB also agreed to help the plaintiffs pursue claims against other defendants.
Financials and Valuation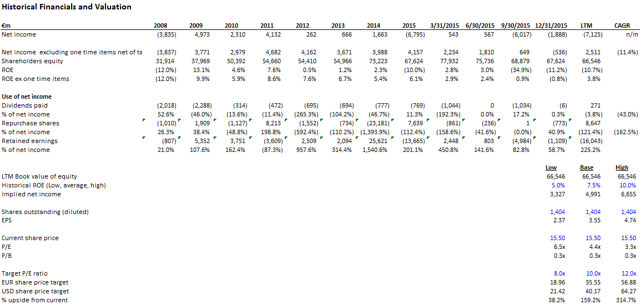 After reviewing DB financials it is clear that DB has not been well run for many years. The banks net income and ROE have fluctuated significantly and have moved from mediocre to acceptable. In the period 2008 to current ROE adjusted for one-time items have ranged from negative 11% (2008) to 12.7% (2009) and have averaged roughly 4.0%. That's below the cost of capital for the bank with tier 1 instruments are currently yielding around 8-10%
Additionally, the share count has risen steadily, partly due to strategic missteps such as the acquisition of the retail focused Deutsche Postbank and to the need to strengthen its capital base post financial crisis.
Despite these shortcomings the common equity of DB is attractive. This is mainly because the bank is one of the cheapest bank stocks among the large cap bank universe. Additionally, if one believes the regulatory issues and general cost issue can be overcome then the bank will at some point return to profitability. Currently the stock is priced assuming the worst.
For the year 2015 DB reported a loss of €6.8BN. This included charges for restructuring activities (€710m), impairments (€5.8BN) and litigation expenses (€5.2BN). Adjusted for these one-time items the bank would have reported a positive net income of €4.2BN or $4.7BN (assuming a tax rate of 25%). With a market cap of €19BN or $23BN the stock is currently trading at 4.6x adjusted net income. Similarly the bank reported total shareholders' equity of €67BN or $73BN for 2015 giving it a 0.3x P/B ratio. This is among the cheapest of the large cap global investment banks as shown in the table below: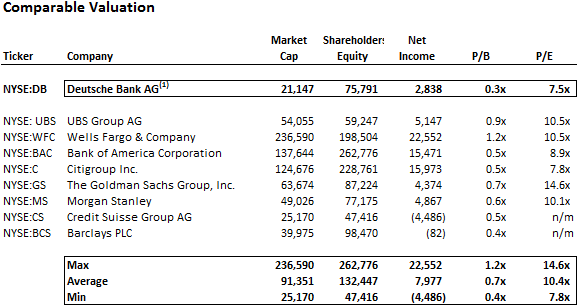 Valuation
If one assumes DB returns to historical ROEs (5% to 10%) and a P/E ratio of between 8x and 12x then shares would be worth between €19 and €57 or $22 and $65. This would denote an upside of between 38% and 315%
If one believes shares would trade up to 0.7x P/B then you get a $38 share price target. Note shares trade on the NYSE in USD and in Frankfurt in EUR.
The Bear Case
The DB bear case consists of several pillars. They include:
1. High leverage
2. Limited earnings power given the current revenue and cost structure
3. Potential for higher litigation and other charges
4. Price performance of subordinated instruments and CDS
DB has always had high leverage which is partly a function of market making in global equity and debt markets.
However, DB has never had a balance sheet problem. Its assets are generally of high quality which is evident from its low RWA density and the low risk costs. Historically risk costs at DB have been about €1BN annually which is pretty good for a bank with €1.6T balance sheet.
The limited earnings power ties in with the high leverage. Bears will say, DB's limited earnings power means it cannot earn its way to higher capital levels which the markets and regulators require. While it's true that DB has not earned high rates of return, this is primarily a cost and not a revenue problem. DB has a market leading position in many of the segments and markets in which it operates but with a cost income ratio of 80-90% there isn't much left for the shareholders.
The most efficient retail focused banks have cost income ratios of between 30-40%. The lack of cost discipline is really a cultural problem and the departure of Anhsu Jain is a good sign that DB is going to improve. As a former DB investment banker he is not the right person to right size the cost structure in the investment banking and trading focused part of DB. Whether or not John Cryan can execute the required steps to bring DB back to health remains to be seen but the initial view is positive.
In terms of impairment charges and litigation charges of course its possible DB will have to take additional charges. The risk is of course that the limited profitability combined with additional charges could force DB to have to raise equity in a dilutive equity offering. While its possible, I think the probability of such a move is relatively low due to a clear conflict of interest inherent in today's regulatory environment. Effectively national governments are charged with overseeing the large systemic banks which are important for the local economy and which they will have to bail out in the worst case scenario. This conflict is also clearly displayed in the case of VW. In the USA the company is likely to face large fines and will be required to buy back customers cars or retrofit them at huge expense. In Germany, where the company is one of the largest private sector employer with hundreds of thousands of employees (and probably approaching one million if one includes suppliers), the government is likely to go easy on VW. Not officially, but in reality no one in the German political system wants to push VW to hard which would cause hardship for a large part of the economy.
Similarly, if DB has a reasonable restructuring plan but needs 2-3 years to execute it, regulators will look the other way in terms of equity. Since no one knows the market reaction of a bail in or a forced conversion of coco's regulators are likely to avoid trying altogether.
Finally, part of the DB bear case is the price action of subordinated debt instruments and CDS. Most of these instruments are relatively illiquid and thinly traded including the CDS itself which contrary to popular belief is not always a good indication of credit risk. Furthermore, these instruments typically trade in line with the equity. Higher CDS and yields on subordinated debt instruments basically means the equity is already down but has no predictive power vs. future equity prices. As one can see from the chart below, CDS has recovered significantly which is exactly what one would expect with higher equity prices. I believe equity prices will continue to recover and with it CDS prices and subordinated debt yields. The chart below shows DB 5 CDS levels for the past few years.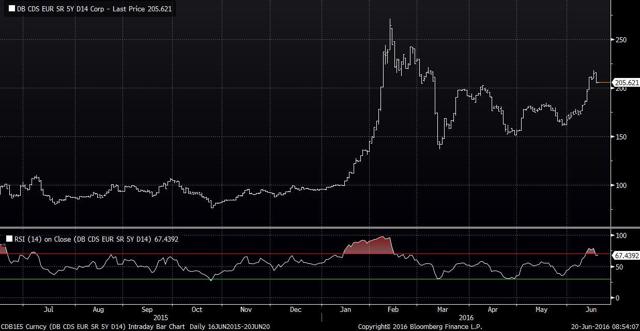 Q1 2016 Earnings Report
Revenues declined 22% to €6.4BN from €8.1BN in Q1 2015, reflecting a difficult market environment particularly for ECM and DCM during the market turmoil in January and February 2016. Additionally, DB claims that the revenue declines partly were due to the impact of strategic decisions to downsize and exit certain businesses.
Non-interest expenses declined 17%, largely from lower litigation charges. Little or no progress made in reducing core personnel costs.
Adjusted costs declined 4% from lower variable compensation.
CET1 ratio of 10.7%; pro forma impact of sale of Hua Xia Bank stake anticipated in second quarter to add ~50 bps.
RWA up slightly to EUR 401 billion quarter-on-quarter, reflecting higher RWA for operational risk
DB claims it is making progress on its restructuring program but very little evidence of that was seen in its Q1 2016 earnings report.
One of the key concerns that analysts have for DB is its low leverage ratio which fell further from 3.5% to 3.4%. This is significantly behind European peers as well as below future regulatory requirements.
Little tangible progress was made in Q1 2016 on the DB restructuring that John Cryan outlined in his strategy 2020.
However as many of these measures will take longer to implement the market should be patient for some time.
While the Q1 2016 earnings were not particularly good it reflected a difficult market environment in Q1 2016 and shares took another leg down (which we took advantage of). I expect Q2 2016 results to be better which should power shares higher.
Q2 2016 Earnings Preview
In an article written by Renaissance Research on June 16, 2016 the author states that Q2 earnings from DB and Barclays should outperform due to improvement in capital markets conditions particularly in the fixed income space. This argument seems reasonable, as both equity and debt markets have staged a comeback since the Q1 2016 lows.
Technical Outlook
DB has been in a multi-year correction denoted by two sharp downturns separated by triangle pattern. For technical analysts the triangle is key as it always is found towards the end of a pattern. Once the triangle completes a final move occurs which then eventually is reversed. The weekly chart below shows the initial fall in during the financial crisis in 2008/2009 and the long drawn out corrective triangle.
Weekly Chart

I believe the recent drop from $36 to $14 which commenced in 2015 and ended in 2016 as the final drop down and completes the pattern from 2008. Note, the graphs depict the NYSE traded USD denominated stock price charts.
4 Hour Chart

Zooming in on the daily chart reveals a 5 wave downturn ending at around $14 per share. This move down also includes a triangle prior to the final wave 5 down to $14. The triangle is an obvious tradeable pattern and should, at a minimum, lead to a meaningful correction back to around $19 per share. If $14 was indeed the bottom then a sharper and more persistent move higher should ensue.
Conclusion
DB has been in a multi-year downtrend that potentially could have bottomed in the past few days. The technical picture with a triangle is very powerful as triangles usually appear in the 2nd to last move of a pattern.
Valuation is very compelling with DB being one of the cheapest global bank stocks based on P/E and P/B.
Q2 2016 earnings should improve based on improved sentiment in both equity and debt markets.
As a result of the positive technical outlook and the very favorable valuation I have acquired DB shares on the NYSE on June 17, 2016 at around $15.50
Disclosure: I am/we are long DB.
I wrote this article myself, and it expresses my own opinions. I am not receiving compensation for it (other than from Seeking Alpha). I have no business relationship with any company whose stock is mentioned in this article.
Additional disclosure: This article presents the opinions of the author and does not provide individually tailored investment advice. It has been prepared without regard to the individual financial circumstances and objectives of persons who receive it. Investors are recommended to independently complete their own due diligence and evaluate any investment independently as well as to seek the advice of a financial advisor. The appropriateness or legality of a particular investment will depend on an investor's individual circumstances and investment objectives. The securities, instruments, or strategies discussed in this article may not be suitable for all investors, and certain investors may not be eligible to purchase or participate in some or all of them. The article is not an offer to buy or sell or the solicitation of an offer to buy or sell any security or instrument or to participate in any particular trading strategy.