As the possibility that a slow and uneven crude pricing recovery is underway increases, EOG Resources Inc (NYSE:EOG) has a strong hand to play. Without having to undergo a secondary offering, EOG Resources exited Q1 2016 with $2.366 billion in current assets (including $668.5 million in cash) and $1.548 billion in current liabilities, on top of just under $7 billion in long term debt.
With a 2016 capex budget of $2.4 billion - $2.8 billion (down 47% from 2015) and an undrawn $2 billion revolving credit facility, EOG Resources won't run into a cash crunch. If the worst happens, it still has the ability to pursue a secondary offering like many of its peers have been able to successful do.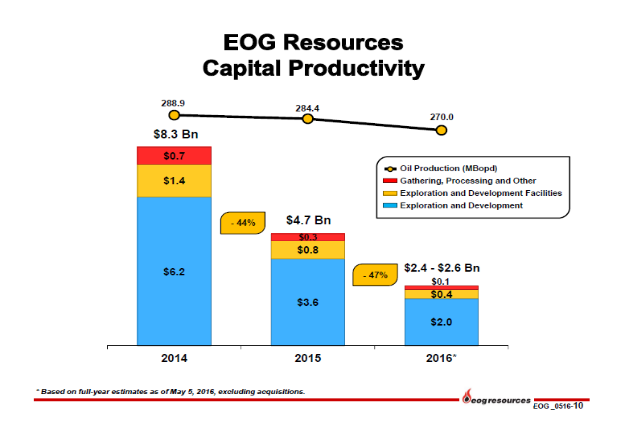 Source: EOG Resources Inc Q1 2016 Earnings Presentation
With energy prices at subdued levels, EOG Resources is focusing only on its top tier well portfolio and won't grow for the sake of growing. Management refers to this as EOG's premium portfolio, which represents ~3,200 of its ~12,500 possible well locations.
Premium well locations can generate a 30% after-tax ROR when realizing $40 per barrel of oil and 60% when realizing $50 per barrel on an incremental well basis. This guidance assumes a flat $2.50/Mcf realized price for natural gas and flat crude pricing throughout the entire life of the well. Most of those potential locations are in the Eagle Ford and Delaware Basin, with some in the Bakken core and Powder River Basin. At $60 WTI pricing, EOG can bring premium wells online a with triple digit after-tax ROR.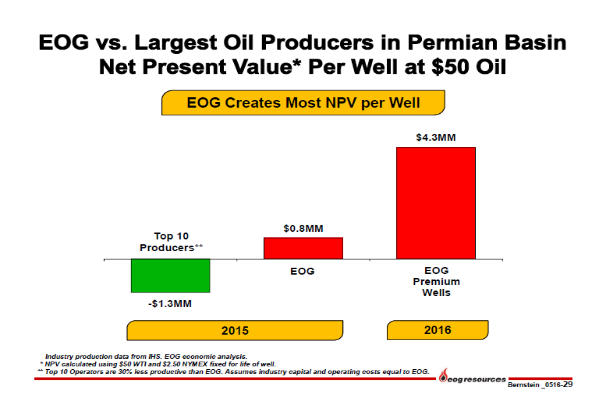 Source: EOG Resources Inc June 2016 Presentation
On average, EOG Resources produced 594,700 BOE/d in 2014 and 572,200 BOE/d in 2015, with natural gas accounting for most of the drop (global liquids output dropped by 2% and global natural gas production slipped by 7%). That will move down to somewhere between 512,300 BOE/d - 550,400 BOE/d this year, which is slightly better than what EOG was initially forecasting at the beginning of 2016.
EOG generated $291.6 million in operating cash flow during Q1 2016, when energy prices were at their lowest point, which should move higher as significant improvements in realized prices outweigh production declines.
International operations
In March 2016, the boondoggle of a project known as the Conwy prospect started producing long after management initially had said it would. At its peak, the project is supposed to yield 20,000 bo/d net to EOG, the sole owner. However, EOG is currently testing out the optimal production rate over the long haul which may impact that guidance.
Back during the middle of 2014, this was a project that was supposed to be operational by the end of that year. Then it got delayed again, and again. Arguably the only plus side is that EOG didn't produce anything from the area during the lowest point of the pricing downturn and will have a new producing asset during the upswing, but at a hefty cost.
Over in Trinidad and Tobago, BP Trinidad and Tobago (bpTT) teamed up with EOG Resources to develop the offshore Sercan natural gas field in the East Manzanilla Joint Venture Development Block. BP (NYSE:BP) owns 70% of bpTT and Repsol owns the remaining 30%. The Republic of Trinidad and Tobago is located in the Caribbean just north of Venezuela, is a significant producer of natural gas and a relatively big player in the LNG exporting space.
Through a five well program, one of which will be completed by the end of this year, EOG and bpTT hope to bring an additional 275 MMcf/d of natural gas output online. While the block was previously owned by bpTT, through the JV, EOG Resources will be the operator of the development. EOG estimates its will produce between 290 - 320 MMcf/d of natural gas this year out of the island nation, which when including marginal amounts of liquids output, is equal to 48,700 - 53,900 BOE/d in net production.
Unconventional costs keep coming down
High oil prices drove continuous third-party oilfield service cost increases, and the inverse happened when crude prices crashed. Faster drilling times and operational improvements also played a major role in reducing unconventional oil & gas development costs. EOG's lease operating expenses fell 29% from Q1 2016 versus the same quarter last year, bringing down its ongoing costs materially.
In the Eagle Ford, the average drilling time dropped from 8.9 days in 2014 to 7.8 days in 2015 on a normalized 5,300-foot lateral. Nearby (from 2014 to 2015), EOG's drilling time in the Delaware Basin fell from 32.8 days to 18.7 days for a normalized 4,500-foot lateral. In the Bakken play, EOG's drilling time for a 8,400-foot lateral decreased from 12.4 days to 8.5 days.
That helped EOG push its completion well costs down by 34.78%, 6.56%, and 18.18% in the Wolfcamp oil (in the Delaware Basin), Eagle Ford, and Bakken plays, respectively, in 2015 relative to 2014. EOG is targeting another 10.67%, 8.77%, and 13.89% drop in its completed well costs in the Wolfcamp, Eagle Ford, and Bakken plays, respectively, relative to 2015. Part of that will be due to operational improvements, including continued improvements in drilling times and optimized completion designs, and part will be due to continued cost savings from third-parties (depending on where oil prices go).
Final thoughts
Like all upstream players, EOG Resources Inc is a play on a recovery in crude pricing, a recovery that may be slowly underway. As WTI hovers just below $50/barrel, EOG's cash flow streams should grow materially versus Q1 2016 going forward. Continued well productivity improvements combined with lower operating and development costs will keep bolstering EOG Resources' drilling economics, as will its solid financial position. Investors should consider EOG Resources Inc as its international assets start performing better and it continues to fire on all cylinders in the Lower 48 states.
Author's note: One or more of the companies mentioned in this article don't trade on a major US stock exchange, which carries its own set of risks and rewards. Always do your own due diligence before investing.
Disclosure: I/we have no positions in any stocks mentioned, and no plans to initiate any positions within the next 72 hours.
I wrote this article myself, and it expresses my own opinions. I am not receiving compensation for it (other than from Seeking Alpha). I have no business relationship with any company whose stock is mentioned in this article.