Alarm.com (ALRM), for a while now, has been promised as a major beneficiary of the growing adoption of smart homes and offices technologies, facilitated by the IoT (Internet of things) technology. Even though the company has delivered, both topline growth and profitability, at a decent clip, industry developments and changing fundamentals suggest the business may be ready for a significant boost.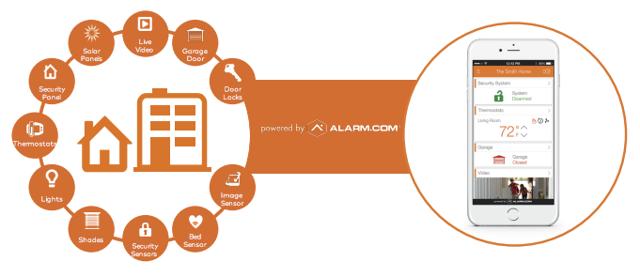 Source: Alarm
The combination of a common Cloud-based platform for a variety of connected devices from different vendors and hardware has perfectly positioned the business for the actual ground level market realities, including strong partnerships with dealers and service providers. There has been a long gestation period, as hardware became available, the service provider base is expanded and the customer acceptance rate is improved, but now that the business has achieved enough scale, with more than 2.6 million subscribers to monetize the favorable tailwinds and execute on plan, this might be a good time to take a closer look.
Ecosystem is ready
With expectations of the IoT market reaching almost $29 billion by 2020 from $7 billion last year, the potential market of more than 22 million of monitored home security systems in the U.S., the declining cost of hardware and the growing base of installers, the market is ripe for the adoption of connected home & offices solutions. The construction boom of the last few years may only add to the prospects.
As expected, with the market fast getting established and the interest from larger corporates growing, the consolidation talks among existing players, especially the smaller ones, have started to take shape. Recently, there have been rumors that Icontrol Networks, a competing platform provider for Alarm, is up for sale. Both Comcast (NASDAQ:CMCSA), for Xfinity, and Alarm are expected to acquire portions of the company. For Alarm.com, the deal can help not just ease the competitive pressures but also help remove some of the IP related doubts.
Well placed to monetize the trend
Even though Alarm.com is already known for premium pricing compared to the smaller competitors, but with more consolidation in the space, the company does stand to benefit further, especially because the company has a much more diversified dealer base relative to the size of the company.
One of the biggest opportunities for Alarm is the potential of more ADT Corp. business coming its way, which can be significant because ADT has close to 30 percent market share. Currently, ADT in the U.S. uses Icontrol Networks for the ADT Pulse product, while Protection 1, now part of ADT, uses Alarm. Now that ADT is in private equity hands, one can assume consolidation of partners may be high on the agenda with a focus on driving efficiencies. Considering Protection 1 has a deep relationship with Alarm, ADT already works with Alarm in Canada as well as Australia and a Protection 1 executive is on the board of Alarm, expecting a deeper partnership in the near future may not be too ambitious.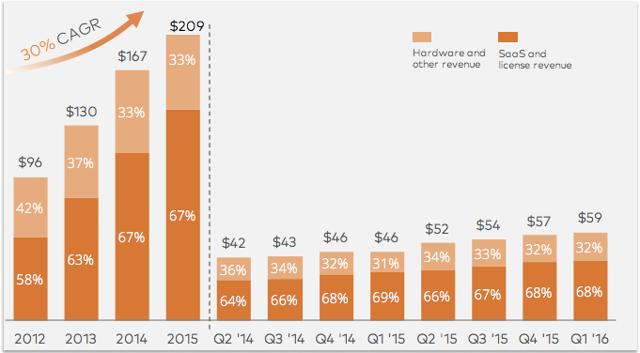 Image source: Alarm presentation
SaaS (software as a service) and license revenue are more than two-third of the total mix, which comprises of recurring monthly fees paid by service providers for platform access and licenses to the company's intellectual property paid on a recurring monthly basis. Besides the topline growth, SaaS making a larger part of the mix is significant for providing better visibility as well as profitability, considering the business carries close to 83% gross margin, 94% renewal rate and advance revenue bookings of close to 84%.
Expensive, but not when compared to other Cloud stories that can deliver
At 4.4 times EV/sales, 45 times forward earnings and approximately 20 times EV/expected adjusted EBITDA for the year, the business may be labeled as an expensive version of security equipment vendors like Honeywell (NYSE:HON), whereas the changing profile of the business positions it ahead of IoT plays like Nest, which was acquired by Google (NASDAQ:GOOG) for $3.2 billion and is rumored to have failed in reaching even the $300-350 million goal.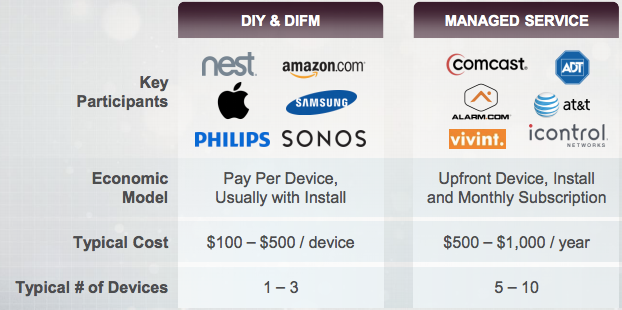 Source: Control4 (NASDAQ:CTRL) presentation
As for acquisition premium, it is not a secret that all the tech Cloud majors want to expand their footprint in the fast developing home automation or connected home as a service space, be it Apple (NASDAQ:AAPL), via HomeKit, Amazon (NASDAQ:AMZN), via Echo or Google, via Nest, and a company like Alarm that has a proven platform and large enough subscriber base to scale should start commanding some premium on that front.
Disclosure: I/we have no positions in any stocks mentioned, and no plans to initiate any positions within the next 72 hours.
I wrote this article myself, and it expresses my own opinions. I am not receiving compensation for it (other than from Seeking Alpha). I have no business relationship with any company whose stock is mentioned in this article.