Brexit appears to rule the roost in trading again today, with the markets moving to the upside in the early going as investors bet that the U.K. will keep its place in the European Union when the question comes up for a vote June 23. Is that sustainable all day?
What else might move the markets Tuesday? Janet Yellen, who heads to the Hill this morning and tomorrow. Can we ever get enough of her? She stops by the Senate Banking Committee for the twice-a-year chat on monetary policy and then on Wednesday with the House Financial Services Committee to talk interest-rate decisions. Some analysts say they expect to see her grilled about the direction on interest-rate policy during the question-and-answer period and why she believes, as she said last week in a press conference, that a Brexit Leave vote could have economic consequences in the U.S. What might those be?
Yesterday was a blow out day of trading, as relief surfaced after opinion polls over the weekend put the Remain/Leave vote at a narrow-but-improving 45% to 42% margin. But the volume was low. Is there any reason to see volume increase when there's little motivation outside of Brexit to move the needle?
All major indexes were up more than 1% in early trading yesterday but gave up a chunk of those gains before the session ended. The Dow Jones Industrials (DJIA), up as much as 271 points, climbed 129.71 points to close at 17,804.87. The S&P 500 (SPX), a closely watched index, rose 12.03 points to 2,083.25, flirting with that important 2,100 level again. The Nasdaq Composite Index (COMP6), which has struggled most of this year, took on 36.88 points to settle at 4,837.21.
Crude oil prices also got a big boost, with West Texas Intermediate (CLN6) ending the session at $49.37, up $1.39. That was a healthy bounce back after a six-day losing streak but prices are moving lower today. What happened to that as-the-markets-go-so-goes-crude adage?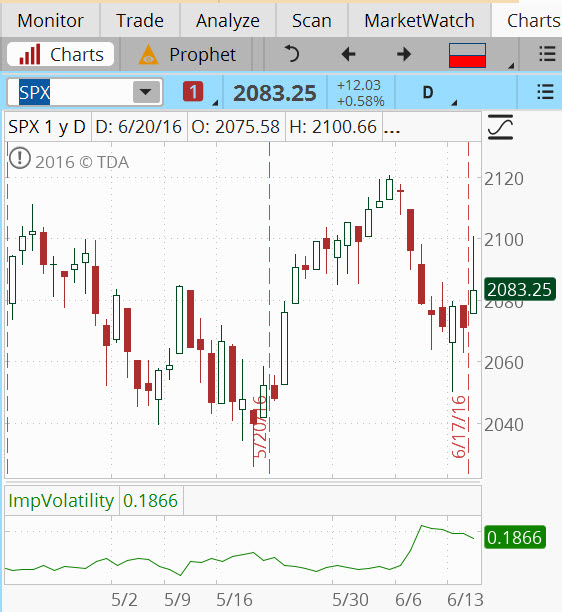 Figure 1: BACK ON TRACK? The S&P 500 (SPX), plotted through Monday's close on the TD Ameritrade thinkorswim platform, looks like it's heading back to that important 2,100 level. Is it and is the apparent relief over the Brexit vote sustainable? Data source: Standard & Poor's. For illustrative purposes only. Past performance does not guarantee future results.
Back it Like Beckham? DavidBeckham, the popular former Manchester United captain, declared his allegiance to the Britain Stronger in Europe campaign, according to ABC News. MU won English and European soccer titles with teams made up of British, Danish, Irish and Scottish players, he noted. "We live in a vibrant and connected world where together as a people we are strong. For our children and their children we should be facing the problems of the world together and not alone," Beckham said in a statement, affirming his Remain vote. Will that sway voters on the edge?
Mark Zuckerberg Still Reigns. Facebook (NASDAQ:FB) shareholders gave the nod to what some analysts called an unusual new share-class structure that lets Chief Executive Mark Zuckerberg run the joint, whether he's the largest shareholder or not. This comes as Zuckerberg has vowed to give up 99% of his wealth over his lifetime, a move that he can now apparently do without losing power at the company he co-founded as he sells FB shares to fund his philanthropy. The shift allows FB to issue 5.7 billion shares of Class C stock, a non-voting class, through a one-time dividend of a 3-for-1 stock split. Two Class C shares will be issued for every share of Class A or Class Be stock that an investor owns.
Ticketmaster's Giveaway, Courtesy of the Courts. In case you slept through the news and missed an email, if you purchased a ticket to anything through Ticketmaster, owned by Live National Entertainment (NYSE:LYV), any time between Oct. 21, 1999, and Feb. 7, 2013, you could be in line for free tickets. They come through vouchers for some 50 million eligible consumers, according to Billboard magazine, that a court ordered LYV to issue as part of a 13-year-old class-action suit over ticket-processing charges and other fees. What should you be looking for? Discount codes for ticket purchasing and shipping, and/or vouchers for two tickets for every transaction made during that period. Did you get mail?

Figure 2: Economic Agenda. This week's U.S. economic report calendar. Source: Briefing.com.
Inclusion of specific security names in this commentary does not constitute a recommendation from TD Ameritrade to buy, sell, or hold. TD Ameritrade® commentary for educational purposes only. Member SIPC.
Disclosure: I/we have no positions in any stocks mentioned, and no plans to initiate any positions within the next 72 hours.
I wrote this article myself, and it expresses my own opinions. I am not receiving compensation for it. I have no business relationship with any company whose stock is mentioned in this article.