Since hitting a 52-week low in February this year, oil and gas equipment services provider National Oilwell Varco (NYSE:NOV) has made a tremendous recovery on the stock market. In just over four months, the stock has gained more than 30% despite posting mixed results for the last-reported quarter and not receiving any new rig orders.
So, what is it that has led to an improvement in National Oilwell Varco's stock price performance of late, and will the company sustain this momentum going forward? Let's find out.
Gradually improving rig counts are driving enthusiasm
The rebound in crude oil prices has encouraged oil exploration and production companies to bring online more rigs. According to data released by Baker Hughes, the U.S. rotary rig count for the week ending June 17, 2016, was up by 10 rigs to 424 from the prior week. The number of rotary rigs drilling for oil was up by 9 rigs to 337 rigs for the week, rigs directed toward natural gas were up by 1 to 86.
The good part is that the rig count is not improving only in the U.S. but in Canada and the Gulf of Mexico as well. The following chart shows the weekly increase in rig counts across the whole of North America of late: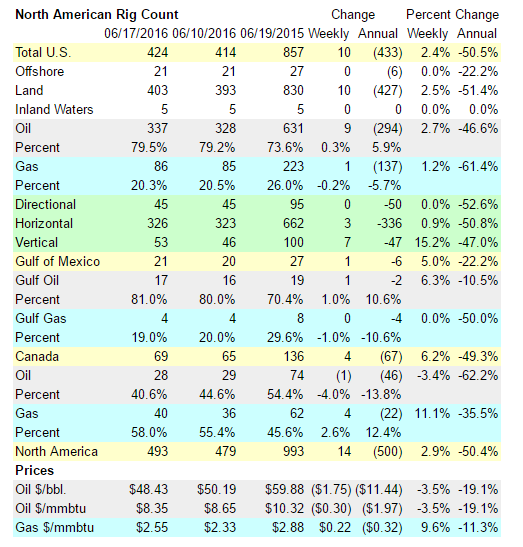 Although the current rig count in North America is significantly lower from last year, the recent improvement indicates that the rally in oil prices is leading to growth in rig activity. For instance, shale oil producer Pioneer Natural Resources (NYSE:PXD) plans on adding 5 to 10 rigs this year if the current WTI crude oil price of $50/barrel is sustained.
Similarly, Canada-based oil producer Whiting Petroleum (NYSE:WLL) will develop 44 wells in the Williston Basin after it entered into an agreement with a production partner who will bear the majority of the costs. The rig count in North America is rising because of a sharp production decline and robust demand, which is pushing the oil market toward regaining demand-supply balance faster-than-expected. This has led to an increase in the rig count of late, as shown in the chart below: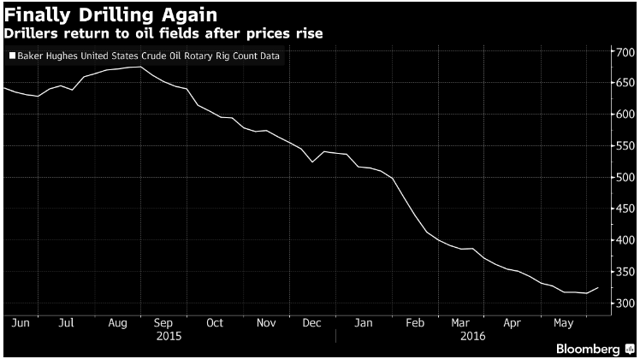 Source: Bloomberg
This recent recovery in the rig count, along with the rally in oil prices, has been key to the recovery in National Oilwell's stock price. This is because a recovering rig count will help National Oilwell bring about a recovery in its rig systems and rig aftermarket segments, which have been on the decline due to a weak end-market.
Not everything is bad for National Oilwell
National Oilwell Varco did not receive any new rig orders last quarter and reduced its backlog by $2 billion due to a client's bankruptcy. However, the company did witness new orders worth $97 million in the rig systems segment last quarter, although they were mainly for maintenance equipment. More importantly, the new orders in the rig systems segment were 9% higher on a sequential quarter basis.
On the other hand, National Oilwell is also seeing an improvement in its completion & production solutions, where net orders rose by 21% to $328 million as compared to a net order addition of $272 million in the previous quarter. This increase in net orders in the completion and production segment was a result of increased demand for equipment such as cranes, drilling automation, and jacking systems.
Technology improvements are delivering results
Thus, despite a significant drop in the rig count in the earlier part of the year, National Oilwell has managed to increase its backlog in other segments. Now, as the rig count has started picking up pace, the company should start witnessing an improvement in its backlog. In fact, National Oilwell is already in the process of bidding for a 12 closed-loop automated drilling projects, driven by the implementation of the proprietary wired drill pipe. This proprietary technology enables E&P companies reduce their drilling costs by adjusting the rig on a microsecond basis, which is why the product is gaining traction.
More importantly, technology additions in other areas are also delivering results for National Oilwell. For instance, the company has received a long-term contract for five years in North America, where it will track drilling rig operations using its real-time technology.
Additionally, National Oilwell has continued to invest in technology developments that should gain traction due to their utility. For instance, the company released a product known as RIGSENTRY recently, which is "the first end-to-end predictive solution that can foresee operational failures in subsea blowout preventer (BOP) components." The demand for such a condition-based remote monitoring system, equipped with predictive analysis of data, should increase going forward in harsh drilling environments as rig orders pick up pace.
Conclusion
Despite recent weakness, National Oilwell Varco's share price has been picking up pace on the back of an increasing rig count, which will increase the company's addressable market in the future as more oil producers bring back rigs online. Additionally, the company's focus on new technology has allowed it to land new orders in other segments, which is again a positive. So, investors should remain invested in the stock as it is capable of sustaining its run going forward on the back of end-market and technology improvements.
Disclosure: I/we have no positions in any stocks mentioned, and no plans to initiate any positions within the next 72 hours.
I wrote this article myself, and it expresses my own opinions. I am not receiving compensation for it (other than from Seeking Alpha). I have no business relationship with any company whose stock is mentioned in this article.