Selecta Biosciences Inc. (Pending:SELB) expects to raise $55.4 million in its upcoming IPO. Based in Watertown, Massachusetts, SELB is a clinical-stage biopharmaceutical company with a proprietary system to identify and develop therapies targeting the immune system.
SELB will offer 4.25 million shares at an expected price range of $14 to $16.
SELB filed for the IPO on May 24, 2016.
Lead Underwriters: Stifel Nicolaus & Company and UBS Investment Bank
Underwriters: Cannacord Genuity and Needham & Company
Business Summary: Clinical-stage Biopharmaceutical Company Developing Therapies Targeting the Immune System
According to Selecta's SEC Filings, the company is a clinical-stage biopharma, developing treatments that use immunomodulators. (These are encapsulated within nanoparticles.) Immunomodulators work to trigger antigen-specific responses, designed to treat and prevent diseases. The company focuses on developing and marketing differentiated therapies that support the immune system in safely and effectively treating rare diseases.
SELB's lead product candidate is SEL-212 for the treatment of refractory and chronic tophaceous gout. In addition, the Selecta Biosciences pipeline has seven other product candidates in various stages of pre-clinical and clinical trials. These are being studied for issues such as celiac disease, food allergies, type 1 diabetes, HPV-associated cancer, and smoking cessation and prevention.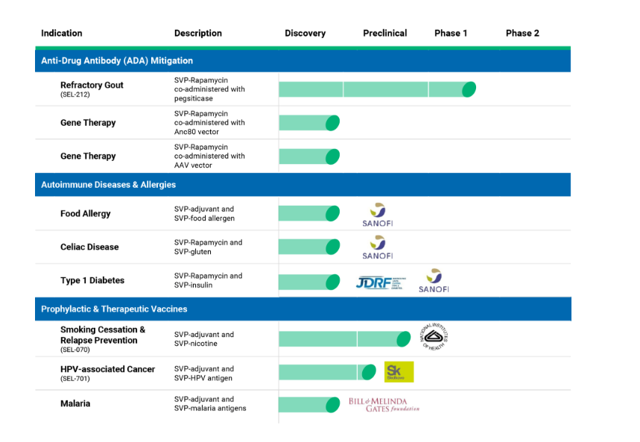 (Source)
Use of IPO Proceeds: Further Clinical Trials
Selecta Biosciences expects to use the net proceeds from the IPO for further clinical trials of SEL-212, manufacturing of SEL-212, and to fund the launch of a Phase 1 clinical trial of its first gene therapy program. They state they may also use proceeds for working capital and general corporate purposes.
Executive Management Highlights
As described in SELB's SEC Filings, President and CEO Werner Cautreels, Ph.D. joined Selecta Biosciences in 2010. His previous experience includes positions at Solvay Pharmaceuticals, Sanofi (NYSE:SNY), Sterling-Winthrop, Nycomed-Amersham, Innogenetics, and ArQule (NASDAQ:ARQL). Dr. Cautreels has a Ph.D. in chemistry from the University of Antwerp, and he completed the Advanced Management Program at Harvard Business School.
CFO David Siewers joined Selecta Biosciences in 2009. His previous experience includes senior financial positions at Fleet Financial Group, KPMG and Putnam Investments. He also independently consulted with companies on strategy, accounting systems, internal controls, and profitability and cost analysis. Mr. Siewers received his B.S. in Accounting from Marietta College and received his CPA in 1978 while working at KPMG.
Potential Competition: Sanofi, Pfizer and Merck
Selecta Biosciences faces competition from a variety of pharmaceutical companies including Sanofi, Pfizer (NYSE:PFE), Merck (NYSE:MRK), Anokion, Cour Pharmaceutical Development Company, Apitope International, Evotec, Dendright International, Johnson & Johnson (NYSE:JNJ), AstraZeneca (NYSE:AZN), Roche Holding, Amgen (NASDAQ:AMGN), Bristol-Myers Squibb (NYSE:BMY), and Immune Design Corporation (NASDAQ:IMDZ).
Financial Overview: Early Stage Losses Noted
Selecta Biosciences provided the following figures from its financial documents for the three months ending March 31:
| | | |
| --- | --- | --- |
| | 2016 | 2015 |
| Revenue (Grants & Collaboration) | $2,088,000 | $1,034,000 |
| Net Income | ($9,832,000) | ($7,294,000) |
As of March 31, 2016:
| | |
| --- | --- |
| Assets | $34,723,000 |
| Total Liabilities | $20,691,000 |
| Stockholders' Equity | ($125,805,000) |
Conclusion: Consider A Modest Allocation
While we hesitate on SELB's early clinical stage, we are impressed with its powerful range of collaborators, including Sanofi, the National Institutes of Health (NIH), and the Bill & Melinda Gates Foundation. Grant revenue has nearly doubled 2014-2015 to $6M.
While products are in their early stages, the pipeline is diverse and in high demand.
We suggest investors consider a modest allocation.
Disclosure: I/we have no positions in any stocks mentioned, and no plans to initiate any positions within the next 72 hours.
I wrote this article myself, and it expresses my own opinions. I am not receiving compensation for it (other than from Seeking Alpha). I have no business relationship with any company whose stock is mentioned in this article.