Fannie Mae (OTCQB:FNMA) and Freddie Mac (OTCQB:FMCC) have become the battlegrounds of the American dream and are often referred to as the Government Sponsored Enterprises (GSEs). Fannie Mae employs 7,300 people and is Ranked 16 on the Fortune 500 list, having been on the list 19 years and counting. Freddie Mac has also been on the Fortune 500 list for 19 years and is ranked 43. Both Fannie Mae and Freddie Mac are private companies, but the government has been taking all of their money since they were placed into conservatorship in 2008. In fact, the government is asserting privilege over documents going back as far as September 6, 2008: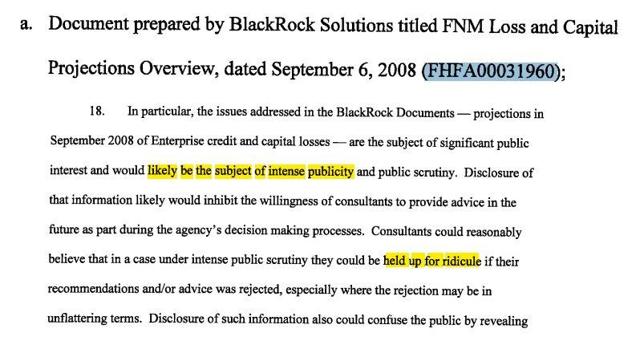 The Investment Opportunity In Brief: If you take the government for their word, then equity stakes in the GSEs that are NOT owned by the government are worthless. Richard X. Bove and William Ackman have forecasted that the commons could be worth $20 or so in the even the warrants are exercised and the GSEs are allowed to retain capital, while the preferreds at best would trade up to around par or so. If you believe the government for their word, you absolutely should not own equity securities of Fannie Mae and Freddie Mac.
Fairholme's Discovery Has Shifted The Future Of The GSEs
Fairholme's lawsuit in the Court of Claims has produced documents that go back to the first day of conservatorship that government officials themselves say not only could be, but "would likely be the subject of intense publicity and public scrutiny." It sounds like the BlackRock documents support last year's forensic accounting research. Treasury and FHFA knew that the GSEs were not facing an immediate liquidity risk, which is the definition of running out of money. Instead off-balance sheet accounting was used to justify giving all of the GSEs money to Treasury. The death spiral offense became a defense and subsequently has been replaced by a more definitive argument that is best illustrated by quoting Judge Lamberth's September 30, 2014 ruling:
It was Congress, after all, that parted the legal seas so that FHFA and Treasury could effectively do whatever they thought was needed to stabilize and, if necessary, liquidate, the GSEs.
Fairholme's discovery has produced thousands of documents that the government still is unwilling to reveal to plaintiffs or their lawyers. That said, handfuls have been released to the public and an in-depth analysis of the evidence shows that what was actually going on behind the scenes was defended by making false public statements. With this type of evidence being passed around to any courtroom entertaining the legality of the third amendment net worth sweep, similar rulings in the government's favor become less likely.
As part of the original deal, the government issued itself warrants and solvency/accounting driven senior preferred stock. As such, if you consider common shares of FNMA or FMCC, you might be aligned with the government interests if those warrants are exercised and/or sold off. The other publicly traded equity alternative is preferred shares, which looks to be the preferred thing to own among the people who have financed the bulk of the litigation so far.
More Lawsuits: More Chances for GSE Equity Investors To Win
This has caused investors to file lawsuits against the government for breaking the law and the government has and continues to assert that it has not broken the law. The government's bold defense has backed down from its initial assertion that the purpose behind the third amendment net worth sweep was to prevent the companies from having to borrow money to pay a discretionary dividend payment. This results in Fannie Mae and Freddie Mac borrowing from private markets to pay the government a discretionary cash dividend while simultaneously depleting the capital of the enterprises while they are in a conservatorship.
4623(d) Goes On Parade
The same defense that we first saw show up the day of the Appeals Oral Arguments is now showing up in the other lawsuits, Saxton and Robinson. Robinson's oral arguments are on Thursday, July 14, 2016.
If the government is to be believed, Lamberth's ruling leveraging 4617(f) has subsequently been bolstered by 4623(d) as a statutory hurdle. Prior CFO of Fannie Mae Timothy J Howard disagrees:
In my view this filing is a pure matter of FHFA "running the clock" on this case. The relevance of section 4623(d) of HERA came up during oral argument in the Perry Capital appeal, and was convincingly rebutted by plaintiffs' counsel in a supplemental filing. In summary, section 4623(d) deals with the supervisory duties and actions of the FHFA Director in his or her capacity as regulator of the companies; plaintiffs in the net worth sweep cases (including this one, filed in the U.S. District Court of the Northern District of Iowa) are challenging the duties and actions of FHFA as conservator of Fannie and Freddie. The former has nothing to do with the latter. FHFA surely knows this, but chose to file this motion anyway.
Ninth Circuit Court Ruling Go Against FHFA's Latest Arguments
Timothy Pagliara, who owns shares of Fannie Mae and Freddie Mac has filed dueling lawsuits to get access to the books and records of Fannie Mae and Freddie Mac. In March, Myron T. Steele sent a notice to Judge Sleet:

Meanwhile, FHFA argues against Pagliara saying that HERA wipes out all of his rights: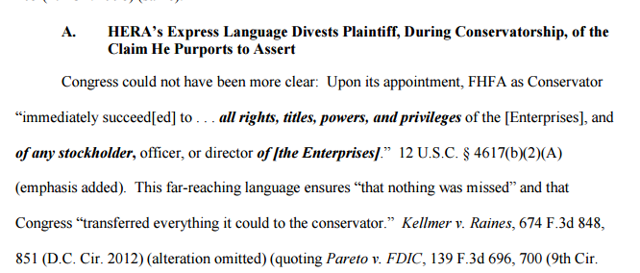 It goes on to say that the right to inspect the books of Fannie Mae and Freddie Mac was transferred to FHFA, so if anyone should be suing the GSEs, it should be their regulator. According to FHFA's interpretation of the law, investingating FHFA for wrongdoing is against the law. FHFA goes on to argue that because shareholders of GSE securities allegedly have no rights, that there is no proper purpose in continuing litigation:

Pagliara's Delaware complaint makes it all pretty clear that there is proper purpose:
Both lawsuits (1,2) in Delaware have noticed Judge Sleet earlier this month that the MDL failed and are pending.
Summary And Conclusion
Investing in the GSEs isn't for the faint of heart, because you're betting that the government broke the law. Not only are you betting that the government broke the law, but you're also betting that the courts are going to fix it. The reality we face as investors is that you never can be too sure of a good thing. In this case, however, there are thousands of pages of evidence and there are multiple lawsuits fighting what the government has done from multiple angles, many of which will likely get amended after more evidence is handed over to plaintiffs' legal teams. Whether or not the government has been misleading investors with respect to the GSEs is no longer up for debate. What remains to be seen is if the government's interpretation of the law precludes their actions from being undone.
In the case of the net worth sweep, billions of dollars have been transferred to the government that otherwise would have accrued on the company balance sheets, making these companies fabulously wealthy. Instead, a series of engineered accounting tricks implemented as a matter of public policy winding down the GSEs have manufactured a crisis situation by design where the two companies with the most assets in America have negligible net worth, not unlike any other government agency.
I own 4,050 shares of FMCCH, 9,340 shares of FMCCP, 4,442 shares of FMCCT, 5,000 shares of FMCKP, 27,086 shares of FNMFN, 5 shares of FNMFO and 25,092 shares of FNMA.
Disclosure: I am/we are long FNMA, FMCCH, FMCCP, FMCCT, FMCKP, FNMFN, FNMFO.
I wrote this article myself, and it expresses my own opinions. I am not receiving compensation for it (other than from Seeking Alpha). I have no business relationship with any company whose stock is mentioned in this article.
Editor's Note: This article discusses one or more securities that do not trade on a major U.S. exchange. Please be aware of the risks associated with these stocks.