I think that now is the time for Chesapeake Energy (NYSE:CHK) to make a comeback on the stock market as oil and gas prices are on the rise. Over the past week, Chesapeake shares have rallied almost 10% as it is increasingly becoming clear that strong summer demand due to cooling requirements is leading to a lower-than-expected rise in inventories, while supply disruptions in the oil industry are moving the market toward balance in a faster-than-anticipated way.
Now, Chesapeake is well-placed to take advantage of the rise in oil and gas prices as the company has strengthened its completion processes, which are leading to a steep drop in its costs. So, in this article, we will take a closer look at the process that's being deployed by Chesapeake to lower its cost base and how they are impacting its financial performance.
A closer look at Chesapeake's advanced completion process
Chesapeake's strategy to generate more value out of its assets is by deploying longer fracs. This is because using longer lateral lengths as compared to shorter ones leads to higher incremental production, and that too at lower cost per feet of frac. More specifically, when a longer frac is deployed, water and other fracking liquids are pumped in more stages as compared to a shorter frac.
This allows the release of more oil and gas reserves due to efficient isolation of the shale resources, apart from an increase in reservoir contact. Now, a greater degree of contact with the reservoir, along with better isolation of shale oil and gas, leads to an increase in the release of hydrocarbons in the wells, while costs remain the same due to identical pumping equipment required for both longer and shorter fracs.
As a result, with the same amount of investment, a driller can generate higher initial production from its wells that leads to a decline in per feet cost of drilling. This is exactly what is working for Chesapeake Energy since it is increasing lateral lengths at its acreage in the Eagle Ford and the Haynesville. This is anticipated to bring down its cost to drill per foot and increase production at the same time, as shown below: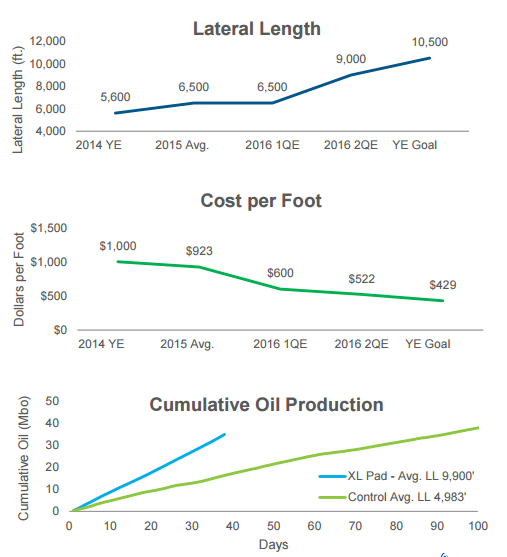 Source: Chesapeake Energy
The chart given above clearly indicates that the mechanics of using longer laterals and more frac stages is working for Chesapeake. For instance, Chesapeake's cost per foot to drill a well in the Eagle Ford was at $600 in the first quarter of the year. But, since the company will increase its lateral length to 10,500 feet by the end of the year, a rise of 16% as compared to the first quarter, its cost per foot will come down.
More specifically, Chesapeake's cost per foot in the Eagle Ford will go down to $400 by the end of the year from $600 at the beginning of the year, which is a drop of 33%. Thus, the rate of decline in costs due to longer lateral lengths is greater than the increase in the length, which is not surprising given the discussion above.
Moreover, on the back of increased lateral lengths, Chesapeake will be able to generate more oil from its wells in a shorter period as compared to lesser production over a longer number of days, as shown above. This is bringing down the company's cost to drill a well in the Eagle Ford owing to higher production, and could help the company generate returns of 37.5% at the mid-point at a $45/barrel oil price.
Similarly, in the Haynesville area, Chesapeake has increased its lateral length by 75% in the past three years from under 4,500 feet back in 2013 to 8,000 feet this year. This has resulted in a 63% bump in production from wells drilled with longer laterals as compared to legacy wells that were drilled with 4,400 feet of lateral length.
Moreover, apart from an increase in production, these longer laterals will help Chesapeake lower drilling and completion costs over here by 23% in 2016 as compared to last year. Thus, Chesapeake looks capable of further lowering its cost base going forward, which will help the company benefit from a rise in prices.
How longer lateral lengths have helped Chesapeake so far
Chesapeake has already benefited from the use of longer lateral lengths of late. This is evident from the fact that it lowered cash costs by 28% year-over-year in the first quarter. Driven by such an impressive cost reduction in the previous quarter, Chesapeake has been able to bring down the rate of decline in its earnings before interest and taxes.
In fact, Chesapeake's earnings before interest and taxes are actually trending upward of late, along with its operating margin. Moreover, the company has been able to arrest the slide in its gross margin as well despite the weakness in natural gas and oil prices earlier this year, as shown below: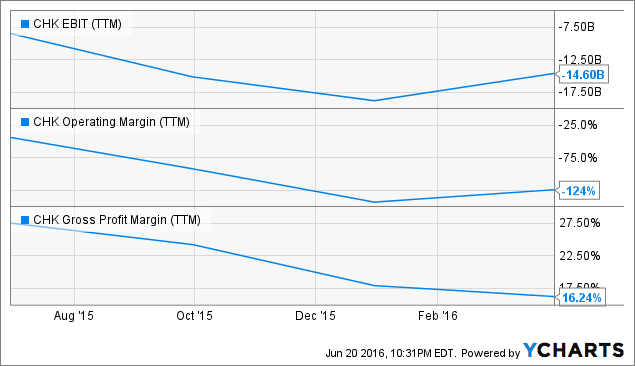 CHK EBIT (NYSE:TTM) data by YCharts
Conclusion
Hence, it is evident that the deployment of longer fracs is working in Chesapeake Energy's favor and this should allow it to record operational improvements as commodity prices improve. Thus, it won't be surprising if Chesapeake Energy is able to sustain its newfound momentum going forward, which is why investors should continue holding the stock.
Disclosure: I/we have no positions in any stocks mentioned, and no plans to initiate any positions within the next 72 hours.
I wrote this article myself, and it expresses my own opinions. I am not receiving compensation for it (other than from Seeking Alpha). I have no business relationship with any company whose stock is mentioned in this article.