Soon after the market closed today, Werner Enterprises (NASDAQ:WERN) provided a public announcement regarding the company's second quarter earnings estimates. Estimated diluted earnings per share, EPS are now expected to be in the range of $0.21 to $0.25. Analyst estimates called for $0.40 per share so at the midpoint, the anticipated miss will be over 42 percent lower, a substantial decline versus the negative 13 percent performance during the first quarter.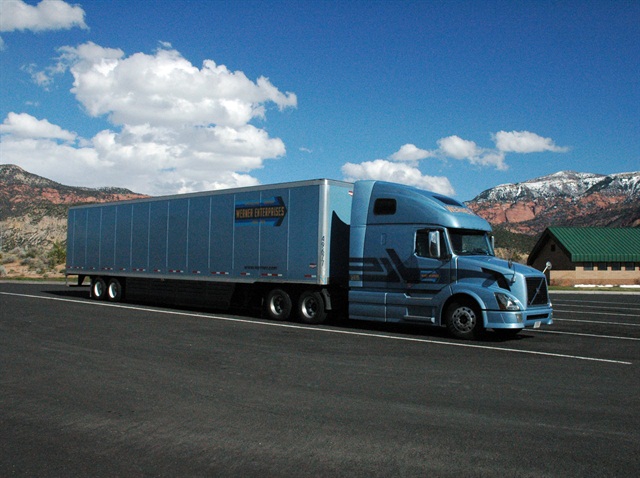 Werner provided three primary factors for the impact to diluted EPS including a sluggish freight market, the cost of driver pay increases and a soft used truck market. Werner was recently featured in the Journal of Commerce speaking to the challenging rate environment for truckload services, complaining about boom-bust cycles. It has become more clear that the truckload market is experiencing some overcapacity which has led to more aggressive pricing.
Werner stated that the company witnessed a deceleration for rate per total mile trends resulting from difficult customer rate negotiations and weak spot market rates, lower miles per truck and increased empty miles. The National Dry Van Spot Rate Average declined 12.5 percent year-over-year, YOY as of early June. With lower negotiated rates, and lower miles per truck and increased empty miles, it would appear that the competition's price wars beat our Werner for some business during the quarter.
But Werner's troubles have been compounded recently by the imminent driver shortage on the horizon as the industry has been forced to increase driver pay to ensure that there will be capacity available once markets again tighten. These expectations are predicated on the many federal rules forthcoming, most notably the Electronic Logging Device, ELD mandate.
Werner's cost statement regarding the company's continued focus on reducing the average age of its truck fleet to approximately 1.5 years by the end of the year is partially driven by federal mandates, but also an indication that a tightening market is anticipated to occur in the near-term. Werner's decision to suspend growing the company's truck fleet until freight and market rates show meaningful improvement can be turned on a dime.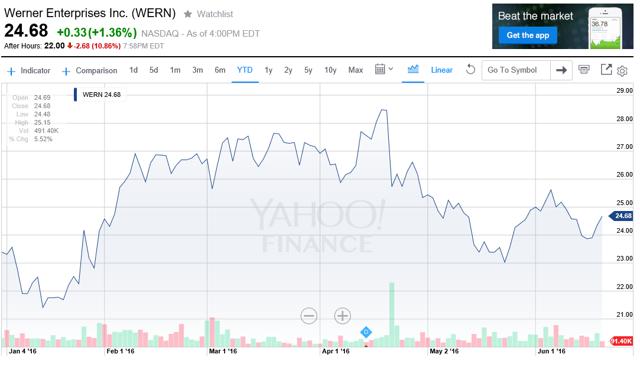 Yahoo! Finance
Werner's stock price was down big in after-hours, by as much as 13 percent once the news hit. Judging by pre-market news for transports that are negative, the opening day after usually results in similar negative trading performance. Investors should expect to see similar weakness across the trucking industry, but with more pronounced negative volatility for carriers with more exposure to truckload services.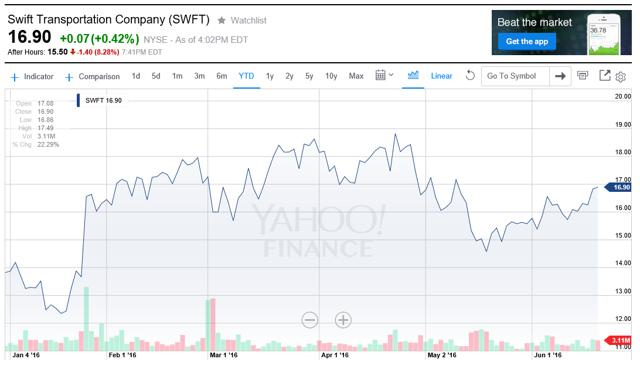 Yahoo! Finance
Swift Transportation's (SWFT) stock price was down over 8 percent during after-hours.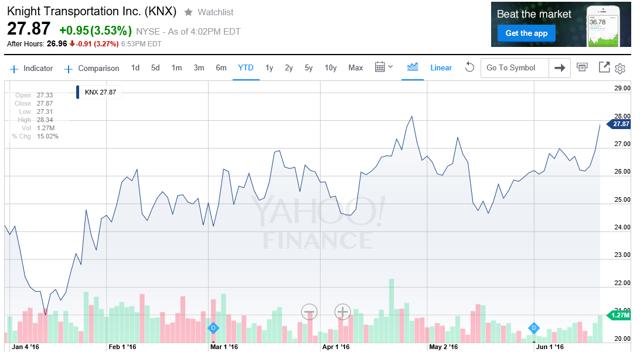 Yahoo! Finance
Knight Transportation's (NYSE:KNX) stock price was down over 3 percent during after-hours. These three carriers represent some of the largest asset-based carriers with exposure to truckload services. JB Hunt (NASDAQ:JBHT) also has significant exposure, but the company has a much stronger percentage of revenue generated from the intermodal business, which is poised to grow strongly this year.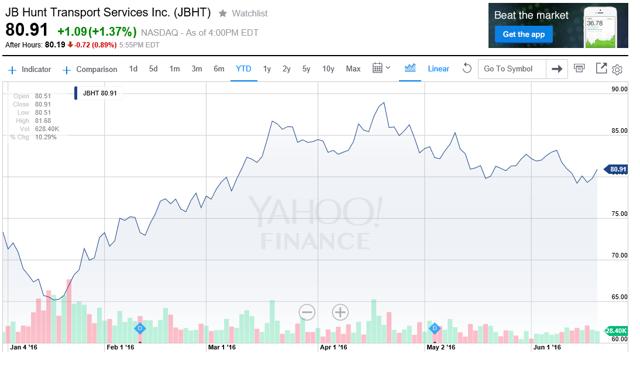 Yahoo! Finance
As such, JB Hunt's after-hours performance has not been impacted as much, tomorrow's action could still put pressure on this company and the trucking industry overall. Other companies not heavily impacted in after-hours included Old Dominion Freight Lines (NASDAQ:ODFL), Landstar System (NASDAQ:LSTR), Ryder System (NYSE:R) and YRC Worldwide (NASDAQ:YRCW).
For less-than-truckload, LTL carriers, overcapacity has not been as much of an issue and pricing has not yet witnessed aggressive undercutting. Investors tomorrow still may speculate that pricing could weaken for LTL carriers and sell. Landstar System and Ryder System both operating different models, one non-asset based, the other a leasing model. But both could still feel pressure by association.
Overall today's news has confirmed what has been occurring in the truckload segment, as pricing has become a point of contention for competitors, and a boon for shippers. This environment has been prevalent through last year, but it will not last forever as capacity is anticipated to tighten in the near-term.
Investors should look to see how different companies perform depending upon their exposure to truckload services. We may witness companies in the LTL segment, companies with exposure to other asset operations, or companies with different revenue models see less selling pressure.
Disclosure: I am/we are long JBHT, YRCW.
I wrote this article myself, and it expresses my own opinions. I am not receiving compensation for it (other than from Seeking Alpha). I have no business relationship with any company whose stock is mentioned in this article.