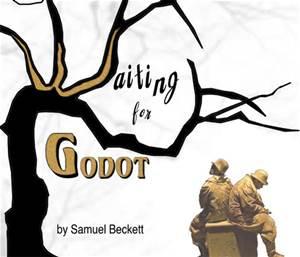 Being a shareholder in biotech juggernaut Gilead Sciences (NASDAQ:GILD) over the past two years has been akin to being stuck in the classic "Waiting for Godot" as one feels like he is waiting for something that will never happen. Despite seeing a ~600% increase in earnings from FY2013 through FY2015 driven by the blockbuster success of hepatitis C cures Sovaldi & Harvoni, the stock has gone nowhere as investors have worried that hepatitis C sales will continue to decline in the United States as the sickest patients have been treated and new competition will continue to emerge in this lucrative space.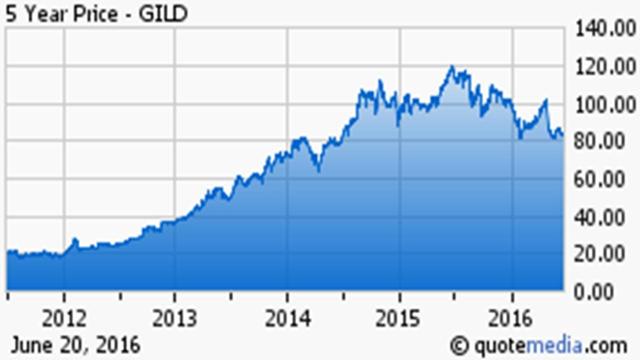 Such concerns are understandable but I believe overstated. With a P/E ratio of under seven times earnings and a free cash flow yield north of 12%, even a significant decline of hepatitis C revenues is more than priced into the stock at this point. So what will it take to get the shares of Gilead Sciences off the schneid and moving forward again? Here are three possible catalysts I believe could do the trick.
Second Quarter Earnings:
The most obvious possible catalyst is upcoming second quarter earnings. Gilead is due next to report quarterly numbers late in July. Last quarter after deliver eight straight quarters of upside surprises since the launch of Sovaldi in the first quarter of 2014, Gilead delivered its first earnings miss in recent memory. Earnings came in 12 cents a share below the consensus, and hepatitis C revenues did decline particularly in the United States. To be fair, a good portion of the earnings miss was due to a $200 million charge related to patent infringement case brought by Merck (NYSE:MRK). Recent developments in that case is pointing more and more to a resolution in Gilead's favor however and these charges could well be reversed in coming quarters. Hepatitis C revenue declines are the relevant long term concern.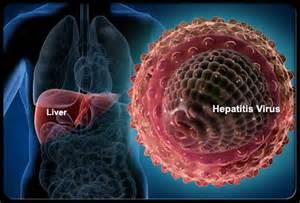 Quarterly earnings estimates have come down since the last quarterly report and the consensus is calling for right at $3 in EPS on $7.7 billion to $7.8 billion. Given HIV sales increased 19% year-over-year last quarter thanks to new products, that fact that Gilead did just under $7.8 billion in revenues and last quarter and the massive amount of stock the company is buying back; Gilead should at least "meet" expectations if not exceed them. Investors will be watching closely to see how hepatitis C sales are doing across the globe, but given low expectations I expect the shares to get a lift from its quarterly numbers.
Progress in Nash:

The company believes NASH could be its next blockbuster franchise outside the HIV & HCV spaces which it dominates. It's estimated that 15 million individuals have NASH in the U.S., and by the year 2020, NASH could be the leading cause of liver transplantation replacing hepatitis C. Management has stated it believe the total NASH market could total over $30 billion globally five to seven years out given the increasing levels of obesity in the developed world. The company has four compounds in Phase II trials within its pipeline targeting NASH.
NASH is a biologically complex disease and consists of three components. There is a metabolic component, there is an inflammatory component and then there is the extracellular matrix or the fibrotic component. Gilead has programs in clinical development that cover all these various three components of the disease. Any positive developments on this front could be a significant catalyst for the shares of Gilead and need to be watched closely by long term shareholders. NASH could well turn out to be the company's third major driver of revenues & earnings over time.
M&A:
One of the biggest criticisms of the company over the last year is that has been using its almost $4 billion in quarterly free cash flow to mainly buy back stock and to a lesser extent to pay an over two percent dividend yield. The company has made one or two small acquisitions and has a major collaboration deal with Galapagos (NASDAQ:GLPG) as an entrée into the inflammatory disease realm, but has not made a major purchase since it bought Pharmasset in 2011 for $11 billion to expand into the hepatitis C space.
A significant acquisition could curtail that criticism and bolster sentiment on the shares. I don't see the company doing a purchase larger than $5 billion, however. I based that on consistent comments from management that it is looking at acquisitions in the $1 billion to $5 billion range. Even smaller acquisitions that deepens the company's footprint into the NASH space like Genfit (OTCPK:GNFTF), a French based biotech focused on NASH with a ~$650 million market capitalization or Tobira Therapeutics (NASDAQ:TBRA), another smaller U.S. based NASH concern could be well received by the market.
Outlook:
Those are the three near term catalysts I can see lifting the shares of this beaten down biotech stalwart. Although the past two years have been frustrating for Gilead shareholders, I am taking the long term view on Gilead. It helps that I purchased my shares four years ago when they sold at ~$40 a share so I still have a more than solid overall return from that stake. In addition, Gilead is still one of best performing stocks in the NASDAQ over the past decade and a half. Given this, I willing to bide my time, collect my 2.2% dividend and wait for some positives to come into focus and eventually boost these shares again.
Note: To get these types of articles on attractive biotech and pharma stocks as soon as they are published, just click on my profile and hit the big orange "follow" button and choose the real-time alerts option.
Disclosure: I am/we are long GILD.
I wrote this article myself, and it expresses my own opinions. I am not receiving compensation for it (other than from Seeking Alpha). I have no business relationship with any company whose stock is mentioned in this article.