Source: Brookfield Infrastructure Partners
Brookfield Infrastructure Partners (NYSE:BIP) is one of my favorite high-yield, dividend growth stocks. Its high-quality, globally diversified utility business model generates steady cash flow that has led to generous, and steadily growing distributions over the years. This, in turn, has resulted in sensational total returns since its 2008 IPO.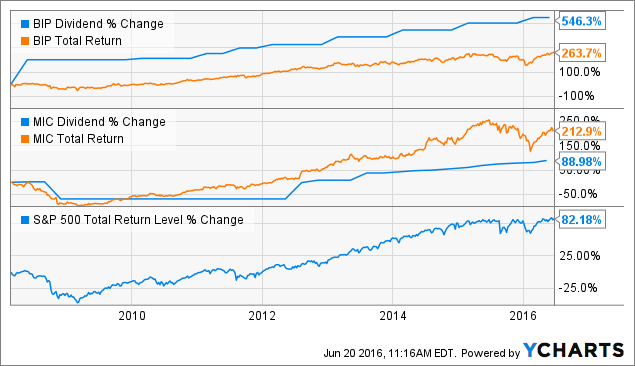 BIP Dividend data by YCharts
However, the best reason that long-term investors should consider owning Brookfield Infrastructure is its world class, trustworthy, and investor friendly management team.
To show you why that is so important, let's compare Brookfield Infrastructure to one of its competitors, Macquarie Infrastructure Corporation (NYSE:MIC), whose dividend has proven far less secure over the last few years.
While these two high-yield stocks may both seem like good dividend candidates at first, once you dig beneath the surface it becomes obvious why Brookfield could potentially prove a far better long-term income investment over the next decade, and beyond.
All utilities are NOT created equal
Both Brookfield Infrastructure Partners and Macquarie Infrastructure Corp., while diversified utilities, operate on a business model similar to that of an MLP. That means Investors are paid out from stable, long-term contracted cash flow, while the majority of growth is funded externally via debt and equity markets.
Macquarie Infrastructure is involved in 4 businesses:
Atlantic Aviation: which provides plane refueling and hangar services in 68 airports across the US.
IMTT: 10 terminals with 45 million total barrels of oil, chemical, and agricultural supply capacity.
HawaiGas: natural gas production and distribution to 35,000 customers on 6 Hawaiian islands.
CP&E: Contracted power business which owns a New York City based-gas power plant and renewable energy capacity in the Southwest US.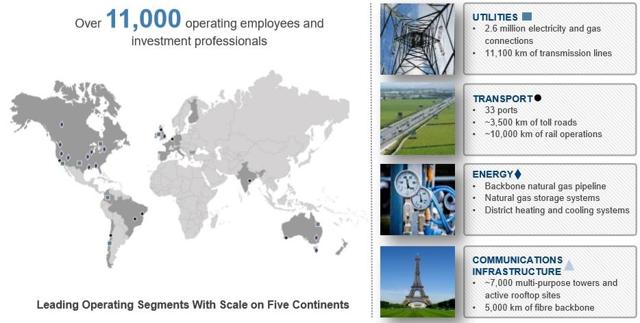 Source: Brookfield Infrastructure Partners investor presentation.
Brookfield owns 30 global assets including ports, toll roads, telecommunication towers and fiber optic cables, gas and electricity distribution, and railroads. With 91% of Brookfield Infrastructure's cash flows derived from a long-term contract or from regulated industries, (and 75% of its foreign currency exposure hedged for the next two years), investors can truly rest easy that their payout is secure.
ALWAYS put payout sustainability first
Sources: Yahoo Finance, earnings reports, investor presentations, management guidance, Fastgraphs
| | | | | |
| --- | --- | --- | --- | --- |
| Utility | Yield | Q1 2016 Cash Flow Payout Ratio | 10 Year Payout Growth Forecast | 10 Year Projected Total Return |
| Brookfield Infrastructure Partners | 5.1% | 57.3% | 5% to 9% | 12% to 15% |
| Macquarie Infrastructure Corp. | 6.7% | 71.9% | 8.0% | 14.7% |
The most important aspect of any dividend profile is that it be sustainable. After all, a distribution cut can result in catastrophic share price collapse from which your investment may never recover.
Brookfield's much lower payout ratio means that not only is its distribution well protected, but also capable of sustainable growth for many years to come. Better yet, Brookfield's large percentage of retained cash flow means that it can fund a significant proportion of its growth plans internally rather than rely on fickle debt and equity markets.
These are just some reasons that management believes it can reward long-term investors with 12% to 15% total returns over the next few years. With a good rule of thumb for total returns being yield + payout growth, that guidance appears realistic.
Now compare Brookfield to Macquarie Infrastructure, which analysts believe capable of similar future total returns. While the yield is higher, there's a good reason for that. The higher payout ratio indicates Macquarie investors might be more at risk of future dividend cuts. In fact, in Q4 of 2008, the financial crisis forced Macquarie to slash its dividend by 69%. It then took four years for the dividend to grow back to its former, pre-crisis level.
While perhaps it's understandable that Macquarie's dividend suffered during the worst financial disaster since the Great Depression, the fact remains that its dividend security isn't as good as Brookfield. In fact, it's not even as secure as it first appeared thanks to the fact that the company is run like a hedge fund.
Fee structure should primarily focus on investors getting rich, NOT management
Sources: 10-Ks, MIC prospectus
| | | | | |
| --- | --- | --- | --- | --- |
| Utility | Base Management Fee | Special Fee | 2015 Total Management Fees | Fees as % of Revenue |
| Brookfield Infrastructure Partners | 1.25% of EV | 25% of AFFO above $0.33/unit | $202 Million | 10.87% |
| Macquarie Infrastructure Corp. | $20 Million/year +1% of EV + next 2 quarters of capital spending | 20% of market cap appreciation above Utility Index hurdle rate FOR THAT QUARTER | $355 Million | 21.69% |
Brookfield's management fees are structured in such a way as to benefit long-term unitholders. For example, at the end of 2015, Brookfield Asset Management (NYSE:BAM), which provides Brookfield Infrastructure's veteran leadership, owned nearly 30% of the outstanding units.
This means that growing the distribution pays both management and investors. And since Brookfield Infrastructure is primarily targeted towards dividend lovers, over time a rising payout naturally causes the unit price to rise, thus increasing the enterprise value from which the base fee is calculated.
Meanwhile, Macquarie's moderately secure payout ratio is a bit disingenuous because its reported cash flow doesn't include the enormous fees that it might have to pay management. For example, due to outperformance of other utilities in 2015 Macquarie's management took home $285 million in performance fees. Worse still, 47% of that came in the form of newly issued shares that diluted existing investors.
Now Macquarie Infrastructure bulls might argue that its management fee structure is justifiable for two reasons. First, if shares soar in price then investors benefit so management deserves a hedge fund like cut of the profits. Second, even if investors get diluted, paying management so much bonus equity means higher insider ownership which theoretically aligns its interest with those of shareholders.
The problem is that unrealized capital gains can evaporate overnight but the higher share count remains. This potentially leaves investors with no long-term benefit since the performance bonus is based on quarterly performance.
As for high insider ownership, the fact is that Macquarie's management only owns 7.8% of the company, a piddling amount compared to Brookfield management's stake. Macquarie Infrastructure's insider ownership would be much higher except that management usually sells the majority of its bonus equity, such as the $160.4 million it unloaded on May 27, 2015.
And don't forget that by issuing equity for non-accretive purposes management is automatically growing the enterprise value that determines its base fee. That dilution also slows growth in cash flow per share, which can hurt both dividend security and future payout growth prospects.
Worse still, those potentially sky-high fees result in poorer overall profitability, and can even potentially provide an incentive to pursue growth that can actually destroy long-term shareholder value.
High fees = far worse profitability and potential destruction of investor capital
Sources: Gurufocus, Morningstar
| | | | | |
| --- | --- | --- | --- | --- |
| Utility | Operating Margin | ROIC | WACC | Net ROIC |
| Brookfield Infrastructure Partners | 28.7% | 10.65% | 5.69% | 4.96% |
| Macquarie Infrastructure Corp. | 8.9% | 1.34% | 7.81% | -6.47% |
As you can see, Macquarie Infrastructure Corp.'s return on invested capital is far below its weighted average cost of capital, meaning that it's not growing sustainably. Rather, management is relying on constant new capital infusions to fund its growth plans. While this allows cash flow growth sufficient to increase the dividend in the short-term, it's a poor long-term strategy. Should debt and equity markets dry up, such as, during a recession that causes a bear market, Macquarie's dividend growth will likely come to an abrupt end.
Why is its profitability so much worse than that of Brookfield Infrastructure Partners? Partially because high management fees eat away at the company's profits. In addition, it's possible that management may not mind the current situation it's in. After all, every dollar of new debt it takes on, and each new share of stock it sells raises the enterprise value, and thus its base management fee.
On the other hand, Brookfield Infrastructure Partners is able to earn decent returns on the money investors have already given it. In fact, because Brookfield retains so much of its cash flow, the proportion of external capital it uses to fund its growth is gradually decreasing; causing its already impressive EBITDA margin to rise over time.
(click to enlarge)


Source: Brookfield Infrastructure Partners investor presentation.
Now don't get me wrong, Brookfield Infrastructure isn't likely to stop tapping debt or equity markets anytime soon, nor should investors want it to. Brookfield Infrastructure is a proven wealth compounding machine; one that's always on the hunt for quality global infrastructure assets selling at depressed prices.
For example, Brazil is facing the worst recession in decades, which means that large amounts of utility assets might become available for fire sale prices. Such acquisitions could prove massively accretive to AFFO per unit and allow for many years of continued payout increases.
After all, Brookfield Asset Management, has over 100 years experience managing utility assets around the globe, and has already proven it can grow Brookfield Infrastructure Partners quickly, profitably, and reward unit holders with exceptional long-term returns.
Which is why, when you factor in the incentives that its fee structure is based on, I'm confident that Brookfield's management team is far superior to Macquarie.
Bottom line: quality, investor friendly, and long-term focused management makes Brookfield a true "Buy and Hold Forever" utility
In the short-term, many stocks may appear to offer high and fast growing payouts. However, only those with a quality, experienced, and shareholder friendly management team can truly compound your wealth and income over time.
Brookfield's management has all those qualities and is why I consider this to be one of the best long-term dividend growth investments you can make.
Disclosure: I/we have no positions in any stocks mentioned, and no plans to initiate any positions within the next 72 hours.
I wrote this article myself, and it expresses my own opinions. I am not receiving compensation for it (other than from Seeking Alpha). I have no business relationship with any company whose stock is mentioned in this article.