Microsoft's (NASDAQ:MSFT) recent proposal to purchase LinkedIn (LNKD), as well as its spotty acquisition record, has been covered on Seeking Alpha and other news sources quite a bit already. One thing that isn't discussed as much is the company's deteriorating returns on invested capital and return on equity. I've been a long-time Microsoft bull - it's one of the first companies I ever bought - but it's getting to the point where I'm questioning my logic for holding shares.
Should we give the new CEO a chance?
Most of Microsoft's shoddy acquisition track record can be attributed to previous CEO Steve Ballmer. Now that Satya Nadella runs the show at Microsoft, maybe we should see how his first big-time acquisition plays out before passing judgment, right? That's hard for me to do, but maybe I'm wrong.
I was personally hoping for higher margins, better cash flow, and better shareholder returns going forward, not the purchase of a profitless social media company. Here's the first crack in Microsoft's armor from my point of view.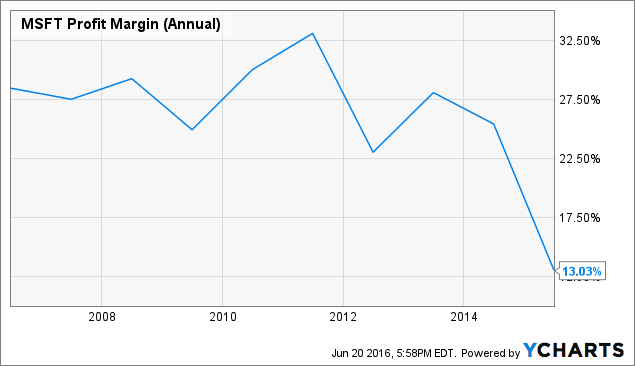 MSFT Profit Margin (Annual) data by YCharts
While many other blue chips are maintaining record-high margins to the point where I'm beginning to question their sustainability, Microsoft's margins seem to be more and more suppressed, especially recently. The company seems to take a lot of "one-time" charges related to lousy acquisitions as well, to the point where I'm starting to think that they're basically a normal occurrence. Hopefully LinkedIn will be different.
Why do margins matter?
Microsoft's return on invested capital continues to descend downward, and I'd argue that it's mostly because of weak margins. This indicates, at least to me, that it's become better at squandering my shareholder wealth than it has at just distributing it out in the form of dividends. Give me the cash, please.

Created by Joseph Harry, data from Morningstar
Moving on to the equity perspective, we can see margins have been a real drag on ROE, too. I created the below Dupont to specifically highlight what's driving the downward pressure.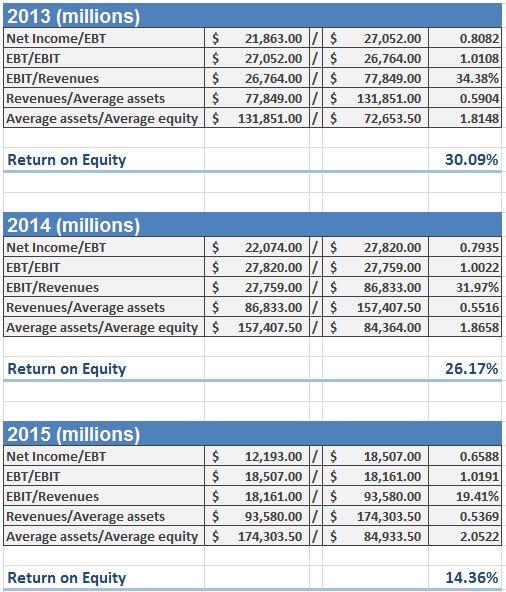 Created by Joseph Harry, data from Morningstar
Deteriorating operating margins coupled with weakening utilization of assets helps explain the weakening ROE trend - and this is despite higher leverage over the last three years. Margins matter, especially if you base management's performance on capital allocation and not just non-GAAP earnings and revenue growth.
While Microsoft's financials are often muddied up by one-time charges, looking at margins at the gross level still reveals a telling sign of long-term margin compression over the last decade.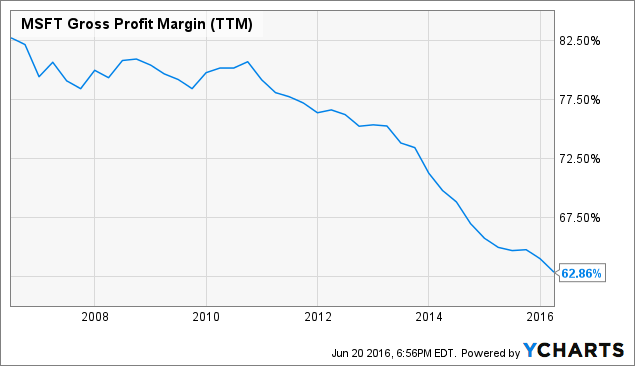 MSFT Gross Profit Margin (NYSE:TTM) data by YCharts
Microsoft's margins just ain't what they used to be, which isn't a good sign for long-term return on equity or invested capital. I don't know how LinkedIn will help this situation, either.
Now for the bright spots - free cash flow and earnings quality
One thing Microsoft continues to excel at is converting a large amount of sales into free cash flow.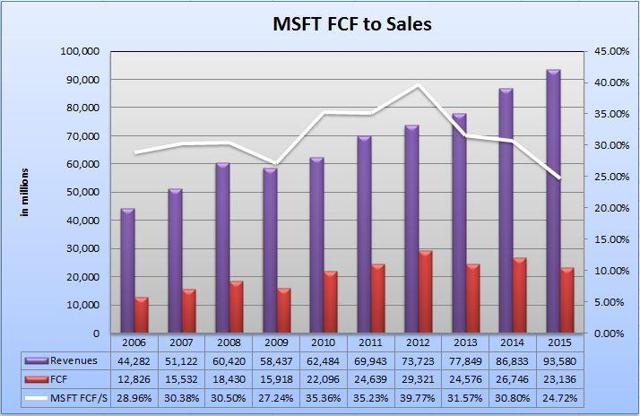 Created by Joseph Harry, data from Morningstar
This trend has taken a slight dip recently, but I'm not as worried about it because there's still an impressive amount of cash being thrown off from the company's existing businesses.
If Microsoft's free cash continues to decline rapidly, I'll be watching a little closer, however. I like that legacy products such as Office are being integrated into the cloud and converted into recurring revenue streams going forward. I think this will make cash flows more "sticky". If LinkedIn somehow factors into all of this and improves it, even better.
Below we can see that earnings quality has improved notably over the last five years.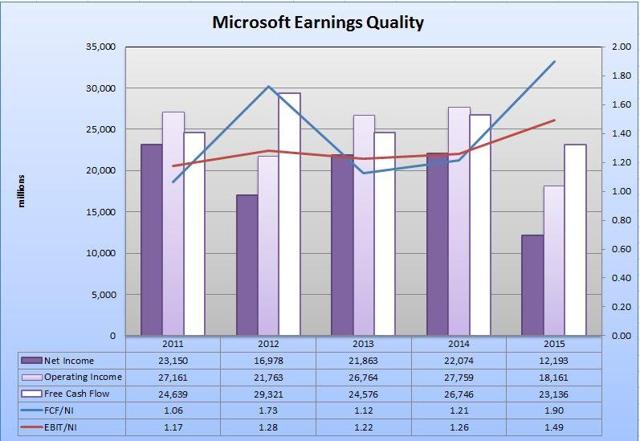 Created by Joseph Harry, data from Morningstar
When EBIT covers net income, that's good. When free cash flow covers net income - it's great. I'd argue that for all of its acquisitive blunders and management-related flaws - it still retains its "cash cow" status. This gives the firm plenty of wiggle room to figure out how to right its margin ship. It's also probably good news for dividends.
Conclusion
Microsoft is obviously in the middle of a transitional period, moving more into its cloud-related business and integrating legacy products along the way. It's fairly friendly to shareholders in regard to dividends, too. I think it's a decent income stock at the right price, but I'm not really a buyer here until I see some stability in margins. It looks like they're in a freefall as of now.
The good thing about Microsoft is its continued ability to generate a very large amount of cash flow from very little capital investment. The problem of falling free cash flow remains, however.
The LinkedIn acquisition irked me, but I'm willing to give Nadella a mulligan on this one. Maybe there's something to the deal that will grow shareholder wealth that I'm missing, but the purchase price says otherwise. I'd like it more if the company would stop with the acquisitions that cripple earnings and cut into margins. All it seems to do is drag down ROE and muck up the firm's financial statements.
As of now, I'm still holding Microsoft shares because I still think it's a premium franchise with a wide-moat, but I'm also exploring the thought of trimming my position a little here. I view the declining tech giant as more of an income stock that I can take dividends from to invest elsewhere, but also with the possibility of a successful turnaround that will fuel the capital appreciation fire further down the road. I think at least some of the market views Microsoft as a growth/cloud play now, which is fine, but I think that's more of a story than something to base an investment thesis on. It's just not backed up by the fundamentals yet.
If you enjoyed this article and would like to receive further updates and articles in the future, please feel free to hit the "+Follow" button at the top of the page by the author's name.
Disclosure: I am/we are long MSFT.
I wrote this article myself, and it expresses my own opinions. I am not receiving compensation for it (other than from Seeking Alpha). I have no business relationship with any company whose stock is mentioned in this article.
Additional disclosure: Articles I write for Seeking Alpha represent my own personal opinion and should not be taken as professional investment advice. I am not a registered financial adviser. Due diligence and/or consultation with your investment adviser should be undertaken before making any financial decisions, as these decisions are an individual's personal responsibility.