Cisco Systems (NASDAQ:CSCO) is first and foremost a computer networking company, and an essential part of that category is security. Cybersecurity has always been an important feature in computer networks, but an increase in the capabilities of hacking tools and the rise of hacktivism has boosted cybersecurity from an important feature of computer networks to a top, if not the top priority.
This increased emphasis on security and data protection is reflected in the growth and expected growth of the cybersecurity market in recent years: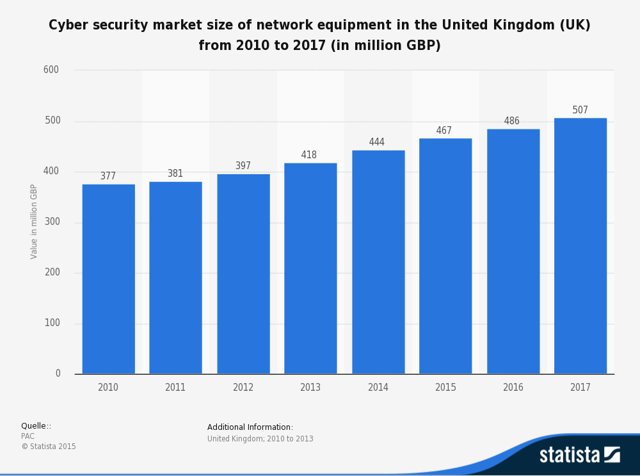 As the cybersecurity market has matured, most companies in the space have begun to transition away from product offerings and instead towards service revenue or software as a service ("SaaS"). Cisco has adopted this strategy as well, and it is paying dividends as the company's third quarter earnings report detailed last month, with service revenue up 11% year-over-year and Security segment revenue up 17% year-over-year. Also of note was that deferred revenue for this segment grew a whopping 31% year-over-year, which, as CEO Chuck Robbins noted on the Q3 conference call, reflects the shift from hardware to software and subscription services. Mentioned later on in the conference call was that revenue from advanced threat security and web security, two of the fastest-growing areas in cybersecurity, grew 100% and 50% respectively. We were given no nominal figures in this department, but regardless the increase is encouraging.
While Security only accounted for $482 million in revenue in Q3, or just 4% of total revenues, the growth of the cybersecurity market will cause this number, and the percentage of total revenue, to rise. For a company like Cisco that has mostly saturated its main target market, being able to generate revenue in other areas is vital towards maintaining growth and maintaining a stock price that will keep investors happy.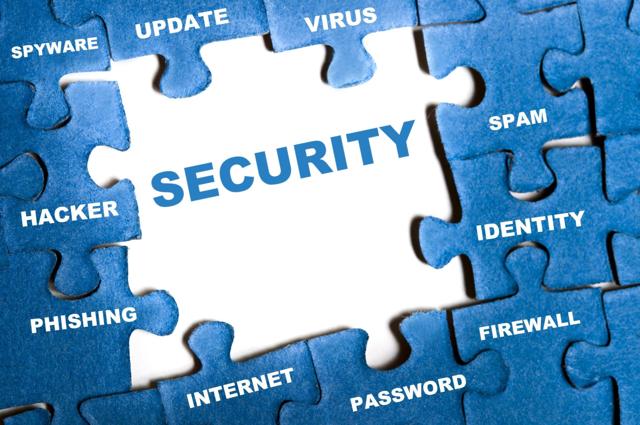 44% of Cisco's revenue in Q3 was generated by two segments, Switching and NGN Routing, which fell 3% and 5% respectively. Total revenue growth was flat. I think it is impressive that significant declines in the company's top two segments were offset by increases in other, smaller segments, which bodes well for the future. Cybersecurity is by no means the only growing segment at Cisco, but I think it will be the most important going forward considering just how large the market is expected to become. And Cisco already has such a substantial customer base and networking infrastructure, which will make the task of finding clients and maintaining growth relatively straightforward.
Cisco also has the benefit of a large cash hoard and extremely healthy free cash flow, which it can leverage to either invest or acquire in order to generate additional revenue. Free cash flow for the quarter was $2.7 billion and cash readily available for use was $6.3 billion at the end of Q3, which does not include some $55 billion+ currently held overseas indefinitely due to repatriation taxes.
In light of the company's future growth potential, I believe Cisco stock to be undervalued at current levels. CSCO trades at a forward P/E of 11.8 and more importantly a PEG ratio of 1.2, which implies a 5-year earnings growth rate that few blue chips can match. In fact, Cisco's PEG ratio is among the lowest in the Dow Jones Industrial Index. For a company that has been around for 30+ years and dominates its current major markets, this growth is something in which investors can find confidence. Cisco has a sweet dividend yield of 3.6% and plentiful share repurchase programs, but investors in CSCO can look forward to growth as well.
My thesis aside for a moment, CSCO has been pretty stagnant, returning a total of just (unadjusted for dividends) 16% over the past 3 years. Therefore, those investors that buy CSCO should be aware that the stock is a buy-and-hold forever. It's one of those stocks you should buy, set the dividend income to be reinvested in the company, and then barely ever look at again. Management is shareholder friendly, cash flow generation is safe, growth is top-notch for a blue chip company, and the company obviously knows how to pivot to new opportunities. CSCO is a keeper.
If you want to stay up to date on my articles, you can Follow me by going to my author page or by clicking "Follow" at the top of this page.
Thanks for reading!
Disclosure: I/we have no positions in any stocks mentioned, and no plans to initiate any positions within the next 72 hours.
I wrote this article myself, and it expresses my own opinions. I am not receiving compensation for it (other than from Seeking Alpha). I have no business relationship with any company whose stock is mentioned in this article.