Linamar (OTCPK:LIMAF) (TSX: LNR) is a Canadian manufacturer and innovator of automotive parts, aerial work platforms and telehandlers. They are often known in the industry to be agile innovators when creating products that meet the specific needs of customers and processes that are simple, cost effective and reliable. The next industry growth phase for the company is its pursuit of new parts, systems and technologies for electric and hybrid vehicles. Linamar's aerial work platform business, Skyjack, will continue to develop and launch new boom products and telehandlers.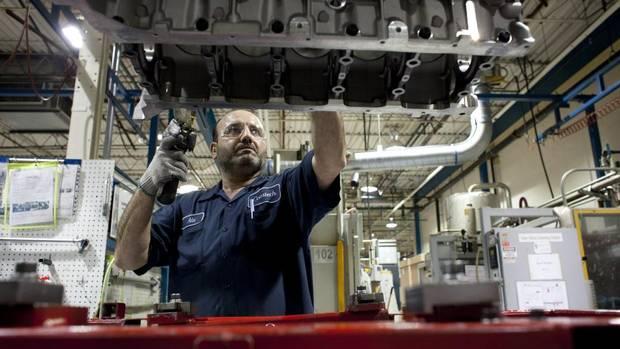 The company is continually building its employee base and knowledge. For years, Linamar has created the LEAP entrepreneurial training program to support the growth of its employees and enhance their knowledge and management capabilities. Overall, the best kinds of companies are the ones that invest in the growth of its own people so that they can eventually become tomorrow's leaders and innovators. The company boasts about its employee turnover being at record lows while engagements are up and motivation is higher than ever.
Furthermore, with a current market capitalization of $3.3B and trailing twelve month revenue of $5.4B, a growing backlog of $3.8B will provide plenty of opportunity to Linamar for years to come. Similarly, the company boasts that it has secured enough new business to see nearly $7.7B in annual sales based on booked business already lined up to be reached by 2020.
Acquisitions and Partnerships:
A large growth contribution to Linamar's performance can be attributed to its recent synergetic acquisitions.
In 2014, the company acquired the remaining 66% of shares from Seissenschmidt AG, a global leader in Hatebur style forgings with operations in Germany, Hungary and the U.S. Together with Linamar's existing forging operation, the combined company will continue to have the capabilities to forge over 200 million per year. Seissenschmidt AG brings onto the table its expertise in forging, which help remove unnecessary material in the manufacturing process and help reduce weight in vehicles; thus improving with fuel efficiency with parts.
In 2015, Linamar established a joint venture and alliance with GF Automotive, subsidiary of Georg Fischer AG, in a facility that will produce High Pressure Die Casting light metal parts that have significant market potential. GF Automotive has the advanced capabilities in tooling and processing that permit casting of components that are strong enough to replace steel stampings in vehicles. Construction of the facility began production in summer of 2016.
In late 2015, Linamar acquired Montupet, a global leader in aluminum gravity and low pressure die castings with a specialty in cylinder heads. Montupet is also a specialized in advanced material technologies and coring capabilities that enable production of thin walled castings; that helps with optimizing fuel efficiencies and reduce emissions. The purpose of the acquisition is for Linamar to streamline design for machining and casting. Montupet also has capabilities in structural aluminum castings for replacing steel stampings in vehicles, which will complement GF Automotive.
Opportunities for the company:
With the recent synergetic acquisitions, there are massive opportunities for Linamar to reduce costs through streamlining specialty operations to subsidiaries while reducing overhead expenditures. Looking into the fundamentals of its most recent acquisition, Montupet, there are many areas where return and cost measures that Linamar can leverage upon. The acquisition is significant in that the Montupet's sales are roughly equivalent to 25% of what Linamar generates. Based on the financials prior to this acquisition, we are able to see that there are a lot of synergies and room for improvement from the consolidation of both business. Naturally, the products that Montupet sell are more profitable given a lower cost of sales (42.7% vs. 84.1%). As a result, Montupet is truly adept in the field of castings that allow it to generate competitive economies of scale and incur lower inventory costs. Also, another opportunity with the acquisition is to work on its SG&A expenses (22.6% vs. 5.2%). With similar overhead functions, Linamar can seek to remove a lot of unnecessary and inefficient costs in the Montupet structure. Overall, despite the higher SG&A costs, the returns on capital and equity at Montupet are significantly higher than Linamar's.
Data sourced from both companies' 10-Ks, 10-Qs

Through the Skyjack operations, the company has strong growth in the involvement of construction activity throughout Canada. From my observation, Linamar has very strong presence especially in the downtown areas of cities, which require the most construction of buildings and roads. Aerial work platforms are constantly used from many aspects of repair and construction for a diverse range of civil projects within cities. A very great opportunity for the company is the reconstruction of Fort McMurry after the massive fire destroyed most of the city. Estimates believe that the fire caused at least $9B in damages to the entire city.
Fundamentals:
Revenue
Data sourced from 10-K, 10-Q

Linamar has been a consistent double-digit revenue grower in its business. Although the company has been active in the recent years with acquisitions and partnerships, it has shown increases in its content per vehicle as well as growing its market share within its industry. The company indicates that it is able to generate more revenues from each of its sales given the competitive edge and diversity of its products. In the recent 2015 10-K report, the company tells investors that it is able to grow regardless of how the market is doing and that it will target double-digit growth regardless of stagnating growth in markets.
"Market share growth is a key element in our growth strategy. With market share growth we grow regardless of how much our markets are growing. As an example, our vehicle and access markets grew between 1 and 2% in 2015 whereas Linamar sales were up 24%. In a timeframe of market volumes leveling or growing more lightly this is a key element to the Linamar story - we continue to target driving double digit growth regardless of flat or slightly growing global markets."
Street Analysts also predicts high levels of revenue growth for the company:
Data sourced from Yahoo Finance

The company also defines the quality of its revenue growth using the content per vehicle metric, which is simply the sales generated per vehicle. Given that the recent acquisitions and partnerships naturally increase the future revenues of the company, the measure shows much it is improving for each sale. Furthermore, the company is telling investors the selling synergies that it is able to receive over time from the new acquisitions. Although the company's acquisitions were mainly associated with its Europe division, we can tell that Linamar is leverage the knowledge and expertise for their new companies and applying them across all of its geographic operations.
Data sourced from 10-K, 10-Q

Earnings
Similarly, Linamar has undoubtedly been a double-digit earnings grower. Over time they have been working hard to generate higher revenues while reducing its cost of sales to create higher operating leverage. Since FY2011, Linamar has reduced its cost of sales from 89.8% to 83.6% today. In terms of its SG&A, Linamar has increased slightly over time from 5% in FY2011 to 5.4% today. However, this may most likely be due to the case of its recent acquisitions that have higher relative SG&A than its own. Over time the company will seek to reduce inefficiency and bring it back to more normalized levels. Similarly, Linamar will be able to optimize the expertise of its acquisitions and ultimately bring down its cost of sales to significantly lower levels.
When viewing the street consensus on earnings, analysts also feel that Linamar will grow higher into the future. The average estimate believes that 2016E EPS will increase to 7.56 (+14%) and 2017E EPS will increase to 8.11 (+7%). Using the street's average estimate consensus for revenues while making no changes to the TTM % of sale costs such as COGS (83.6%) and SG&A (5.4%), and assuming a 0.10% increase in shares outstanding every year, I was able to calculate 2016E EPS of 7.68 (+16%) and 2017E EPS of 8.25 (+7%). The important observation to make is that given absolutely no fixture to the current cost structure of Linamar from the acquisition synergies, the street consensus average estimate may be undervaluing their potential earnings growth in the future.
Data sourced from Yahoo Finance

Comparable Companies
On a valuation perspective, Linamar is trading at a discount to its industry peers. Based on P/E and EV/EBITDA, the company's multiple is trading below the industry average. When tying the current market valuations to the street consensus of what the performance will be for the next two years, the company may be trading below where it should be. With many of the peer companies trading at higher valuations but having significantly lower growth expectations for the year, Linamar is trading at attractive levels. Although 2017E consensus estimates shows weakness in growth, the lower valuation should not be warranted given the flaws in other players in the industry. For instance, Lear Corp (NYSE:LEA) has overall lower growth and shows a declining growth estimate into 2017, but still has very high trading multiples relative to Linamar.
| | | | | |
| --- | --- | --- | --- | --- |
| Summary | Linamar | Canadian Average | U.S Average | Industry Average |
| P/E TTM | 7.6x | 8.8x | 12.2x | 10.8x |
| EV/EBITDA TTM | 5.4x | 5.4x | 6.1x | 5.9x |
| Rev growth 2016E | 20.0% | 13.6% | 5.3% | 8.6% |
| Rev growth 2017E | 7.3% | 8.3% | 5.1% | 6.4% |
| EPS growth 2016E | 14.0% | 13.1% | 7.2% | 9.6% |
| EPS growth 2017E | 7.3% | 18.9% | 10.6% | 13.9% |
Data sourced from Yahoo Finance

On a financial basis, Linamar has shown strong fundamentals that are either better or at the industry average levels. Although the company is not the largest in the industry, it is able to translate its revenues into profits at one the highest levels in the industry. On a returns to capital basis, Linamar does fairly well in maintain industry levels but will see improvements over time given the operating synergies that it will receive from its acquisitions and partnerships. For returns to equity, the company employs less leverage and thus does not capture the significant returns like its U.S peers. On a Free Cash Flow margin basis, Linamar definitely has a lower value given the large spending that it used for the Montupet acquisition. On a more normalized basis and using FY2014 as an example, Linamar's FCF margin is closer to 6.5%, which is significantly higher than its peers. The dividend yield is low for the company because it is still in a rapid growth phase and shows no signs of maturity.
| | | | | |
| --- | --- | --- | --- | --- |
| Summary | Linamar | Canadian Average | U.S Average | Industry Average |
| EBITDA Margin | 16.4% | 12.4% | 12.1% | 12.2% |
| ROIC | 14.2% | 13.9% | 14.2% | 14.1% |
| ROE | 21.7% | 19.0% | 37.2% | 29.9% |
| D/E | 78% | 59% | 157% | 118% |
| FCF Margin | 3% | 3% | 4.6% | 4.6% |
| Dividend Yield | 0.6% | 1.6% | 0.9% | 0.9% |
Data according to Notes section

On a fundamental charting perspective, the company is trading near the bottom of its historical valuation range. Since 2010, the company has consistently been adept at returning back to historical high valuation levels.
Data sourced from FactSet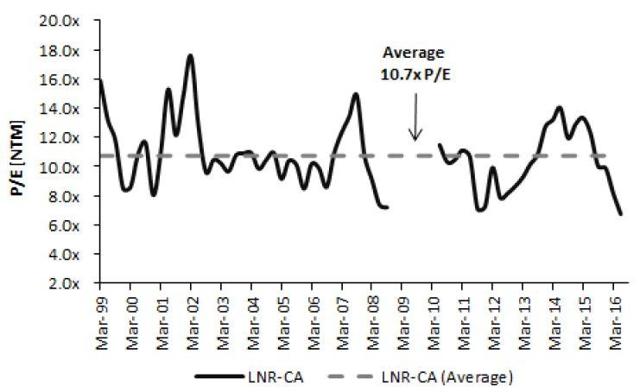 In conclusion, Linamar is a great company in an industry poised for growth in the top and bottom line. They have a strong pipeline of projects for the future and are confident in generating high returns to investors into the long run. The company has had several amazing acquisitions and partnerships that have massive operating synergies and growth prospects. For example, Linamar's most recent acquisition of Montupet will be a very significant growth prospect for the company as it will affect its top and bottom line performance through optimization of operating talents and cost reductions of inefficient processes. Based on fundamentals, the company is projected to have double digit revenue and earnings growth for the year. They are improving their quality of revenues in addition to increasing it as a nominal value from acquisitions. Valuation appears very cheap and the consensus estimates and fundamental measures reinforce the fact that it is undervalued for the performance that it can potentially achieved. On a charting perspective, the company has had a history of trading within a range, and it looks attractive for a potential rebound at current levels.
Disclosure: I am/we are long LIMAF.
I wrote this article myself, and it expresses my own opinions. I am not receiving compensation for it (other than from Seeking Alpha). I have no business relationship with any company whose stock is mentioned in this article.
Editor's Note: This article discusses one or more securities that do not trade on a major U.S. exchange. Please be aware of the risks associated with these stocks.