According to the Fed Watch tool (based on Fed Funds futures), the market is assigning only a 12% probability of a rate hike on July 27, but there is a 54% probability of at least one rate hike by the end of the year. It is hard to know for certain how the fixed income markets will react, but one or more rate hikes should increase demand for floating rate investments that benefit from rising rates.
To an extent, this is nothing new, since BKLN, a senior loan ETF, is already up around 4.31% year to date, and some of the better performing bank loan mutual funds are up over 5%.
(Data below is sourced from the Invesco web site unless otherwise stated).
The Invesco Senior Income Trust (NYSE:VVR) is a closed-end fund that primarily invests in senior secured bank loans. Senior secured loans are an asset class that behaves differently from most other fixed income investments. The interest income generated by a portfolio of senior secured loans is usually determined by a fixed credit spread over the LIBOR rate.
Senior secured loans have very short durations, because the coupon rates are typically adjusted every 30 days as LIBOR changes, so the yield on the portfolio gradually adjusts over time.
Interest rate risk refers to the tendency of traditional fixed income investments to decline when interest rates rise. But for senior secured loans, interest rates and income are variable, so the prices of loans are much less sensitive to interest rate changes than traditional fixed income bonds.
As of the end of March, 84.7% of the VVR portfolio was invested in senior loans with 78.3% in 1st lien loans and 6.4% in 2nd lien loans. The remaining 15% of the portfolio was in bonds, structured products or other investments.
Last month, I wrote a report on PPR which is another CEF that invests in senior loans. PPR is more of a pure play than VVR, investing almost 100% in senior bank loans, as opposed to the 85% for VVR. They both are trading at discounts around 10%. VVR uses a bit more leverage and has a higher yield, but PPR has a lower expense ratio.
A good portion of the VVR portfolio is invested in loans with "LIBOR floors". A LIBOR floor is a feature sometimes built into a debt instrument whose interest payments are linked to LIBOR. Floating rate loans with a LIBOR floor pay an interest rate of LIBOR plus the applicable margin as long as LIBOR remains above the specified floor level.
If, however, LIBOR falls below the floor, the interest rate is the LIBOR floor level plus the applicable margin. Essentially, this makes it a fixed rate loan until the LIBOR rate exceeds the specified floor level. For many of these loans, the LIBOR floor rate is set at around 1%.
Compared to most other fixed income investments, using leverage on senior loan investments involves less risk from rising short-term interest rates, since the income from senior loans adjust to rising rates once the LIBOR floor level is exceeded.
One thing I like about 1st lien senior loans is that they are most senior in the capital structure and interest on the loans is often continued even if there is a default. The loan recovery for many of these defaulted loans can be quite high.
Here is an excerpt from a J.P. Morgan/ Credit Suisse report that compares senior loans to high yield bonds. It was published in January. Note the much lower duration of senior loans, higher average recovery rate and lower default loss rate: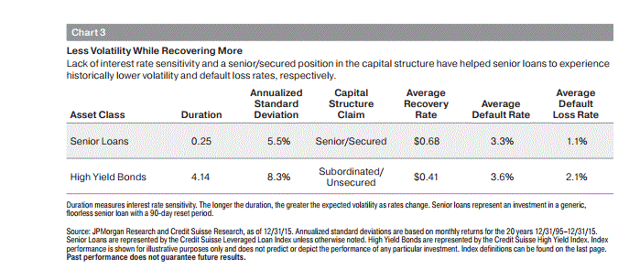 The annual default rate for VVR was 2.07% in 2015 which was above its historical average. This was primarily due to defaults in the commodity sectors.
VVR is currently selling at a discount to NAV of -9.96% compared to the two year average discount of -9.35%. The 2-Year Z-Statistic is -0.28. This means the current discount to net asset value is about one quarter of a standard deviation below the two year mean.
Here is a five year chart showing the historical discount to NAV for VVR: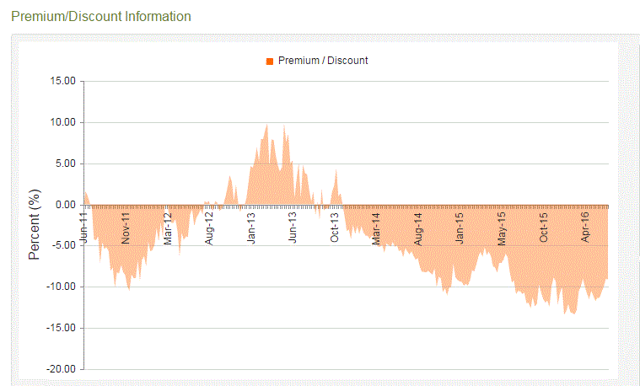 VVR recently reduced its monthly distribution from $0.026 to $0.0245 per month. The monthly earnings per share was last reported as $0.026 in March, so the fund is currently over-earning its payout. But the average UNII per share (undistributed investment income) is -$.005, so there is not a large margin of safety against a future dividend cut.
Portfolio Management Team
Scott Baskind
Head of the Senior Loan Investment Committee. Currently serves on the board of directors of the Loan Syndications and Trading Association. Earned a BS degree in business administration, with majors in finance and management information systems from the University of Albany, SUNY.
Tom Ewald
Senior portfolio manager of the Senior Loan Group. Earned an A.B. from Harvard College and an MBA from the Darden School of Business at the University of Virginia.
Phillip Yarrow, CFA
Senior Analyst, portfolio manager and team leader Invesco Fixed Income. He is a CFA charterholder. He earned a B.S. in mathematics and economics from the University of Nottingham and an M.B.A. in finance from Northwestern University.
Capital Structure Breakdown (as of 03/2016)
| | |
| --- | --- |
| 1st Lien Senior Loan | 78.3% |
| 2nd Lien Senior Loan | 6.4% |
| Bonds | 7.8% |
| Structured Products | 5.1% |
| Unsecured | 0.0% |
| Other | 2.4% |
Moody's Credit Quality (as of 03/2016)
| | |
| --- | --- |
| Baa | 3.5% |
| Ba | 35.1% |
| B | 38.6% |
| Caa | 11.7% |
| Ca | 0.2% |
| C | 0.0% |
| Not rated | 8.5% |
| Equity | 2.4% |
Ticker: VVR Invesco Van Kampen Senior Income Trust
Total Assets= 1225 MM
Total Common Assets= 831.8 MM
Annual Distribution Rate= 7.00%
Dividend Frequency= Monthly
Current Monthly Distribution= $0.0245 per share ($0.294 per year)
Loan Default Rate (trailing 12 months)= 2.07%
Baseline Expense ratio= 1.48% (before interest expense)
Discount to NAV= -9.96%
6 Month Average Discount= -11.14%
Leverage= 30%
Average 3 Mos. Daily Trading Volume= 560,000 shares (about $2.3 MM)
The Federal Reserve has only raised short term interest rates once from its low point last year. I believe this partially explains why the discount to NAV is higher for VVR and other senior loan CEFS than for many other fixed income CEFs.
The fund benefits from fairly low borrowing costs. The average cost of fund leverage is about 1.8%, but the "all-in" cost including the higher management fees paid was reported as 3.37% in March, which is below the NAV yield of 6.4%.
VVR is attractive now as a low duration, high income play. It is a good holding for a tax deferred retirement account. The discounts for senior loan closed-end funds are currently higher than for most other fixed income asset classes. There is a good possibility that the discount to NAV may narrow over time, especially if the Fed raises short term interest rates several times over the next few years.
Of course, if we go into a deep recession and get negative interest rates like in Europe, all bets are off, and VVR will likely underperform US Treasuries.
VVR is fairly liquid and usually trades over 500,000 shares a day with good size available on a one cent bid-asked spread. You will usually get decent price improvement on smaller size market orders.
Disclosure: I am/we are long VVR.
I wrote this article myself, and it expresses my own opinions. I am not receiving compensation for it (other than from Seeking Alpha). I have no business relationship with any company whose stock is mentioned in this article.