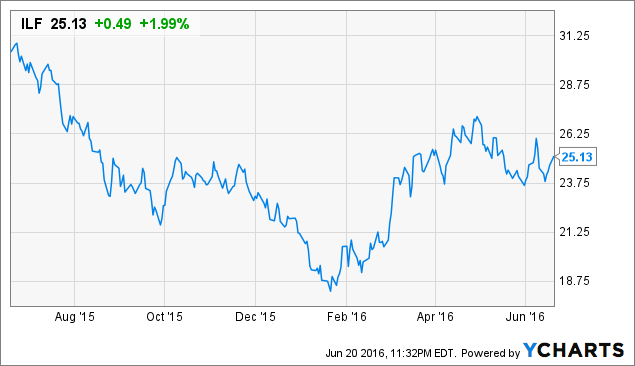 We constructed a heat map that contains most of Latin America's ADRs-or at least the most traded ones. We also included country ETFs. We will provide you with a weekly update and some basic analysis on what is happening in our all-LatAm sample. Comments are based on closing prices for the previous week (i.e., Friday, June 17).
LatAm ETFs showed mixed returns.
Argentina's (NYSEARCA:ARGT) ETF led gains in the last week winning 1.6% followed by Brazil's (NYSEARCA:EWZ) up 0.8% and Chile's ETF (BATS:ECH) up 0.2%. While Colombia´s GXG led losses declining 2.0% followed by Mexico's EWW down 0.9% and Peru´s EPU down 0.2% following the S&P lower (-1.7%).

Argentina's ARGT gained boosted by financials.
The bullish ETF (ARGT ended 1.6% up in the past week, our Argentinean sample was led by financials and continued the positive uptrend in the last 6 months, accumulating a 6-month return of 22.3%.
During the week, 10 out of 16 stocks from our sample closed up with the financial sector posting the greatest gains: Banco Macro (NYSE:BMA) posted the greatest weekly gain of 6.3% followed by GF Galicia (NASDAQ:GGAL) 4.8% and BBVA Banco Frances (NYSE:BFR) 3.7%. YPF led losses down 5.2% and energy-related stocks went nowhere.

Brazil advances despite political instability.
EWZ posted a 0.8% return boosted by better-than-expected economic data and despite political turmoil. Brazil Economic activity improved in April, falling -4.9% YoY (vs. -5.4% YoY in 1Q16), albeit marking its 13th straight month in the red. During the week Temer was linked to Petrobras (NYSE:PBR) corruption scandal and Temer´s government lost its 3rd Minister, as Henrique Alves (Tourism) resigned.
Oi (NYSE:OIBR) was the biggest loser of our sample with a weekly return of -15.9% followed by Fibria (NYSE:FBR) -7.5% and BRF (NYSE:BRFS) -5.0%.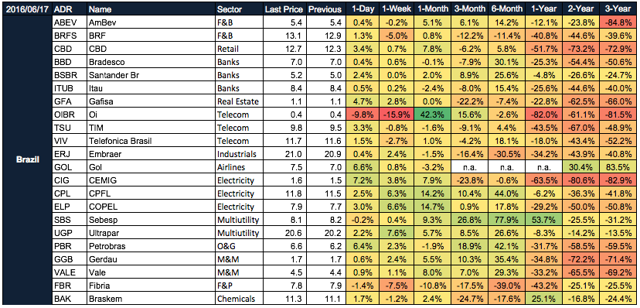 Chile´s Central Bank made no move.
As expected, the Chilean Central Bank decided to keep the overnight interest rate unchanged at 3.5% for the 6th consecutive meeting in June. The ECH ETF edged up 0.2%.
Cencosud (NYSE:CNCO) led gains posting a 4.2% return in the week. Only 2 out of 10 stocks in our sample declined: Concha y Toro (NYSE:VCO) -4.0% and CCU -2.2% both from the F&B sector.

Mexico a big setback against corruption
The bullish ETF (NYSEARCA:EWW) declined 0.9% in the last week and maintained the worst 6-month performance of our sample with a -6.6% return, the only LatAm Equity Index, our sample, with negative return in the period.
During the week the approval of a full version of the anticorrupction law "Ley 3de3" was blocked mainly by PRI senators marking a huge setback in the country´s fight against corruption. In addition audios linking former CEO Emilio Lozoya Austin and president Enrique Peña Nieto with OHL Mexico, which is under public scrutiny on corruption scandals,were released.
ICA skyrocketed 25.0% following the release of its business restructure plan for 2016-2020. Simec (NYSEMKT:SIM) experienced large losses with a decline of 13.9% followed by Santander Mexico (NYSE:BSMX) -7.3% and Volaris (NYSE:VLRS) -7.2%.

Colombia
The Colombian Equity index ETF (NYSEARCA:GXG) declined 2.0% in-line. The GXG still shows the second best performance in a 6-Month basis from our country sample of +25.5%
Avianca (NYSE:AVH) was among the worst performers across our LatAm sample posting a 13.8% weekly decline.

Peru still in shape after elections
The Peruvian equity Index ETF (NYSEARCA:EPU) posted a weekly loss of 0.2% however holding on to gains as 3-month returns cumulates 14.6% and the 6-month return stands at 44.0% return following Pedro Pablo Kuczynski´s winning.

Disclosure: I/we have no positions in any stocks mentioned, and no plans to initiate any positions within the next 72 hours.
I wrote this article myself, and it expresses my own opinions. I am not receiving compensation for it (other than from Seeking Alpha). I have no business relationship with any company whose stock is mentioned in this article.
Editor's Note: This article covers one or more stocks trading at less than $1 per share and/or with less than a $100 million market cap. Please be aware of the risks associated with these stocks.