Overview
CF Industries Holdings Inc. (NYSE:CF) is one of the largest manufacturers and distributors of nitrogen fertilizer and other nitrogen products in the world. The company sells to cooperatives, independent fertilizer distributors, farmers, and industrial users. They also produce diesel exhaust fluid, urea liquor, nitric acid, and aqua ammonia.
The company's main products are ammonia, granular urea, urea ammonium nitrate solution (NYSE:UAN), and ammonium nitrate (NYSE:AN). The company decided to separate it's ammonium nitrate segment from its other product segment as a result of increased revenue from ammonium nitrate due to a recent acquisition.
The company's reportable segments are ammonia, granular urea, UAN, AN, other, and phosphate.
Earnings of Nitrogen Product Segments
The company's net sales decreased from $4.6778 billion in 2013 to $4.5748 billion in 2014 to $4.3083 billion in 2015. Meanwhile, the company's net volume produced in its nitrogen products segment increased from 12.945 million in 2013 to 13.718 million in 2015.
This storyline remains the case for nearly every single individual product within the nitrogen segment. The production of all products, except UAN, increased while the net sales in dollars of all products decrease. Furthermore, ton-for-ton, the revenue from the products produced decreased from year to year for every product, except for AN from 2013 to 2014. Even with this product, ton-for-ton revenue decreased from2013 to 2015.
This should worry any investor. The margins for each of the company's main products seem to be decreasing while production seems to be ramping up. The company even has some new production facilities under construction.
Earnings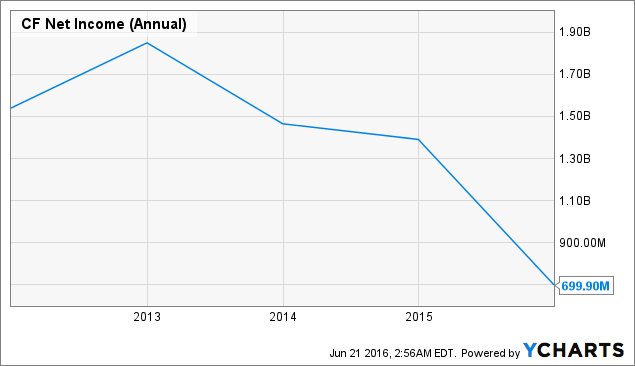 CF Net Income (Annual) data by YCharts
The above graph paints a very obvious picture. Net income has been decreasing for the past few years. The primary reason, according to the company is a decrease in selling prices and lower sales volume. Global supply of fertilizer has also increased as a result of lower production cost. This surplus of product drove overall prices down.
However, despite the oversupply, the company continues to produce more and more of its products, as mentioned above. Which begs the question: Why not temporarily curtail production to decrease costs?
Recent Activities
In 2014, the company sold its phosphate business for $750.1 million pre-tax and $462.8 million after-tax. The cash from the sale was included as a part of operating earnings. At face value, this might seem misleading, but when it's taken into account, the seemingly drastic decrease in net earnings from $1.4368 billion in 2014 to $734.1 million in 2015 isn't as bad. However, the fact remains that the company's sales and revenue have been decreasing.
In 2015, the company bought the remaining 50% of CF Fertilizers UK. It already owns the other 50%. The company paid $570.1 million with cash on hand.
The company was also planning to merge with OCI - a global producer and distributor of natural gas-based fertilizers and industrial chemicals - to create a new company - called New CF - that will be domiciled in the Netherlands. The deal was set to be approved in mid-2016, but both companies called it off due to new US tax inversion rules that would make the merger a disadvantage. However, the planned merger gives potential investors a good opportunity to judge the management's prudence. Overall, the merger would be helpful toward the company. OCI's upcoming Natgasoline plant in Texas is going to be one of the largest of its kind. Furthermore, CF's executives will also head New CF.
It's worth noting, however, that, basically throughout the entire latest annual report, nothing was said about the company's growth strategy. This was troubling. The company didn't seem to have a clear vision about what it was going to do or why it was going to do it. As a result, there really doesn't seem to be any justification for the company selling its phosphate business or for it buying its the remaining 50% of CF UK. This says a lot about the company's management. Surely they have a growth strategy, but they've failed at delineating it to its shareholders, whom they work for.
Balance Sheets
The company's total assets has increased dramatically from $11.2542 billion in 2014 to $12.7389 billion in 2015, mostly as a result of acquisitions.
Interestingly, the company had $1.9966 billion in cash and cash equivalents in 2014, which reduced to $286 million in 2015. Distributing some cash in the form of dividends in 2014, of course, would have been better for shareholders. However, the company's balance sheet seems to be in good health.
Conclusion
I would not recommend CF Industries as a potential investment opportunity. The company's present and future seem too murky to warrant buying in.
The company's earnings have decreased over the past few years, and a path toward increased earnings isn't as clear as any investor would like, although the balance sheet is strong. It's very unclear whether the decreasing sales prices of the company's products is something that is going to go back up or is a new normal. If the decrease in selling price was tied in with a geopolitical issue, as the price of aluminum is right now, then a clearer path forward would be apparent.
Furthermore, the company doesn't seem very adept at building shareholder value, which should irk many investors in and of itself. No specific growth strategy or plan for the future is detailed in the company's annual report, and the company's dividend isn't as high as it could have been.
All in all, the company just doesn't seem very solid, and for that reason, it isn't a shining investment opportunity.
Disclosure: I/we have no positions in any stocks mentioned, and no plans to initiate any positions within the next 72 hours.
I wrote this article myself, and it expresses my own opinions. I am not receiving compensation for it (other than from Seeking Alpha). I have no business relationship with any company whose stock is mentioned in this article.