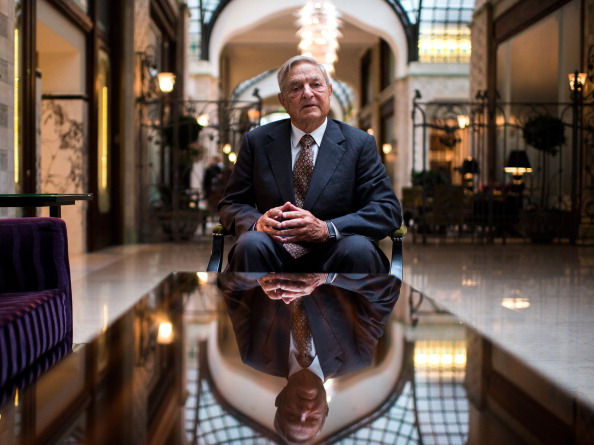 Introduction
Every week, we closely monitor net speculative positions on the COMEX as well as ETF holdings inasmuch as the historical economic behavior of gold prices suggests that over a short-term horizon (<3 months), gold prices are largely influenced by changes in the forward fundamentals, reflected in changes in net spec length, ETF holdings, and central bank reserves.
Speculative positioning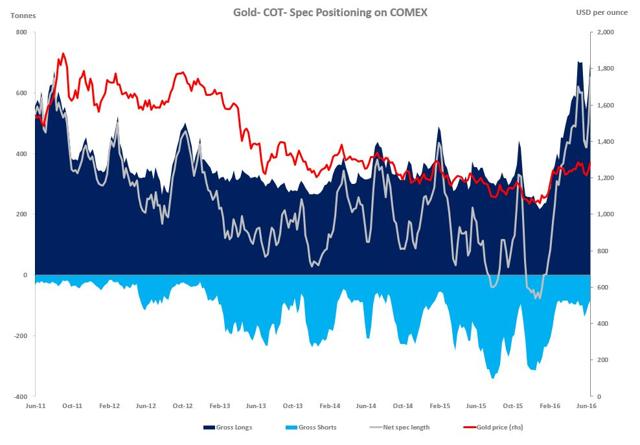 Source: CFTC.
Gold. According to the latest Commitment of Traders (COT) report provided by the CFTC, money managers, viewed as a relevant proxy for speculators, massively extended their net long position as of June 14. Over the period covered by the data (i.e. June 7-14), the gold price climbed 3.33 percent.
The net long fund position rose 147.06 tonnes or 29 percent week-on-week, corresponding to the largest weekly increase in absolute terms on record and the largest weekly increase in percentage terms since February. The net long fund position is currently at 649.88 tonnes, its highest since the CFTC started to publish its statistics back in 2006.
The weekly improvement in the speculative positioning was mainly driven by long accumulation and further reinforced by short-covering.
Gross longs: they increased their positions by 128.82 tonnes w/w, marking the second weekly increase in the gross long position. The surge in gross longs is spectacular in the sense in which it corresponds to the largest weekly increase on record. The gross long position, currently at 730 tonnes, is at an all-time high.
Gross shorts: they covered 18.24 tonnes w/w of short positions, marking a third straight week of short-covering. The gross short position, currently at 80.12 tonnes, is at its lowest since February 2015. Although short-covering continued over June 7-14, it seems that shorts have become increasingly reluctant to cover their positions in recent weeks in spite of the run-up in prices. Short-covering is therefore unlikely to be the driving force in the weeks ahead should gold prices rise further.
We believe that the solid improvement in speculative positioning was mainly driven by Brexit fears. Polls over June 7-14 pointed to a lead for the "Leave" camp, intensifying risk-off sentiment. Investors were inclined to sell risk and built risk-unfriendly positions. As a result, we suspect that hedge fund managers boosted their bullish bets in gold to play the possible adverse consequences of a Brexit on the financial markets.
Our feeling is that Brexit will not happen - although our numerous discussions with UK citizens show that a large part of the population expresses a great deal of reluctance to stay in the EU, most of them tend to prefer a known devil (Bremain) rather than an unknown one (Brexit). Polls should therefore show a natural tendency to the "status quo" in the coming days, pushing the financial markets in a risk-on mode.
If Brexit does not happen, speculators are likely to unwind rapidly their long exposure in the market due to an immediate reduction of uncertainty in the financial markets. Keeping in mind that the net long fund position is at an extreme high, a cascade of speculative selling could result in a steep sell-off in gold.
Investment positioning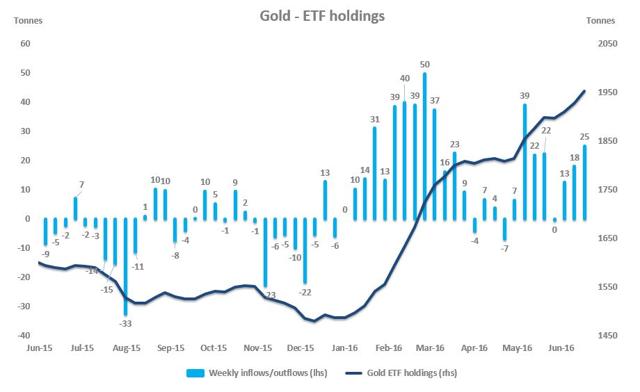 Source: FastMarkets.
Gold. ETF investors boosted their holdings for a third consecutive week as of June 17, pushing total ETF holdings up to a fresh 2016 high of 1,953 tonnes, marking its highest level since September 2013.
ETF investors bought a total of 24.97 tonnes over June 10-17 after accumulating 18.01 during June 3-10. As a result, ETF investors have bought a total of 56.15 tonnes since the start of June, compared, compared with 82 tonnes bought in May, and 14 tonnes accumulated in April.
In the year to date, ETF investors are net buyers of 472 tonnes of gold, with February marking the largest month inflow of 185 tonnes, according to FastMarkets expectations.
Gold ETF buying has remained steady this month although we note that the pace of buying has been slightly smaller than in previous month.
Looking ahead, will ETF inflows continue in the second half of the year?
To answer this question, one needs to distinguish two categories of investors: momentum-based buyers and long-term buyers.
Momentum-based buyers. Over the past few months, it is fair to argue that momentum-based investors have increasingly contributed to gold ETF inflows in the recent months. Legendary investors like George Soros or Stanley Druckenmiller have recently revealed that they saw a buying opportunity in gold at the start of the year. It is worth noting that those legendary investors do not consider gold as a long-term investment opportunity but as a trading opportunity. Since gold prices peaked in 2011, George Soros has considered buying gold as a trading opportunity several times. But on every occasion, he eventually sold his position, either because the gold price moved against him or the hypothesis he submitted to the market was no longer valid. Stanley Druckenmiller shares the same philosophy of George Soros.
Against this, we believe that those momentum-based buyers will eventually exit the gold market once current positive momentum fades. We think this could happen later in the second half of the year and could depress gold.
Long-term buyers. This category of investors is likely to maintain their long positions in gold and continue to add holdings to their well-diversified portfolios on a regular basis.
Bottom line: because we believe that buying from momentum-based buyers has been more important than that from long-term buyers since the start of the year, we expect that steady inflows coming from long-term investors to be more than offset by outflows from momentum-based buyers.
Short-term consideration.
Many of our clients ask what would be the immediate reaction in the gold market after the UK referendum. Our honest answer is that it is very complicated to predict. However, our reasoning is this: we believe that most of the buying from investors has been done to protect their portfolios against tail risk in case of Brexit, which could explain why the pace of gold buying has become relatively slower in recent weeks.
In such circumstances, it is fair to argue that outflows are more likely than inflows after the UK vote regardless the outcome. In case of Brexit (we put a probability of 40 percent), ETF investors, who hedged their portfolios by buying gold, are unlikely to buy more gold while unhedged investors may prefer to buy more liquid safe-havens, at least in the near-term. It is important to bear in mind that during a financial panic, the near-term #1 priority for investors is liquidity - cash is "king" - most risky assets tend to be sold and although gold can be seen as a "safe-haven", investors may be inclined to liquidate their positions whatsoever to have more cash in order to face possible margin calls. In case of Bremain (we put a probability of 60 percent), investors' fears are likely to fall noticeably, at least in the near-term, because the status quo prevails - investors may therefore unwind their risk-unfriendly positions like gold or government bonds to increase their exposure in risky asset classes like credit or equities.
In conclusion, we think that ETF outflows are likely to re-emerge after the UK referendum, albeit at a slow pace. Later this year, momentum-based buyers like George Soros are likely to exit their long positions in gold although long-term buyers should continue to add progressively gold in their portfolios because the macro/political environment will remain challenging. But on net, selling from momentum-based buyers is likely to be larger than buying from long-term investors.
Spec positioning vs. investment positioning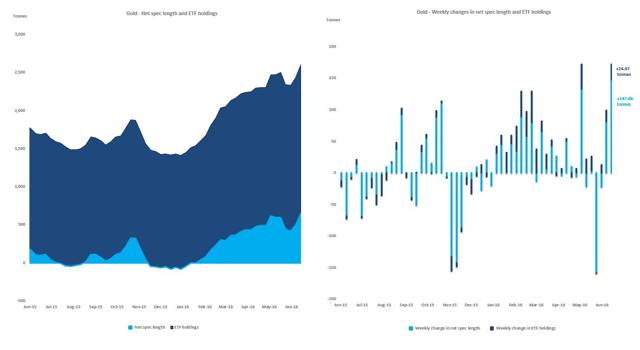 Source: MikzEconomics.
SPDR Gold Trust ETF (NYSEARCA:GLD) positioning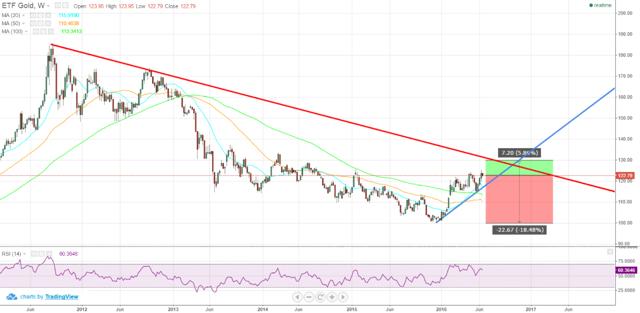 Source: TradingView.
GLD rose to a fresh 2016 high of $125.65 (intraday basis) last week, posting a weekly gain of 1.83 percent.
Buying pressure came mainly from the speculative community and was further reinforced by ETF buying.
Based on our technical analysis, we believe that the current picture is positive, principally because GLD managed to make a fresh 2016 high, indicative of an upward trend. But we think that further upward pressure will be limited in coming weeks, due to strong resistance level at the downtrend line (red). Further, the RSI shows that technical conditions are close to overbought. Finally, the weekly moving averages are starting to point to south, which could reflect a change in trend.
Our speculative positioning analysis suggests that speculators are excessively bullish, leading us to understand that a reversal in speculative sentiment could emerge over a 1-3 month horizon. Our ETF positioning analysis suggests that ETF outflows are more likely than inflows, regardless of the outcome of the UK referendum, mainly because inflows coming from momentum-based buyers will turn into outflows and steady inflows from long-term buyers will not be sufficient to offset selling pressure.
Trading perspective
We are not currently positioned in GLD because our trading criteria are not met yet (one of our criteria being that the technical picture must be negative, which is, in our view, not currently the case). We emphasize that volatility is likely to surge in the coming days because liquidity is likely to dry up. As a result, trading opportunities could occur sooner rather than later. If we see a buying or selling opportunity, we will immediately inform our readers by posting a comment to indicate our positioning and the basis of our trading hypothesis. For longer-term investors, we continue to think that accumulating gold on a regular basis in a well-diversified risky portfolio with a horizon of 5+ years will be a rewarding strategy.
About: SPDR Gold Trust ETF, Includes: PowerShares DB Gold ETF (NYSEARCA:DGL),VelocityShares 3x Inverse Gold ETN (NASDAQ: DGLD), DB Gold Double Long ETN (NYSEARCA: DGP), DB Gold Short ETN (NYSEARCA: DGZ)
Disclosure: I/we have no positions in any stocks mentioned, but may initiate a long position in GLD over the next 72 hours.
I wrote this article myself, and it expresses my own opinions. I am not receiving compensation for it (other than from Seeking Alpha). I have no business relationship with any company whose stock is mentioned in this article.