If you follow gun manufacturers, you might think Smith & Wesson (SWHC) President and CEO James Debney just declared war on Sturm, Ruger & Co. (NYSE:RGR), and possibly on Vista Outdoor (NYSE:VSTO) as well. In his recent post-earnings Q&A, Debney said of the company's recent expansion into new product categories: "Well now we are here, with quality product."
Smith & Wesson's record numbers
Smith's latest conference call listed total quarterly sales of $221.1 million, an increase of 22.2% from the same quarter last year. Overall sales for the year were $722.9 million, up roughly 31% from last year. These numbers again were above high-side estimates from the company and above market expectations, showing Smith & Wesson is continuing to give conservative numbers. Revenue broke down as $203.7 million for the firearms division and $17.5 million for the accessories division. Gross margins were at 41.6%, vs. 37.1% during last year's comparable quarter, helped by the accessories division.
The company has reported cash of $191.3 million at the end of the quarter and has senior notes out that total $175.3 million. With the unrepaid notes more than offset by cash on hand, for the first time, S&W can consider itself debt-free.
In 2017 they expect to have revenue, after taxes and expenses, of roughly $190 million to $200 million, giving them some cash to use for growth. They have mentioned actively looking to grow, but have not given any specifics, only that if they do not find an acquisition target, they have no problem buying back shares of stock - though they prefer to grow or acquire.
CapEx numbers show they expect to spend approximately $50 million, proving they are still planning on growing with new products, based on their own words, which I covered nearly a year ago.
Conservative Numbers
Smith & Wesson continually uses conservative numbers in their earnings estimates for the future. Based on numerous earnings beats, and their own words, we can assume if the industry grows, they will most likely grow faster than other gun manufacturers. This has been a harder fact for me to realize, as I have preferred Ruger as a company, in part due to their dividend policies. While there is no perfect way to judge this, it seems SWHC has been growing faster than Ruger and might continue to do so, especially as the comments from James Debney signaled to others that they were going to continue to push for a market leadership position.
Investors and market followers asked the company continually for more clarity on the numbers and sales expectations; however, Smith responded with enough info to tell the market they will stick with conservative numbers. Hence we can expect better results if other things stay the same in the market.
This was included in the conversations about sell-through and sales in the future: Debney when asked again, said, "I will have to stop you there - you can ask it as many different ways that you want to ask it, but we will give you the same answer, and we will just give you the same pushback."
It seems clear from CFO Jeffrey Buchanan's comments why Smith is sticking to conservative numbers. Investors' representatives continually asked about whether Smith & Wesson will raise guidance based on recent events leading to gun buying. When asked about how "the surge" impacted their estimates, Buchanan said:
We don't make assumptions about things out of our control. If I accepted your premise that there was a surge, and now we are in a de-surge, then I would have taken that into account, because that's something we know. That if there's going to be a surge in the future, we don't know that, and we don't take that into account."
Debney reiterated later that we are at a low point in sales:
... we will build inventory during the summer, normal seasonality is in play, you can see that in the NICS. So far, you know, talking about the calendar year today, NICS profile, very much tracking to what you'd expect the normal seasonality, we will see what happens next, but that's where we are. Our expectation is hopefully, that we can build some inventory internally and externally with our distribution partners as well, so we can better serve retailers, as we go into that busier, fall hunting and then holiday gift-giving season as well.
Ruger and Vista Outdoor: Look out
Debney also dropped this challenge, a warning to others in the industry:
The major product introductions in the Firearms divisions, such as the M&P 45 shield, the Thompson Center compass bolt action rifle, Victory 22 caliber target shooting pistol. We are attacking the competition in product categories that we haven't really had a presence before with a quality product. Well, now we are here, with quality product. So again, it comes back to what I said earlier, our primary goal is taking market share, whether the market is flat, soft, growing, whatever, we are going to say market share. [emphasis added]
Competition in previously untapped portions of the market
Smith & Wesson has recently introduced two new products that compete directly with Ruger's main market strengths. The Victory 22 and Thompson Center (owned by SWHC) Compass rifle are near copies of Ruger firearms meant to appeal to everyday buyers of mid- to lower-end guns.
Below is an image of Ruger's popular 22/45 pistol, a quality firearm for inexpensive 22lr ammo.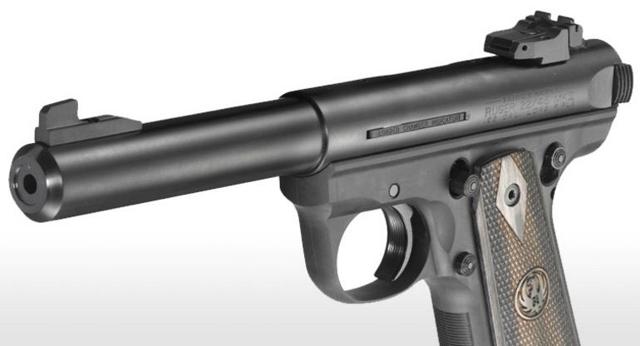 Here is the Smith & Wesson Victory 22 (the stainless steel is a classy touch):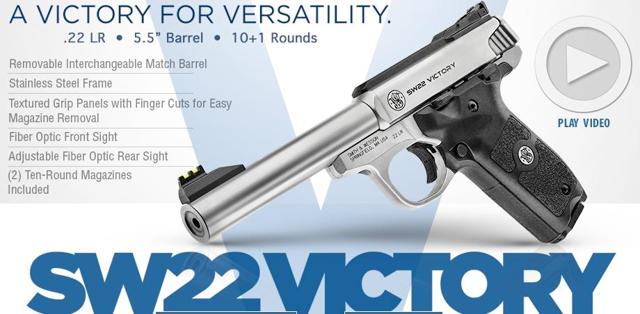 Below is an image of Ruger's entry-level hunting rifle, "the American rifle."

Here is the new Thompson Center Compass rifle:

These appear very similar, and are a direct threat to Sturm Ruger. The pricing is even nearly the same, within about $20 of each other. Although Ruger has a large lead in this specific niche of the market, they definitely will need a few winning models to bolster their name and deal with the threat of Smith & Wesson. I am curious to see if Ruger's American pistol can threaten the M&P line in the future.
After years of finding smaller companies to digest, Smith now has a few notable names under its corporate umbrella. While it will likely not scare Vista Outdoor just yet, they seem to be acquiring or "on the hunt" for acquisitions that could eventually lead them to look similar to VSTO. SWHC's subsidiary Battenfeld Technologies' accessories brand portfolio now includes Caldwell shooting supplies, Wheeler Engineering, Tipton gun cleaning supplies, Frankford Arsenal reloading tools, Lockdown vault accessories, and Hooyman premium tree saws.
Conclusions
Smith & Wesson has shown to be surprisingly aggressive in the market the last few years. They continue to show that they are willing to acquire other companies that they find a good fit and they continue to challenge the rest of the market in market share and product. The key to their growth will be the consumer staying interested in their products and if they can continue to take market share from their direct competitors. Only time will tell if they do that, however if past results say anything… you cannot count them out.
Smith has been growing and seems hungry to keep it up. With recent analyst upgrades showing price targets of $28 this seem like one to accumulate going into the stronger fall and winter seasons.
I am long both Sturm, Ruger and Smith & Wesson; however, I am considering increasing my modest position in SWHC.
Disclosure: I am/we are long RGR, SWHC.
I wrote this article myself, and it expresses my own opinions. I am not receiving compensation for it (other than from Seeking Alpha). I have no business relationship with any company whose stock is mentioned in this article.