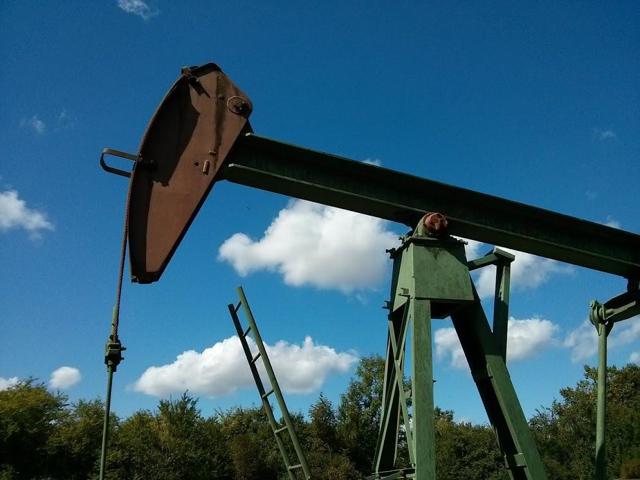 source: Stock Photo
After the price of oil started to rebound in February, eyes have been on the rig count to get an idea of the sentiment the industry has for oil going forward. For three weeks in a row rigs have been added, and that's likely to continue in the months ahead, unless there's a major reversal and oil starts to go back down.
With the number of offsetting factors in the oil sector, I think oil is going to trade sideways for the remainder of 2016, which as it stands, would be a positive catalyst for adding rigs; at least until added supply may put downward pressure on prices, which would cause the industry to take another look at its strategy.
While the rig count is important, it's far more important as to how productive those rigs have become over just two short years, where they produce more than four rigs did at that time. So as far as potential oil added to the market, an additional 20 rigs could be the equivalent of over 80 rigs added 24 months ago. That's a big differentiator much of the market isn't taking into account.
Increased rig productivity
Only two years ago, the amount of oil pumped from each rig stood on average at about 6,000 barrels per day. Today, one rig can pump out an average of 27,000 barrels per day, according to Capital Economics.
That means four rigs added two years ago would pump out approximately 24,000 barrels per day, while today four rigs would extract over 100,000 barrels per day. That assumes well capacity can match the added rig productivity. In today's market that's a surety with the added ability to target the top areas of a deposit.
When considering that, only 20 more rigs would add 540,000 barrels per day in supply if Capital Economics numbers are accurate. Another way of thinking of it is the market doesn't have to have near the number of rigs in the past to produce the same results. Divide the prior rig count by four and you'll get a fairly accurate measure of where we stand in comparison to past rig counts, understanding the average is 3,000 barrels per day above even that level.
This should completely change the way investors think of the rig counts in the months ahead, as each additional rig represents over 4X the past rig productivity levels.
What to look for to get a clearer picture of future rig counts
Getting a idea of what to expect concerning the number of rigs likely to be added in the months ahead, is as easy as looking at the number of drilling permits waiting to be approved. That will give a general look at what companies are thinking in regard to bringing more supply online, which of course means more rigs. It doesn't mean one land permit equals one rig.
According to Evercore ISI, the number of permits are expected to climb from 2,033 in May to 2,119 in June. That follows the 1,807 permits in February, which was the lowest number in a decade, coinciding with the price of oil plummeting to a little of $26 per barrel.
Land permits bottomed out in 2015 at 43,940 for the year. They peaked in 2008 at 86,955, according to Evercore.
I agree with Evercore's assumption the most permits and oil rigs will be in the Permian and Eagle Ford plays. It is in those places we should first look for clues of upcoming rig counts.
Offsetting factors
At first glance these numbers could be thought to suggest an extraordinary increase in supply, but it shouldn't be considered that way because there will be offsetting production declines from high-cost, highly indebted shale producers.
This is what's new to the oil industry, and of which it has no historical precedents to guide it. None of us really know whether or not the decline in production from weaker competitors will overwhelm the increase in supply from low-cost producers. At this time the market is pricing in the former, but we don't have enough information yet to know whether that's the correct way to interpret the market.
One thing I know for sure is the majority of oil traders aren't considering the added productivity of each rig added against what they had produced in the recent past. This is where and why the shale industry could once again surprise to the upside.
If that happens, which I believe it will, the questions are to what degree and for how long with that have an impact on the price of oil.
Also important concerning the high-cost producers is whether or not oil keeps its upward momentum or not. That will have a direct correlation to how much effect more rigs will have on U.S. shale supply because high-cost producers will have to remain on the sidelines if oil prices remain in the $45 to $50 range.
Conclusion
When including more supply coming from some OPEC countries, along with the improved productivity of U.S. shale rigs, it's very questionable as to whether or not the oil rally has any legs left to it for the remainder of 2017. That's especially true if low-cost competitors continue to add rigs.
What will happen if the rigs are working at full capacity, meaning, what will happen if they're working wells that can take advantage of their improved productivity? Under that scenario it's hard to see how that won't surprise to the upside unless high-cost producers and the amount of supply leaving the market are higher than expected.
It doesn't look like that has been underestimated, so I'm waiting for the results of the added rigs to see whether or not they're in line with assumed productivity gains.
Also important is it appears the bulk of the outages have been dealt with, as Canadian oil is coming back to market and a one-month cease fire in Nigeria has been agreed to.
Even with demand for oil projected to climb by 1.2 to 1.3 million barrels per day through 2016, high inventory levels and the strength of the U.S. shale industry is probably going to once again prove we don't yet have clarity as to how deeply the disruption really has been and will continue to be.
Taking into account improvement in rig productivity, it looks like oil will struggle to break to levels some are looking for. I think it will continue to trade in a range of $45 to $50 for the rest of 2016, with the occasional break up and down from the highs and lows.
Disclosure: I/we have no positions in any stocks mentioned, and no plans to initiate any positions within the next 72 hours.
I wrote this article myself, and it expresses my own opinions. I am not receiving compensation for it (other than from Seeking Alpha). I have no business relationship with any company whose stock is mentioned in this article.