Last week, Pioneer Natural Resources (NYSE:PXD) announced that it had reached an agreement to buy certain assets from Devon Energy (NYSE:DVN) and the firm also stated that, in order to fund the purchase, it would be selling shares, effectively diluting shareholders. In what follows, I will look at this deal and give my own thoughts pertaining to the ups and downs of the transaction and what it likely means for investors in the long run.
A look at the transaction for Pioneer
According to Pioneer, the firm agreed to buy up 28,000 net acres in the Midland Basin in exchange for $435 million. As part of this transaction, management stated that it would be be increasing its rig count in the area by 5 units from 12 to 17. From a production standpoint this year, it wouldn't have a material impact for the business, keeping growth at about 12% compared to last year. Next year, however, the increase in rig count should cause production to grow anywhere from 13% to 17%.
So far, we don't seem to have much information regarding the value that all of the properties have but we do understand that 13,000 net acres of it will be reserved for Pioneer to trade those for other properties that might be a better fit for them in terms of location. Meanwhile, 8,000 net acres will involved Pioneer having a 68% working interest in and another 7,000 net acres should result in Pioneer having a 95% working interest in.
In order to fund the purchase, Pioneer issued 5.25 million shares of the business, valued at around $157.52 apiece. This should give the company, prior to accounting for any issuance costs, around $827 million. Underwriters will also be given the right to buy additional shares worth (assuming the same price) $124.05 million. All-in-all, this would have a dilutive impact on shareholders, decreasing their ownership by around 3.8%, keeping all else the same.
A look at the transaction for Devon
On Devon's side, the deal is just one part of a larger set of divestitures. According to management, they are selling assets for a total of $858 million right now. $435 million of these are associated with Pioneer and another $139 million came from prior sales the firm engaged in. Meanwhile, the other $423 million disclosed by management is to also unload of assets in the southern Midland Basin. This set of deals will bring recent divestitures up to $2.1 billion and will likely cause the firm's total divestitures to be at or above the $2 billion to $3 billion range management previously anticipated.
Who wins from this deal?
Overall, because there are plenty of details that have not been answered regarding the properties, it's difficult to tell who the true winner is here but it is possible to show where the risk lies. For instance, thanks to the sales proceeds, Devon intends to increase its capital expenditures for the year, which will now be between $1.1 billion and $1.3 billion. This represents an increase of $200 million compared to prior estimates and will increase this year's output by around 7,000 barrels per day above those prior estimates.
Of course, Devon won't be the only player to see production benefit from this. If management is correct, Pioneer's output will now come in higher, growing by $100 million from $2 billion to $2.1 billion. Of this, around $1.5 billion will come from operating cash flow, with the rest being attributable to prior asset sales and cash on hand. The rest of its proceeds (though not discussed by management but guessed by yours truly) from the stock sale will either be allocated toward paying down some of the firm's $3.66 billion worth of debt or will be put toward additional purchases like this one.
The asset sale for Devon was a way for the firm to divest of non-core assets so that it can monetize those and focus, instead, on key assets they already have that they believe can be tapped into if they have the cash to do so. On the other hand, the assets they sold to Pioneer are new but close to Pioneer's own asset base so the firm does have the benefit of clustering its resources in order to tap into these but I can't help but thinking that Pioneer may be the party that is taking the largest risk from all of this.
The main reason for this comes down to the cost of drilling. Management does disclose that the 7,000 net acres from the Midland Basin in which they own a 95% working interest will likely generate a 50% pre-tax internal rate of return and the net present value (using a 10% discount rate) of this specific piece of the purchase will be around $10 million per well. This almost certainly assumes the $45 per barrel for oil and $2.45 per Mcf of natural gas that management references in its press release on the issue.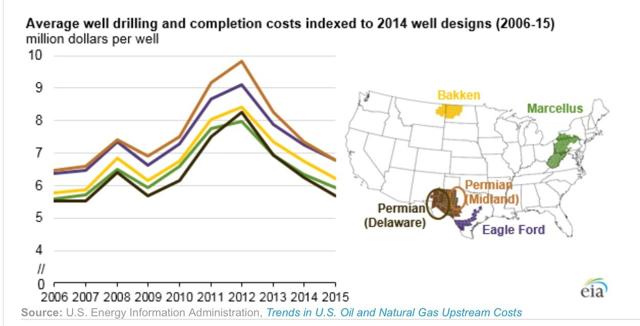 At first glance, these numbers look really attractive but management also disclosed that the average cost per well drilled and completed, with a lateral length of about 9,000 on average, should be about $8 million. As you can see in the image above, average well costs in the Midland Basin of the Permian stand at about $6.9 million apiece. If you calculate the numbers using the image below instead of relying on the average for the area, a well as deep as what is expected of Pioneer's should only cost around $6.3 million apiece. If management can pay more and still get the kinds of returns it is boasting, this is fantastic news and means that the upside could be around the corner for the firm but this disparity, when spread across multiple wells, could create risks regarding the business's prospects from the acquisition.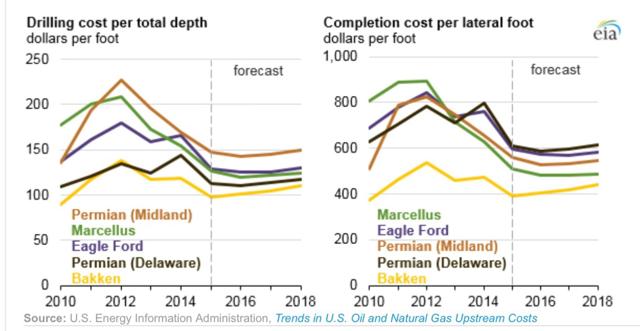 Takeaway
At this moment, Mr. Market seems to be a bit bearish regarding Pioneer's move, with shares since the acquisition being announced down about 5.3%, and investors are bullish about Devon, with shares up about 6.4%. To me, it is certainly possible that both parties could benefit immensely from the transaction and both could see upside if the energy market continues to recover, but it seems, to me at least, that the market is accurately portraying where the risk is at this moment; with Pioneer, who will have to contend with high drilling costs compared to Devon who just found a way to monetize assets that weren't ever all that important to it.
Disclosure: I/we have no positions in any stocks mentioned, and no plans to initiate any positions within the next 72 hours.
I wrote this article myself, and it expresses my own opinions. I am not receiving compensation for it (other than from Seeking Alpha). I have no business relationship with any company whose stock is mentioned in this article.