Introduction
In the United States of America, CEOs are afraid of a few big activist investors. One of these legendary activists is Paul Singer, hedge fund manager and the creator of Elliott Management Corporation.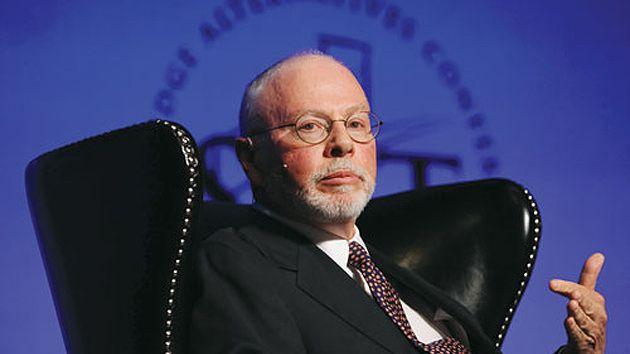 Paul Singer normally acquires companies having outstanding potential, but being managed by inexperienced directors. In this article, I will talk about a new target of this tycoon: LifeLock, Inc. (NYSE:LOCK).
Business
LifeLock was created as a result of a very intelligent and innovative idea: protect people's information. I think the company has made the best description of its business in its annual report:
"We are a leading provider of proactive identity theft protection services for consumers and consumer risk management services for enterprises. We protect our members by monitoring certain identity-related events, such as new account openings and credit-related applications. If we detect that a member's personally identifiable information is being used, we offer notifications and alerts, including actionable alerts for new account openings and applications, in order to monitor use of their identity and allow our members to confirm valid or unauthorized identity use. If a member confirms that the use of his or her identity is unauthorized, we can take actions designed to help protect the member's identity and help determine whether there has been an identity theft. In the event that an identity theft has actually occurred, we can take actions designed to help restore the member's identity through our remediation services. Our remediation service team works directly with government agencies, merchants, and creditors to remediate the impact of the identity theft event utilizing our remediation expertise on behalf of our members. We protect our enterprise customers by delivering on-demand identity risk, identity authentication, and credit information about potential consumers. Our enterprise customers use this information in real time to make decisions about opening or modifying accounts and providing products, services, or credit to consumers to reduce financial losses from identity fraud." - Source
Customers pay on a monthly or annual subscription basis. The company offers three different options. If you want to know a little more about its products as well as its potential growth, please check this investor presentation.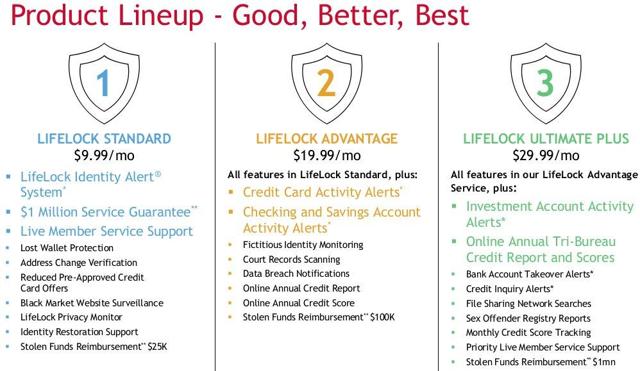 Investor Presentation
For those who think that not everyone is interested right now, you are right. The company focuses on adults with household income in excess of $50,000 per year and who are concerned about their identity. LOCK estimates that there are approximately 78 million people in the United States with such profile.
The growth of the customer base has been outstanding. Just look at the following slide: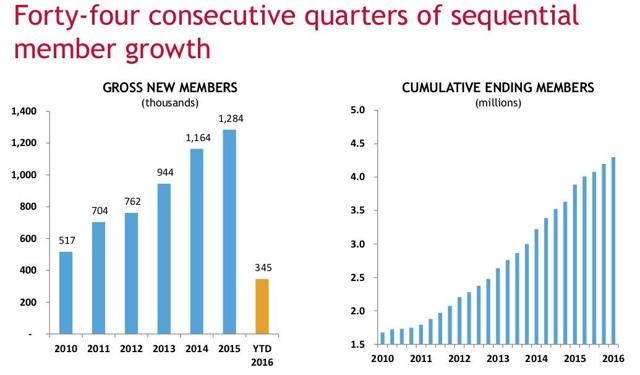 Investor Presentation
I think the number of potential clients is extremely high: just everyone. In my opinion, LifeLock will grow fast as people realize that they have to protect their companies' information. At some point in time, maybe one of the big technology players will need the know-how created by this company and will buy it out. Until that happens, I think we should buy the stock.
Performance
The company is a cash cow. The revenues have increased during the last six years from $160 million to $587 million. It definitely has a great product. However, nobody is looking at the expenses of this company. During the last two years, LOCK increased the number of employees from 670 to 788, and the SG&A expenses have increased too much. The company recently had suffered losses.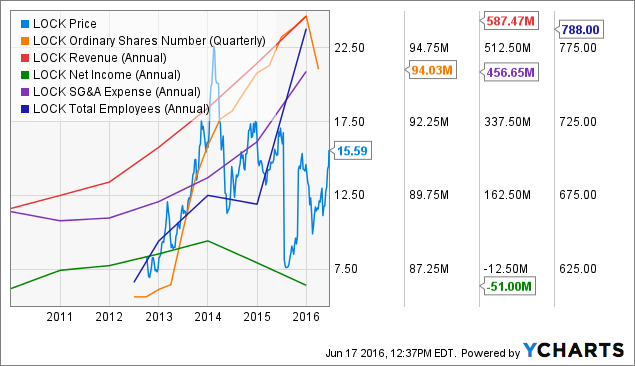 I do not think that there is any drastic problem with this company and its employees; the main problem is the management, which does not control its costs. The activist investor bought a stake to change it or to make the company reconsider its strategy. I think it is fair.
Looking at the past performance, you will realize what a great business it used to be. The ROE and ROA was above 7.50% before the management decided to increase its expenses and double the number of employees. I understand that this is a growing company and the directors want to scale it in a short time period, but I think they should be more cautious.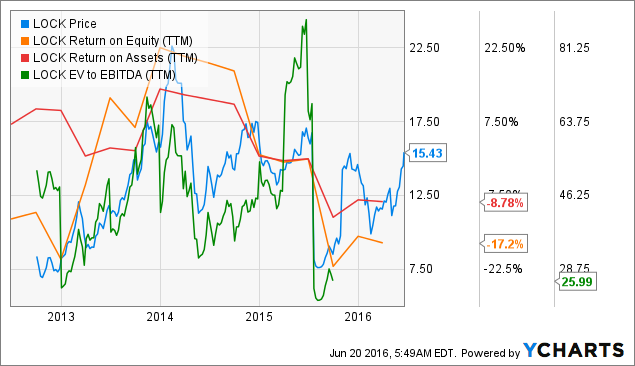 LOCK data by YCharts
On 2015, LifeLock was accused of violating the FTC order, and it reported a lot of customer cancellations. The company had grown too fast, and was incapable of paying such a big amount of salaries. This is an example of a new business that is promising, but it is not yet stable and needs to slow down and consolidate.
"On July 21 2015, the FTC initiated the FTC Contempt Action alleging that LifeLock had violated the FTC Order. On December 17, 2015, we entered into a comprehensive settlement agreement with the FTC, pursuant to which we resolved all matters related to the FTC Contempt Action, and with representatives of a national class of consumers, which we refer to as the Consumer Class Action or the Ebarle Class Action. Under the terms of the settlement, $100 million was placed into the registry of the court overseeing the FTC Contempt Action, $68 million of which is to be distributed to the court overseeing Consumer Class Action to fund the consumer redress contemplated by the Consumer Class Action settlement, and the remaining $32 million of which is authorized to fund consumer redress ordered by any states' attorneys general, provided that certain conditions are met. If all or part of the $32 million is not used for that purpose, it will revert to the FTC."
Balance Sheet
I am really impressed that the balance sheet is quite clean. It has no debt, $44 million in cash, and its receivables and payables look very stable.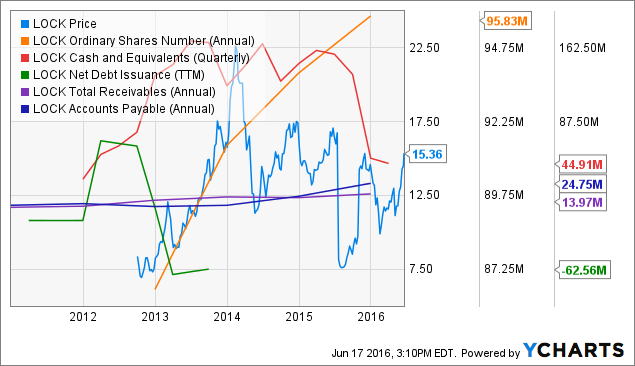 LOCK data by YCharts
Activist
Paul Singer filed his 13-D document on 16 June, 2016. I could read the following in it:
"The Reporting Persons believe the securities of the Issuer are undervalued and have initiated a dialogue with the Issuer's Management and Board of Directors (the "Board") on opportunities to enhance shareholder value. "

"As of the close of business on June 15, 2016, Elliott, Elliott International and EICA collectively have combined economic exposure in the Issuer of approximately 8.8% of the shares of Common Stock outstanding" - Source
I think Mr. Singer has seen that the company had a problem in 2015 and did not react properly. In 2016, LOCK reported losses because of the FTC order violation, but I could not find any reference to any restructuring process in the annual report. The company is not yet quite mature, and its directors did not realize that they have a problem. The company is losing value for the shareholders at this point in time, and maybe another Board of Directors may need to make a change.
Other competitors include very important corporations that may be interested in the know-how developed by LifeLock. Paul Singer could force the sale of the company to any of the following groups or any PEs:
- Experian (OTCQX:EXPGY) (market cap. of $12 billion)
- Equifax (NYSE:EFX) (market cap. of $14 billion)
- TransUnion (NYSE:TRU) (market cap. of $5 billion)
- Affinion, EWS, Intersections, CSID or LexisNexis
Other market participants
The number of short sellers has declined since July 2016, and the number of institutional shareholders as of today is quite important; 98.33%. Many market professional participants are waiting for a corporate event or a change in the way that the management runs the company.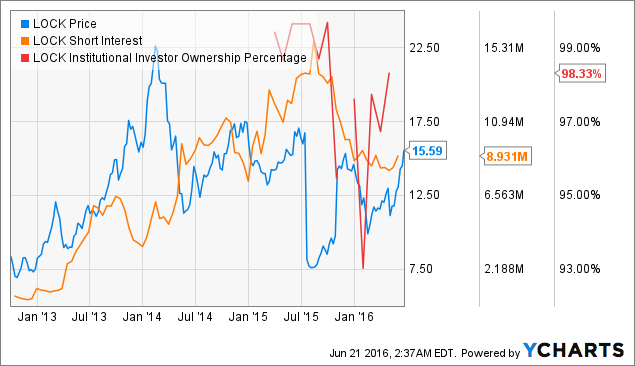 LOCK data by YCharts
I think that the company may commence a strategic review in the following months in order to review the business. If this happens, we will obtain a good return. It is important not to sell the stock before the transaction closes.
Conclusion
We have an activist investor starting conversations with the Board of Directors of LifeLock; this is a catalyst. It may be the beginning of a turnaround. The company has a great product, and its growth is impressive, but it may need the experienced advice of an activist investor like Mr. Singer to shape the business. In the process, the company will return value to shareholders.
Disclosure: I/we have no positions in any stocks mentioned, and no plans to initiate any positions within the next 72 hours.
I wrote this article myself, and it expresses my own opinions. I am not receiving compensation for it (other than from Seeking Alpha). I have no business relationship with any company whose stock is mentioned in this article.