When people think of Walt Disney (NYSE: DIS), they think of beautiful resorts, theme parks, and all the wonderful Disney characters. But, over the past decade, they've made a gold mine in their studio entertainment assets. This past weekend, the debut of Finding Dory grossed $136 million, which is a new record for animated film debuts. Finding Dory is a sequel to Pixar's Finding Nemo that came out in 2003. It's quite remarkable how Pixar films appeal to adults and children.
For the first 6 months of FYE 2016, the studio entertainment segment reported operating income of $1.55 billion and it makes up 19% of total income. This equated to 60% growth year over year, mostly because of Star Wars: The Force Awakens. The upcoming movie release line-up for the year looks to be advantageous to DIS shareholders.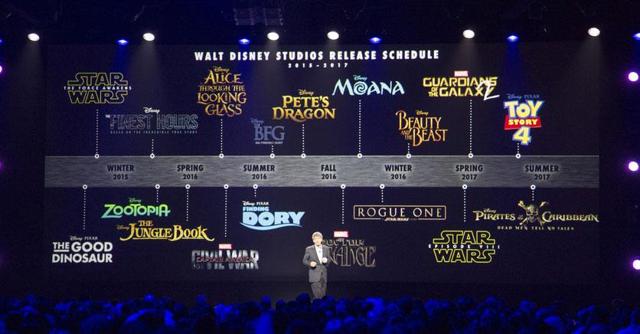 Let's take a look at the numbers over the past 5 years.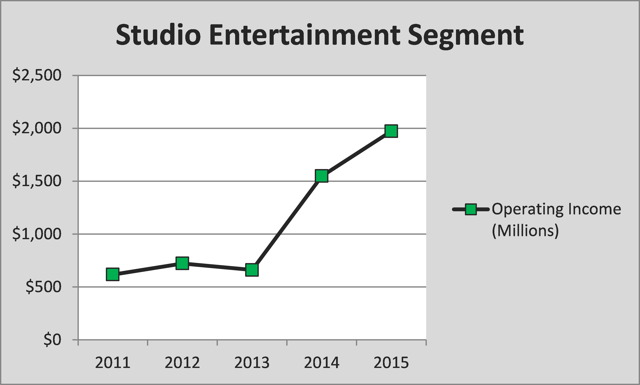 Source: Annual Reports
Operating income has grown at 24.5% compounding. This might be hard to replicate, but there is still room for growth. 2017 financials will have a Star Wars film in the year, but it will be DIS's first standalone film Rogue One and much hype is surrounding it. Currently, the trailer is on YouTube and has 38 million views.
DIS has found the hearts of their audiences and keeps providing their customers what they crave. They've been able to acquire studio assets (Marvel and Lucasfilm) and create years worth of films and content. Management just understands their market. The studio entertainment segment has been a stable and growing part of the company. This segment alone should be valued higher within the mix of business assets.
Lions Gate Entertainment (NYSE: LGF) is a good comparison to see how much DIS's studio entertainment should be worth. LGF sells for 14.4 times operating earnings. Their operating earnings have not seen growth over the past few years. This displays the power of the franchises that DIS owns.
Currently, DIS has a market capitalization of $161 billion. For full fiscal-year 2015, operating income was $14.68 billion. This gives us a market cap to operating income ratio of 10.96. DIS studio entertainment made up $1.97 billion of that total. With growth expectations and established earnings, the segment deserves a 20 times operating income ratio compared to LGF's 14.4. This would value these assets at $39.4 billion. If we back out the studio assets, we would be getting the rest of the company at 9.5 times.
It's hard to determine if this segment should be spun off, with all the integrated parts. There are many cost synergies with the merchandise licensing and retail business. I do know that the studio entertainment assets deserve a higher value. It has seen tremendous growth over the past 5 years and that correlates to increased profits in other areas of the organization. Hopefully, the market will soon realize this and the stock will start trading at a larger multiple.
Disclosure: I/we have no positions in any stocks mentioned, and no plans to initiate any positions within the next 72 hours.
I wrote this article myself, and it expresses my own opinions. I am not receiving compensation for it (other than from Seeking Alpha). I have no business relationship with any company whose stock is mentioned in this article.