MarketAxess Holdings Inc. (NASDAQ:MKTX) operates an electronic trading platform to facilitate the efficient trading of corporate bonds and other types of fixed-income instruments traded. Founded in 1997, MKTX has grown to include over 1,000 institutional investor and broker-dealer firms as clients.
These clients rely on MKTX to access liquidity in a variety of markets, including: U.S. high-grade corporate bonds, emerging markets and high-yield bonds, European bonds, U.S. agency bonds, municipal bonds, credit default swaps and other fixed-income securities. MarketAxess also offers a number of trading and post-trading-related products and services (source).
The reason I wanted to take a closer look at MKTX is because not only is the stock trading near all-time highs, but they also seem to have a unique niche business. I'm curious to look closer and see if MKTX has some of the characteristics of a high quality company with a strong moat, due to the specialized nature of their operations. So let's pull back the curtain.
To get a better handle on MKTX, we'll examine some of the historical financial results (source). I'm always eager to see how trends in stock prices are reflected by trends in financial statements and operating results. While it's easy to get caught up in the news of the day, in my experience, it pays to focus on trend lines rather than headlines.
Speaking of long-term trends, here's the final piece of perspective before we get started: A long-term price chart of MKTX.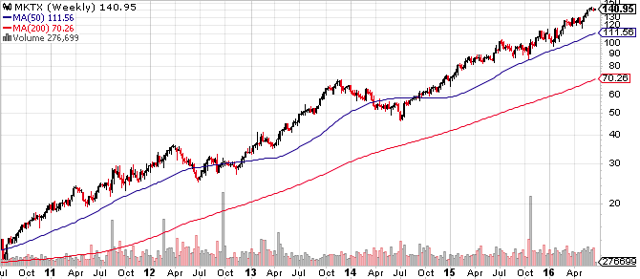 Digging Into The MarketAxess Data:
When examining long-term operating trends in companies, I like to start with top line sales. Revenue trends help show how demand from clients has changed over time. Remember, things in business don't happen by accident. Winning clients is hard work. And companies that do it well are often worth the attention. So with that in mind, let's see what the chart of MKTX revenue reveals: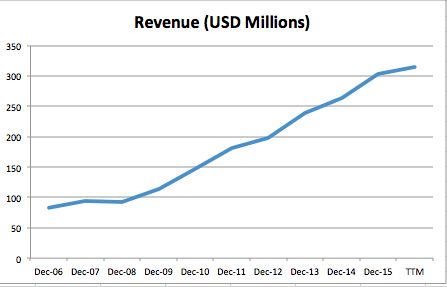 In 2006, MKTX only had $83M in revenue. But in the last 10 years, they've grown that number to $314M on a trailing-twelve month basis. Of course, revenue is not the entire picture, but this is an encouraging start. And notice how not only is the growth positive, it's also consistent.
Next, let's take a look to see if this revenue growth is profitable. I don't want to see growing sales if it's not accompanied by growing earnings. So let's see how MKTX stacks up on the bottom line.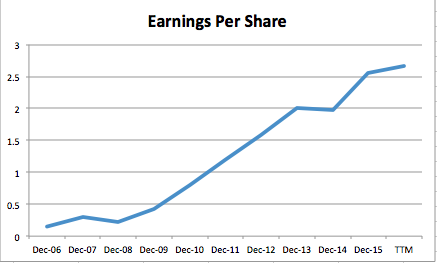 So far, so good: Earnings has grown consistently almost every year, indicative of profitable growth. The steadiness of this trend indicates firm demand from customers, and an ability to service them at a profit. And by the way, in case you were curious, the cash flow per share statistics look much the same as the graph above. Personally, I always feel encouraged with a company when earnings are representative of cash flow.
But we're not done quite yet. Another way to confirm this profitable growth is by looking at margins. If the company is making money on sales, it should show up in bigger margins. And as you can see below, ten years of operating margins demonstrate that MKTX is earning revenue at an extremely comfortable profit. This is especially true in the last couple of years.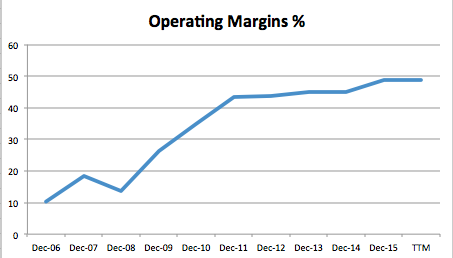 If that weren't enough, one more vote of confidence for this high quality business is that book value has also almost doubled over the last ten years. As an equity owner, I'm always encouraged when companies can grow their equity on a per share basis. This kind of trend makes me much happier to stick around for the long term.
So at this point, I think the evidence of a quality company is starting to stack up. But there are still a few more stones I'd like to turn over before making a judgment on investing in MKTX.
Next, let's try to further corroborate or debunk the performance and quality of MKTX earnings by looking at ROE. As you can see, this is another metric that has been consistent, is currently near all-time highs, and shows no signs of slowing down.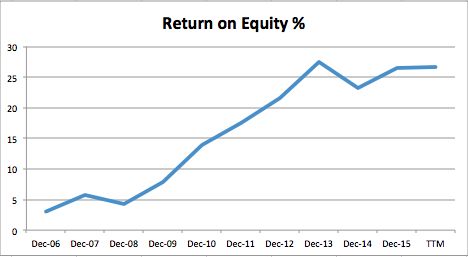 However, one concern could be that the company is juicing ROE by using debt. But a quick look at the balance sheet shows MKTX has zero debt outstanding. The company has been financed completely by equity, and shares outstanding have only increased from 35M to 38M over the last 10 years. Frankly, this is better than I had expected.
Another plus, is that while MKTX is enjoying high-quality cash-rich earnings, it's also starting to return some of that money to shareholders. While the dividend was only instituted in 2009, it's been growing strongly since. I think given the 32% payout ratio, combined with the other trends shown above, these dividend distributions are also likely to keep increasing.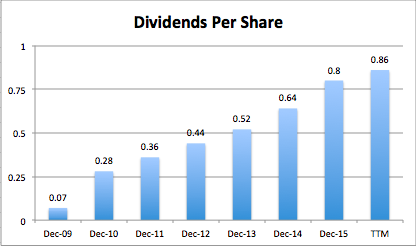 But while MKTX looks to be a very high quality company with steady and growing top and bottom line results, one question remains: Is it worth the price?
To be clear: I think MKTX is exorbitantly priced. I'm not sure what intrinsic value is, but my guess best puts it far below the current price. And the dividend, albeit growing, only represents a 0.65% yield.
The chart from Morningstar below (source) provides a good perspective. Notice how although MKTX is quite pricey today, it seems that it always commands at least some sort of premium to the broader market.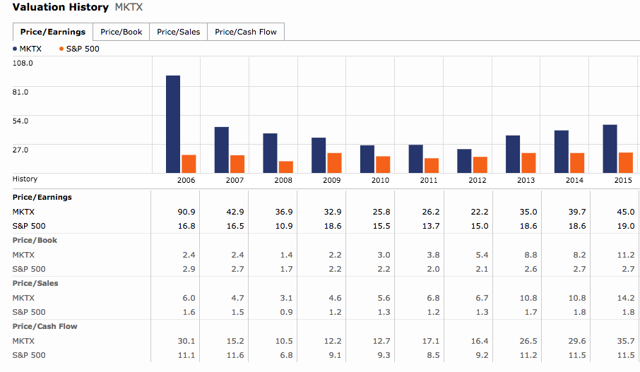 And there's no doubt, MKTX is even more expensive today than its historically expensive norm. But keep in mind, this increase in valuation coincides with increases in margins and ROE, so maybe it is warranted as the company gains ground and cranks up profits with incremental ease.
So at this point, you're probably wondering, is MKTX worth an investment?
Conclusion: Long But Waiting For a Pullback
Lucky for me, I own some MKTX from a lower price. And while I don't want to sell my current shares given the strong operating trends, I wouldn't be surprised if we see a pullback. If the pullback were deep enough however, I'd also see it as a buying opportunity to finally pick up this high quality business at a fair price. I'll be watching this company closely, but barring a pullback, it's unlikely I'd put new money to work here right now.
But what do you think? Do the business qualities of MKTX look appealing to you? Or are you turned off by the high price tag?
Disclosure: I am/we are long MKTX.
I wrote this article myself, and it expresses my own opinions. I am not receiving compensation for it (other than from Seeking Alpha). I have no business relationship with any company whose stock is mentioned in this article.