Key Issues
Frontier Communications Corp. (NYSE:FTR) just completed its biggest acquisition: in April, FTR paid $10.5 billion for Verizon Wireless' (NYSE:VZ) wireline holdings in California, Florida and Texas, adding 3.3 million voice, 2.2 million broadband, and 1.2 million FIOS video connections plus related incumbent local exchange carrier businesses.
Management is forecasting 35% higher cash flow post-deal as the acquired wireline operations generate $5.7 billion of additional revenue and FTR expects its lower cost structure to wring $525 million cost savings in year one post close, and up to $700 million by year three; management says FY'16 adjusted FCF will run $800 million to $925mm (after accounting for acquisition-related integration and financing expenses).
The floor underneath FTR's stock price comes from high dividend payments - the stock's 8.21% LTM dividend yield is one of the highest available among large cap stocks, not just within the telecom space; FTR common shares have outperformed the market (+9.53% YTD and +11.57% over the past year); additional cash flow from the wireline acquisition helps cover FTR's annual $700 million dividend bill (for both preferred and common) and improve payout sustainability, but…
Debt will increase from $15.9 billion at the end of Q1'16 to $18.1 billion this quarter; annual interest expense will run $1.53 billion to $1.55 billion. FTR gets a break on paying much in the way of cash taxes until FY'20 when bonus depreciation rules run out under the Protecting Americans from Tax Hikes (PATH) Act enacted by Congress in December 2015.
FTR funded the wireline deal in part with $6.6 billion new senior notes and $1.8 billion delayed draw term loans; if you exclude the new senior notes, net leverage post deal is 3.9x (vs. 6.7x in the financial summary below which includes those new senior notes); management targets pro forma net leverage of 4.0x and says it wants long-term net leverage of 3.0x.
FTR's management will, of necessity, remain on the hunt for more acquisitions: the wireline business is still a steadily declining asset as customers opt to go wireless (see the quarterly drops in FTR's voice segment revenue and residential subscribers at the bottom of the financial summary below); to stem the revenue/customer losses requires management to spread costs over more acquired wireline assets.
Bond Technicals
FTR's debt complex includes 35 different instruments, but the most widely traded are the FTR 11 Senior Notes due '25 Ba3/BB- followed by the similarly ranked and rated FTR 10.5s due'22; those two issues and a reopened FTR 8.75s due '20 provided the unsecured bond funding for the wireline deal.
FTR's senior unsecured bonds are cheap to segment comparables, high yield ratings comparables, and FTR CDS. See the graph below which demonstrates the relative cheapness of FTR bonds vs. comparable bonds from CenturyLink (NYSE:CTL) and Windstream (NASDAQ:WIN). And despite their Ba3/BB- rating and their dominant position within the capital structure (87.6% of total debt), the senior notes trade closer to single B/triple CCC levels. The FTR 11s due '25, for example, spread wide to generic high yield 5-year CDS by more than 500 bps (using mid-point Z-spreads). They are also wide to similarly rated bond comparables like CenturyLink CTL 7.5 Senior Notes due '24 (by 274 bps) and lower-rated Windstream WIN 7.75 Senior Notes due '23 (by 147 bps).
FTR 11 Senior Notes due '25 are highly correlated to the FTR common stock (79% correlation if you use the 14A CUSIP over the 6 months prior to when the new registered CUSIP took hold on 4/1/16). They are not technically cheap to the common at the moment although they pay 243 bps more yield (10.64% yield to the 2025 maturity, non-callable). Nor are the FTR 11 Senior Notes due '25 cheap to the FTR 11.125 Mandatory Convertible Preferred Stock which, priced at $96.84 yields 11.48% (to their mandatory conversion date of 6/29/18). The correlation to the FTR 11.125% Preferred is similarly high over the past 6 months (78%). The preferred are quarterly pay instruments that were also used to help fund the VZ wireline acquisition.
Comments
FTR is scheduled to report Q2'16 numbers on Monday, August 1st and one can easily see a scenario in which, given the size of the VZ transaction, there is noise in the numbers prompting volatility and, perhaps, a second opportunity to purchase bonds cheap to the stock on the technical. And you want to own the bonds, not the stock - the stock has been subject to multiple dividend cuts since 2010 and will face a similar fate if FTR's wireline business depreciates faster than expected. If you can't wait to get hold of the FTR 11s, do yourself a favor and buy some CDS to go with it.
FTR 11 Senior Notes Z-spread vs Wireline Comps and Generic HY CDS:

FTR 10.5 and 11 Senior Notes Z-spread vs FTR's 5 Year CDS: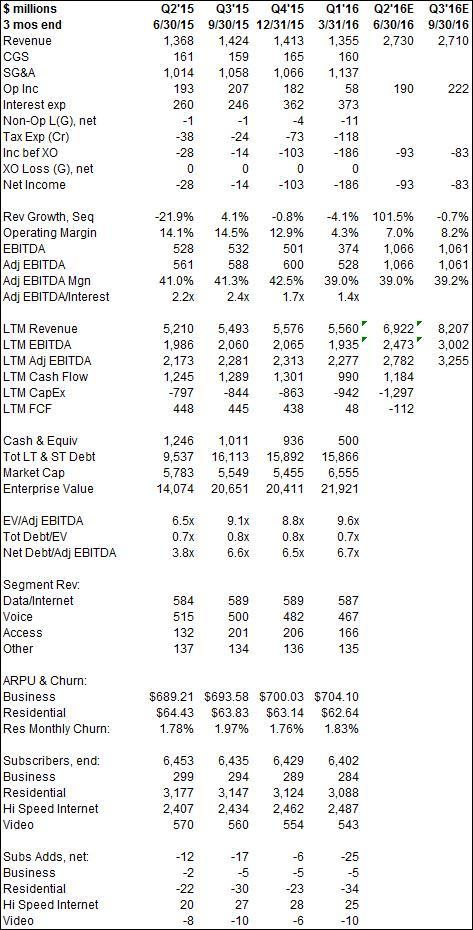 Disclosure: I/we have no positions in any stocks mentioned, and no plans to initiate any positions within the next 72 hours.
I wrote this article myself, and it expresses my own opinions. I am not receiving compensation for it (other than from Seeking Alpha). I have no business relationship with any company whose stock is mentioned in this article.