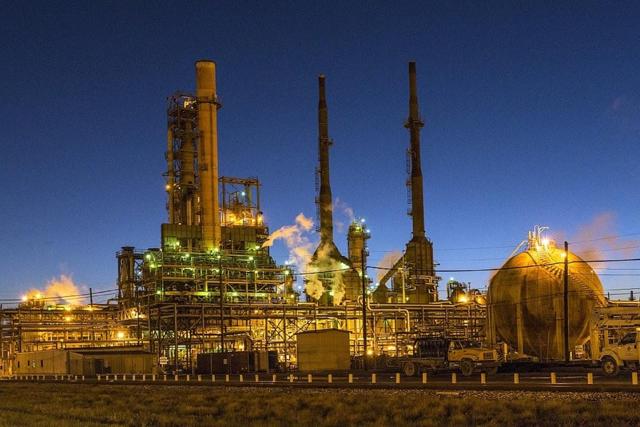 Source: Stock Photo
I like the deal Marathon Oil Corp. (NYSE:MRO) made to acquire PayRock Energy from venture capital firm EnCap Investments for $888 million. It has the immediate benefit, after closing the deal, of adding about 17,000 barrels per day to its production level, while positioning the company for a strong 2017, with the goal of having a minimum of four rigs operating within the new acreage.
The low-cost oil from the new property will help drive down the overall breakeven point for the company, and eventually increase its long-term earnings outcome once oil moves sustainably higher.
Assuming the costs of drilled and completed wells remain close to what it cost with the last five wells, Marathon should be able to build new wells at low costs, allowing the company to generate profits quickly.
The deal is scheduled to be closed in the third quarter.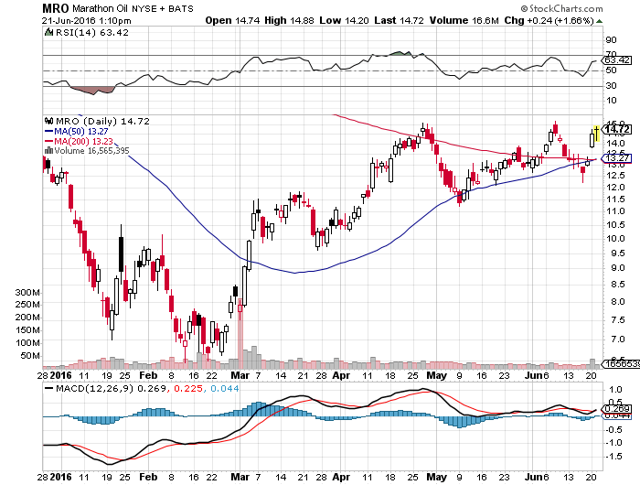 Source: StockCharts.com
Well performance in the STACK
Beyond the obvious resources included with the deal, the real value Marathon made with the acquisition of PayRock Energy is it bought immediate, low-cost production, which can make a decent profit at $45 per barrel. That lowers the overall earnings price point for the company.
According to companies already operating in the region, at $45 per barrel, they can generate a profit of 10-30 percent. For that reason alone, being able to make the deal is a major coup for Marathon - something that will enhance its short- and long-term performance.
Assuming Marathon can leverage this on a consistent basis over time, it bodes well for shareholders.
Most shale producers in any Basin can only match what Marathon was able to buy here. A small number can make money at $40, but they're few and far between. EOG Resources (NYSE:EOG) is one of them. It can generate 30 percent in earnings with oil at $40 per barrel. That's about as good as it can get with shale production at this time.
Costs of new wells
Wade Hutchings, a regional vice president at Marathon, said, "The last five PayRock wells have each been drilled and completed for under $4 million." That suggests the ability of the company to inexpensively bring wells into production, and with its remaining budget, Marathon could bring a lot of them on-line over the next year if it chooses to.
Most likely it'll gradually drill and complete them, as there is still a lack of conviction the oil rally will be sustainable. That's also a positive for the company, when considering the ability to generate 10-30 percent at $45 per barrel. More than likely we'll see oil operate in the $45-50 range for the remainder of 2016, and probably into early 2017, which means it'll generate a profit even at the low end of the price range I'm looking for.
If oil climbs more, it's more of a positive for the company. But that's how I see the worst-case scenario going forward. Again, this is why I really like this deal.
This assumes Marathon will be able to develop the wells at the cost PayRock has been developing them recently. I see no reason why that shouldn't be the case.
Rig count and potential in 2017
One of the more underrated developments concerning oil rigs is the increase in productivity over the last two years. According to Capital Economics, the daily average barrels per day being pumped per rig has jumped from 6,000 in 2014 to 27,000 barrels per day for each rig today. The implications are staggering, assuming the wells being worked have the capacity to produce that much oil on a daily basis.
If that's the case with Marathon, the boost in production would be amazing over the next 12-18 months. Even at 17,000 barrels per day, which is what will be expected after the deal is closed, a price of $45 per barrel would generate $765,000 per day in revenue, and assuming an average of 20 percent, would bring the company $153,000 per day in earnings.
Extend that to 4 rigs extracting 27,000 barrels per day out of the wells, and the potential numbers are enormous. Under that scenario, the company would generate $1.2 million per day in revenue and $243,000 in earnings. With the earnings I'm assuming a 20 percent return, based upon the 10-30 percent profit range operators say the STACK is generating now.
I'm not suggesting this is how it'll play out, but it does show the potential the deal has for Marathon if it can come close to increasing efficiencies to that level.
And when considering I'm using $45 per barrel as a point of reference, there is a lot of potential within the next year if the price of oil jumps above $50 per barrel, even if the number of barrels don't approach the rig potential available to the company.
Conclusion
There is nothing I see on the downside for Marathon with this deal. It'll have to make back its cost of the acquisition, but if oil remains even at current levels, and the company is aggressive in developing the acreage, it won't take long to make that back and more.
Even a more modest approach will be a winning strategy for the company, as it'll allow it to grow with less risk, while waiting to see if the oil rally is sustainable over time.
I like how aggressive Marathon was in this move, as there have been a lot of shale deals being done recently, and landing quality property as it has is a great move before the price starts to go up further per acre as the premium opportunities either start to dry up or jump significantly in price.
No matter what happens going forward, this should pay off for Marathon and its shareholders for a number of years. I've felt Marathon has been undervalued for some time, but with the addition of this to its portfolio, I think the company still isn't being fully appreciated for the assets it now has.
It should be a solid performer for long-term shareholders.
Disclosure: I/we have no positions in any stocks mentioned, and no plans to initiate any positions within the next 72 hours.
I wrote this article myself, and it expresses my own opinions. I am not receiving compensation for it (other than from Seeking Alpha). I have no business relationship with any company whose stock is mentioned in this article.