Instagram announced on Tuesday, 6/21, that it had grown to 500 million monthly active users. This represents more than 16x growth of the user base since Facebook (NASDAQ:FB) acquired the platform in 2012. We have argued before that FB is a stock propelled by the Instagram growth machine. Our bullishness is strengthened by today's news of the platform crossing 500 million, and we argue that Instagram can grow its user base to over 1 billion MAUs in 4-5 years.
We have two key takeaways from the data:
The US market is stable despite increasing competition from Snapchat
International markets have plenty of room to grow
Addressing the first point, we see that the US market is stabilizing around 100 million MAUs. In December of 2014, that figure stood at 90 million, grew to 100 million in September of 2015, and has stayed there since. We aren't concerned that US growth has flattened because the platform is more niche than an FB (almost 70% of US audience is under 44) and usage density is already high domestically (1 in every ~3 Americans). Instead, we are bullish that growth is not negative considering growing competition from Snapchat. Many opponents of FB have argued that Snapchat is eating both FB and Instagram's lunch, but we don't believe the data is there to support this thesis. While Snapchat is a fast-growth platform with plenty of millennial appeal, it isn't eating FB or Instagram's lunch. Roughly 1 in every 3 Americans uses Instagram, and that figure looks to be stable.
Addressing the second point, international growth has been stellar. Instagram added 90 million international users between December 2014 and September 2015, and then added another 100 million between September 2015 and June 2016. All the growth is coming from international markets, so essentially the international market is bringing in 11 million new subs per month. As we will illustrate later, international usage density (users per capita) is quite low, and we think it has substantial room to grow.
In sum, growth per month has stabilized around 11 million new subs per month since 2014. That is up from just over 7 million new subs per month in 2013. Again, we are bullish that this strong growth rate is stable given increasing competition. We think this growth rate will persist over the next several years, as Instagram continues to expand internationally.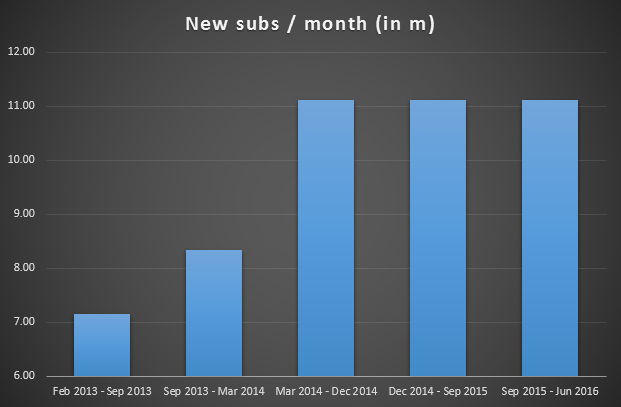 The one negative in the release was that engagement is slipping slightly. On a base of 300 million MAUs, those users posted 70 million images per day, equating to 0.23 images per day per user. When the base grew to 400 million MAUs, the number of images posted per day stood at 80 million, equating to 0.2 images per day per user. In the most recent release, that fell to 0.19 images per day per user. There is clearly a trend that users are splitting their time between Snapchat and Instagram, but we do not think this is a significant threat to Instagram. We see both platforms co-existing over the next several years. Indeed, we think Instagram can get to a billion MAUs in 4-5 years.
With 100 million users in the US, that means almost 1 in every 3 Americans has an Instagram account. This makes sense to us. Instagram is aimed towards a more youthful audience, and the millennials number 75 million in size in America. Therefore, the 100 million user number means essentially all millennials have an Instagram account, while Generation Z and Generation X comprise the other 25 million.
Facebook, meanwhile, is more prevalent in the US. It is estimated FB has right around 160 million MAUs, meaning 1 in every 2 Americans has an FB account. As discussed earlier, we think the United States is pretty saturated in terms of social media usage. An extension to that, we think that the United States can be used as an example of what the rest of the world will look like in 4-5 years as social media grows internationally.
Outside of the US, roughly 1 in 4.7 people has a Facebook account currently (1.5B Worldwide MAUs ex-US divided by 7B Worldwide population ex-US). Instagram which is newer to, but also growing more rapidly in, international markets is less prevalent currently. Only 1 in 17.5 people has an Instagram outside of the US (400 million international MAUs divided by 7B Worldwide population ex-US). The density of Instagram use should increase as it continues to expand.
In the US, the ratio of FB user density (1 in 2 Americans) to Instagram US user density (1 in 3 Americans) is 1.5x (3 divided by 2). Using the current saturated US market as an example of the rest of world in 4-5 years, we think it is safe to assume this 1.5x multiple extends to the international market. At the current density levels (1 in 4.7 outside of US have Facebook), this would imply 1 in every 7 people in the world will have Instagram (4.7 x 1.5). At an international population of 7 billion, this means 1 billion international MAUs in the future. Adding in a steady state of 100 million domestic MAUs, and we think Instagram can grow to 1.1 billion total MAUs in the near future.
At the current rate of just over 11 million new users per month, this means it would take just over 54 months (600 / 11) for Instagram to reach 1.1 billion MAUs. In essence, we think Instagram is 4-5 years out from growing its user base to over 1 billion.
This analysis ignores population growth and potential increased FB usage density internationally. We argue both of those are inevitable (population will grow and FB usage density will increase), so our ballpark estimate of 1.1 billion MAUs in 4-5 years is actually low. We think that number could be more like 1.3-1.5 billion by 2020. The Instagram growth machine is not slowing and we do not see it slowing anytime soon. We expect Instagram ramp to continue to propel revenue and earnings beats over the next several quarters.
Disclosure: I am/we are long FB.
I wrote this article myself, and it expresses my own opinions. I am not receiving compensation for it (other than from Seeking Alpha). I have no business relationship with any company whose stock is mentioned in this article.