Newmont Mining (NYSE:NEM)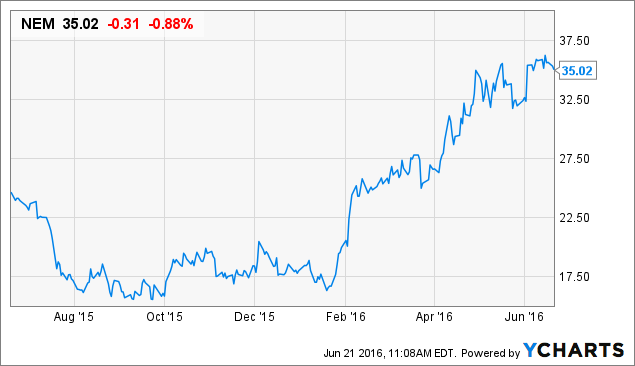 Recent Stock Price: $35.03
Shares Outstanding: 530.53 million
Market Cap: $18.58 billion
52-Week Range: $15.39 - $37.39
Newmont Mining used to be one of the higher-cost gold producers and quite honestly, made for a lousy investment for a number of years as it struggled with high costs and debt. But after years of implementing cost improvements at its mines, divesting higher-cost assets and acquiring lower-cost assets, the company has managed to reduce its all-in sustaining costs per ounce well below $1,000.
This has led to higher levels of free cash flow, and, perhaps not surprisingly, a much higher share price. Year-to-date, shares have advanced 94.5%, and the stock has outperformed the benchmark gold miners index (NYSEARCA:GDX), as well as peers Goldcorp (NYSE:GG) and El Dorado Gold (NYSE:EGO). But there are a few reasons to believe shares can continue higher in 2016.
I previously covered Newmont Mining back in July of 2015 when the stock traded at just $17.45 per share. At the time, the company was producing gold at around $900 per ounce AISC and profitable to the tune of $119 million in free cash flow (Q2 2015 financials); this represented a pretty substantial improvement from the $1,177 AISC it reported back in 2012 and $1,002 AISC reported in 2014. Meanwhile its long-term debt was still high in Q2 2015 at $6.14 billion, but it was able to repay $280 million in total debt that quarter while also increasing its cash balance.
The company has made numerous strides since that article was written and continues to impress. Between its operational improvements and a rise in gold prices by $100 per ounce, the stock price has risen more than 100% this year.
The improvements in AISC can be attributed to both mine optimization and smart acquisitions/divestments. For example, the company sold off its Midas, Jundee, Penmont and Waihi mines (500,000 ounces of annual production at $950 AISC), essentially trading them in and acquiring the Merian, Long Canyon and Criple Creek and Victor mines (1 million ounces of annual production with AISC below $800). Besides improving AISC, these moves also added several years of mine life to its assets.
Meanwhile, the company has also maximized its profits at its existing mines. For example, in the first quarter of 2016, Newmont produced 1.2 million ounces of gold (4% increase year-over-year) with AISC dropping to $828 per ounce. The strong performance was led by its Asia Pacific mines ($682 AISC) and its Africa mines ($698 AISC), while North American mines also performed well ($876 AISC). With $524 million in operating cash flow, a $184 million sale of its stake in Regis Resources, and over $2 billion in cash on hand, the company decided to repay $499 million in debt in Q1, and continues to pay a small dividend to shareholders.
New assets should also strengthen the investment case, and that's the biggest catalyst for shares going forward. For example, the Merian gold mine in Suriname is now 80% complete and coming in $100 million below its initial budget, according to the company; this asset will add up to 500,000 ounces of annual gold production at $650 - $750 AISC starting in the second half of 2016, so it should help lower Newmont's overall AISC.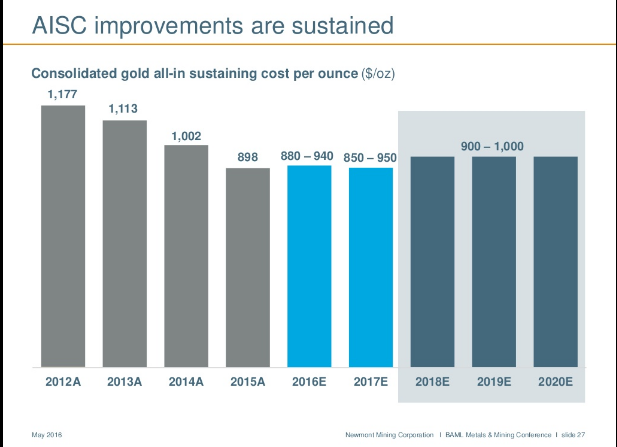 (Credit: Newmont Mining Presentation)
Meanwhile, the Long Canyon gold mine in Nevada is another exciting asset which should report initial production in early 2017. Once in full production, it's expected to add 100,000 to 150,000 ounces of gold annually at $500 - $600 AISC.
Its Tanami expansion in Australia is another project expected to help lower costs, as it will add over 400,000 ounces of annual production while lowering AISC by $50 per ounce; first production from the expansion is expected in 2017.
Looking out to next year, the company expects a continued drop in its AISC to $850-$950 per ounce, and expects that figure to remain below $1,000 going out to 2020. Capital expenditures are expected to peak this year ($1.13 - $1.355 billion), falling to $700-$800 million annually from 2018-2020.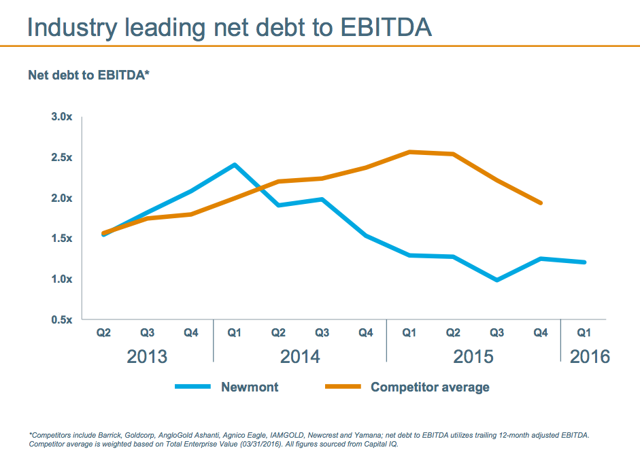 (Credit: Newmont Mining Presentation)
The balance sheet was previously a cause of concern for me, but it's looking much better here. The company has total liquidity of $6 billion as of March 31, 2016. At the end of Q2 2016, Newmont had $2.46 billion in cash compared to $5.36 billion in debt and has seen its net debt decline 37% since 2013.
The company is targeting debt repayment of between $800 million to $1.3 billion between now and 2018; its net debt to trailing-12 months EBITDA has declined significantly since the end of 2013 and is lower than its peers, according to its presentation.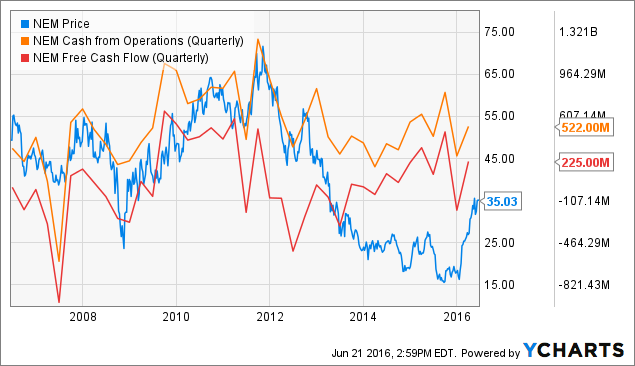 Now, despite the run-up in the share price this year, the stock doesn't look all that expensive. Shares trade at an EV/EBITDA of 7.59, a book value per share of $21.39 and a forward P/E of 21.27, according to Yahoo Finance. The company's low costs and ability to produce free cash flow should continue to support the share price.
In conclusion, Newmont Mining has enjoyed a successful 2016 thus far, but there is reason to believe the good times are just getting started. Cash costs should continue to fall with new projects coming online, and the balance sheet should only get stronger from here. I recommend buying shares on any future pullbacks.
Disclosure: I/we have no positions in any stocks mentioned, and no plans to initiate any positions within the next 72 hours.
I wrote this article myself, and it expresses my own opinions. I am not receiving compensation for it (other than from Seeking Alpha). I have no business relationship with any company whose stock is mentioned in this article.