Introduction
In the Canadian banking industry, five banks stand above the rest in terms of assets, deposits and capitalization. These five banks are referred to colloquially as the "Big Five" Canadian banks.
All five are headquartered in Toronto and classified as Schedule 1 domestic banks operating in Canada under government charter. Cumulatively, the Big Five banks account for close to 90% of the banking industry in Canada.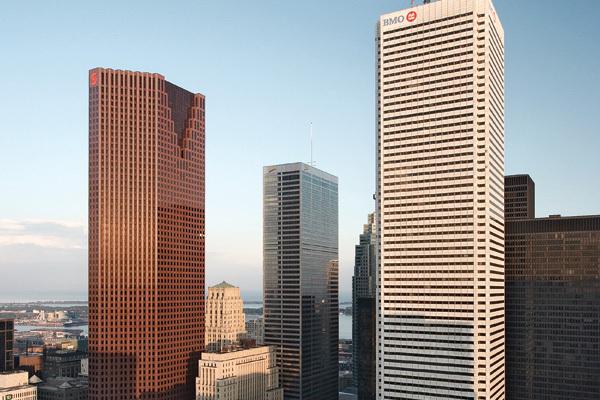 Source: Sam Javanrouh
Beginning 2016, Canadian bank stocks had their worst start to the year in a quarter century, plunging 10% in January amid concerns over slumping oil prices, tepid new consumer borrowing due to already high household indebtedness and eroding margins, as interest rates plumbed record lows. The shares rebounded 9% in February after most of the lenders posted quarterly profit that exceeded analysts' expectations.
On March 31, I published an article for Seeking Alpha entitled, "A Good Time To Buy The 'Big Five' Canadian Bank Stocks". The "Big Five" has become an outdated moniker. The assets held by the Big Five Canadian banks have ballooned in size over the past decade, crossing the threshold into gargantuan territory. Royal Bank of Canada (NYSE:RY) and Toronto Dominion Bank (NYSE:TD) became Canada's first trillion-dollar banks, measured by total assets, and the Bank of Nova Scotia (NYSE:BNS) is not far behind. Only four banks in the U.S., an economy 10 times the size of Canada, have crossed into trillion-dollar territory, reinforcing how massive these five institutions are in relation to the substantially smaller Canadian economy.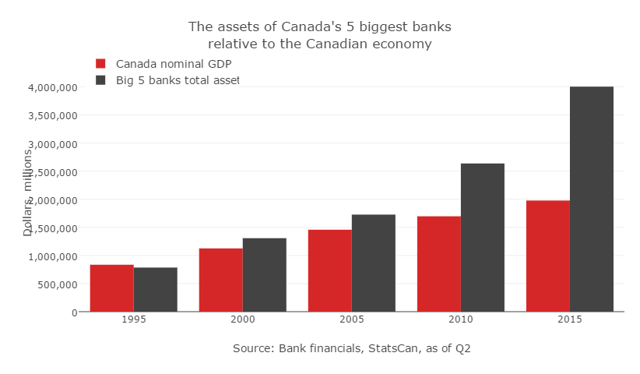 The banking culture in Canada has traditionally been more protected, less competitive and therefore more conservative. This conservatism was most evident during the financial crisis. While toxic credit products wreaked havoc on international financial markets, the Canadian banking system was virtually unscathed.
During and after the global credit crisis, the Big Five banks became recognized globally for their fiscal responsibility. The respect they receive from their global peers is underpinned by their consistent operational and financial performance and consistently strong returns on equity (ROE); they are more profitable than their 12 largest U.S. counterparts based on ROE.
Moreover, the Five Big banks dominate the Canadian banking sector, accounting for almost 90% of the country's banking deposits. This dominance - and the regulatory protection they enjoy in their domestic market - are key advantages that make it unlikely new entrants will challenge their dominance. These conditions have allowed Royal Bank to deliver consistently healthy returns to shareholders for more than 150 years.
Canadian banks typically pay a higher dividend than their U.S. counterparts and have done so for a considerable period. For example, the Bank of Montreal (NYSE:BMO) has an uninterrupted record of dividend payments extending back to 1829. The Bank of Nova Scotia is not far behind, with continual dividend payments since 1832, followed by TD Bank, which has paid dividends continually since 1857, and the Royal Bank, which has paid an uninterrupted dividend to investors for 144 years, extending back to 1870. Canadian banks give almost half their earnings back to investors in payouts, resulting in an average dividend yield of 4.32%, about double that of U.S. lenders. There is no sure thing in investing, but in my experience, companies like Royal Bank - with its strong franchise, resulting in its strong market position, and paying a safe and growing dividend - best reward investors over the long haul.
Canadian banks have been ranked the world's soundest for eight straight years by the World Economic Forum. The country's banking system, which is dominated by the Big Five banks, ranked No. 1 in the Global Competitiveness Report released by the organization. Finland's banking system ranked second of 140 countries surveyed and Australia's third. The U.S. banking system was in 39th place, compared with 49th a year earlier.
Canadian lenders benefit from fewer regulatory restrictions and less competition than their U.S. counterparts. Royal Bank, TD Bank and Bank of Montreal are also benefiting from their expansion in the U.S., where economic growth is expected to outperform that of Canada in the foreseeable future.
Canada's banking system is an oligopoly, with five large and protected banks serving 33 million people. Part XII of the Bank Act (Canada), which is administered by the Office of the Superintendent of Financial Institutions (OSFI), contains a prohibition preventing any "foreign bank" from engaging in or carrying on business in Canada. In contrast, the United States has over 6,000 banks and over 7,000 credit unions serving 330 million citizens.
However, in terms of stock price performance, the Big Five banks have been treading water at best since the summer of 2014, when the price of oil collapsed.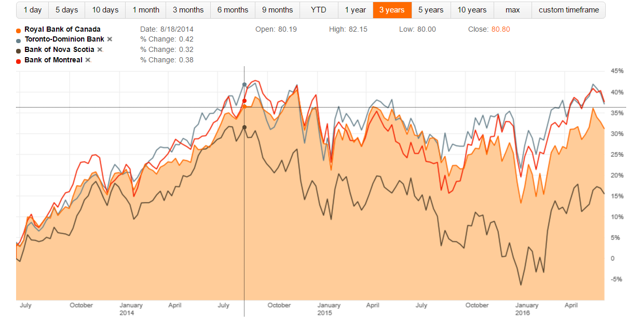 During this period, the Canadian oil patch and broader Canadian economy have struggled, taking the "loonie" down with them. And Canadian households are carrying the largest debt-to-income load in the G7. In 1980, the ratio of Canadian household debt to personal disposable income was 66%; that ratio has ballooned, recently reaching 170% (Statistics Canada 2016). This means that, in aggregate, Canadian households owe more than $1.70 for every dollar of disposable income.
Oil prices used to have an 80% correlation with the loonie. That correlation is now up to almost 95%. Who knows what the future will bring, but oil looks to have not only carved out a bottom, but to be basing. Production and inventory data finally appear to turning supportive. And the cheaper Canadian currency appears to be providing some lift to Canadian manufacturing. These are encouraging signs for the Canadian bank sector.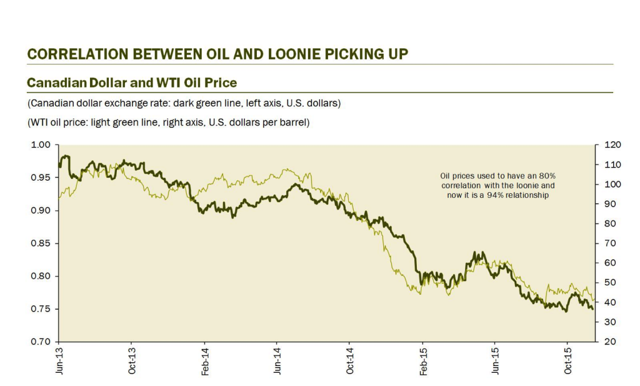 Source: Haver Analytics & Gluskin Sheff
The combination of the weakness in energy weighing on investment, together with high levels of household indebtedness, which is keeping a lid on consumer spending, puts pressure on the export side of the Canadian economy to do much of the heavy lifting. The combination of a recovering U.S. economy and the lower Canadian currency are supportive indicators for Canadian exports, a trend that must continue for overall economic growth to gain traction.
However, although CIBC (NYSE:CM) is essentially a play on the Canadian domestic market because of its greater exposure to the Canadian consumer and domestic economy, which represents two-thirds of its business, the domestic exposure for its Big Five peers averages only of 40%.
Each of the Big Five Banks pursues a markedly different growth strategy, which I discussed in a previous article.
I have also analyzed Bank of Nova Scotia and TD Bank in separate articles, outlining their respective growth strategies.
"Big Five" Canadian Banks
| Name | Ticker | Mkt Cap | ROE | Yield % | Fwd P/E | P/BV |
| --- | --- | --- | --- | --- | --- | --- |
| Royal Bank | RY | $115.4B | 15.6% | 4.18 | 11.0 | 1.88 |
| Toronto Dominion | TD | $103.2B | 12.3% | 3.95 | 11.1 | 1.60 |
| Bank of Nova Scotia | BNS | $77.5B | 13.6% | 4.47 | 10.5 | 1.48 |
| Bank of Montreal | BMO | $52.4B | 11.6% | 4.22 | 11.1 | 1.47 |
| CIBC | CM | $40.1B | 17.4% | 4.76 | 10.5 | 1.93 |
Investment Thesis
The Royal Bank of Canada (RY on the NYSE and TSX) was founded in 1864 in Halifax, Nova Scotia, by a group of Halifax merchants allied to form a private commercial bank. They named it the Merchants Bank. In 1887, the bank opened a branch office in Montreal, the country's financial center at the time, signaling a reorientation in the bank's strategy from providing regional services to doing so on a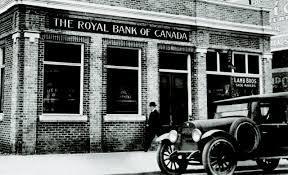 national level.
As the bank expanded, its directors realized that the name needed to be changed to truly reflect the geographic reach and strategy of the institution. So, in 1901, the bank adopted the name The Royal Bank of Canada. It relocated its headquarters to Montreal in 1907.
With a market capitalization of C$115.4 billion, it is the largest bank in Canada and one of the largest banks in the world by market cap, and a close second in Canada to Toronto-Dominion Bank in terms of assets.
Royal Bank of Canada and its subsidiaries operate under the master brand name RBC. The bank is one of North America's leading diversified financial services companies, providing personal and commercial banking, wealth management, insurance, investor services and capital markets products and services on a global basis.
RBC employs more than 80,000 full and part-time employees, serving more than 16 million personal, business, public sector and institutional clients through offices in Canada, the United States and 37 other countries.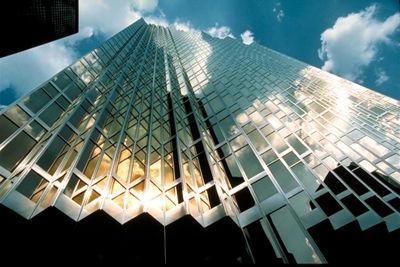 Royal Bank Tower Source: Corel Photos
Royal Bank, which recently topped $1 trillion in assets, is larger than its national counterparts on most financial measures, including the largest wealth management platform and capital markets segment. In addition, RBC has had the highest rate of dividend growth among the Big Five banks over the past five years at 10.1%. Since 2005, the bank has increased its dividend at an annualized rate of 10%.
The lender also has the highest return on assets (ROA) and return on equity (ROE) of the Big Five domestic banks, as well as the lowest ratio of loans to deposits and lowest nonperforming loans to total loans.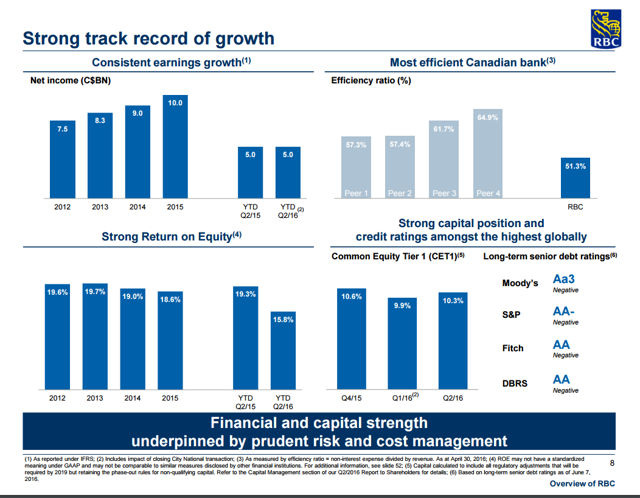 Source: RBC website
RBC has a favorable risk profile, anchored by its diversified business model, which delivers a balanced revenue stream. The bank generates 52% of its income from its Personal and Commercial Banking segment, 23% from its Capital Markets segment, 13% from its Wealth Management segment, 7% from its Insurance segment, and 5% from its Investor and Treasury Services, which provides custodial, advisory, financing and other services for institutional investing clients. RBC is the tenth largest investment bank in the world as measured by fees.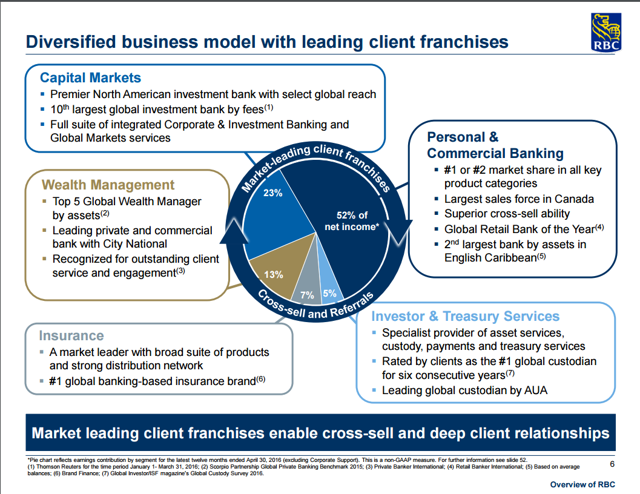 Source: RBC website
RBC is well positioned to continue to capitalize on growth opportunities underpinned by its strong global position, size and scale, long and stable track record, client focus, diversified business model and prudent risk management. The bank has continued to gain market share across key business sectors in Canada and build its business in select markets globally.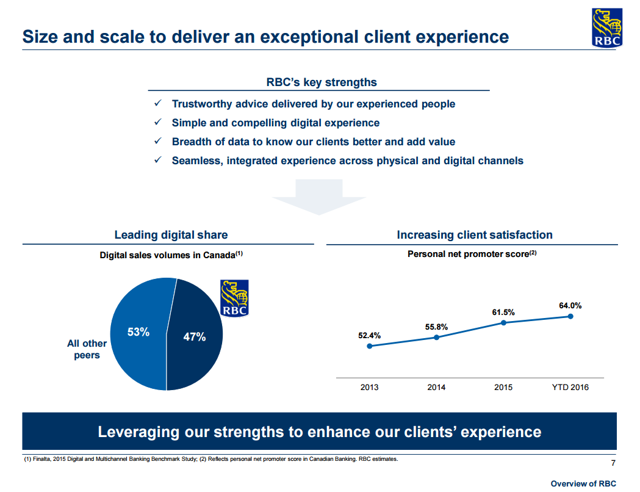 Source: RBC website
Despite economic headwinds, RBC continues to deliver solid results. In its fiscal 2015, it became the first Canadian bank to achieve greater than $10 billion in profits - more than $1 billion greater than the prior fiscal year. In addition, in 2015, the lender increased its dividend by 8%, delivered strong return on equity of 18.6% and strengthened its Common Equity Tier 1 (CET1) capital ratio to 10.6%, which handily exceeds the Basel III requirement of 6%. RBC carries an AA- investment grade credit rating from Standard and Poor's.
Despite RBC's solid performance in fiscal 2015, its share price ended the year slightly lower than where it started. The shares then kicked off 2016 with a precipitous decline of almost 15%, before bottoming on January 20. Since then, they have rallied to current levels.
On May 25, Royal Bank announced results for its second quarter of fiscal year 2016, ended April 30. The bank delivered a solid quarter, reflecting the resilience of its overall business model, despite a low oil price environment and tepid Canadian economy. Net income for the second quarter, excluding one-time items, increased by C$179 million to C$2.6 billion, or C$1.66 per share. This was 7% higher than the second quarter of the prior year, when the bank reported net income of C$2.4 billion, equal to C$1.61 per share. Analysts on average were expecting earnings of C$1.64 per share.
The results reflect strong earnings in Wealth Management, which benefited from the inclusion of City National Bank, record earnings in Personal & Commercial Banking and higher earnings in Insurance. These factors were partially offset by lower results in Capital Markets and Investor & Treasury Services, versus a tough comparison with the prior year's strong levels. The results also included favorable foreign exchange translation and continuing benefits from the bank's ongoing focus on "efficiency management" initiatives.
RBC's total provision for credit losses (PCL) ratio was 0.36%. PCL on impaired loans ratio increased 7 basis points from the prior year primarily as a result of the sustained low oil price environment.
(Note Royal Bank prepares its consolidated financial statements in accordance with International Financial Reporting Standards (IFRS), the current generally accepted accounting principles (GAAP), and refers to results prepared in accordance with IFRS as "reported" results. The bank also utilizes non-GAAP financial measures referred to as "adjusted" results).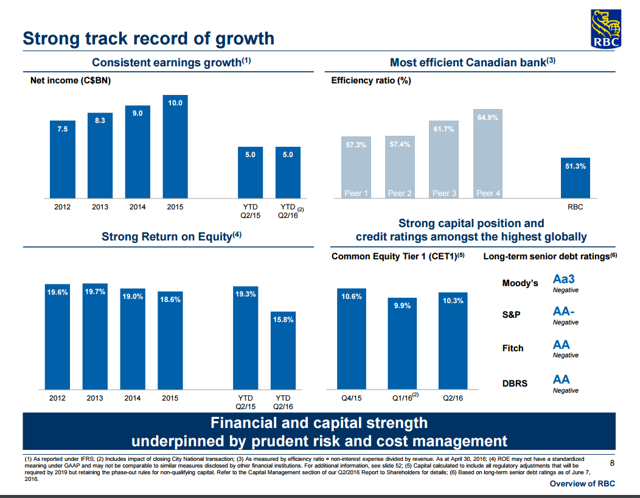 Source: RBC website
Like its other Big Five banking peers, Royal Bank has responded to the overhang created by the sluggish economic environment in Canada by lowering costs. It has cut 900 jobs and is actively engaged in simplifying its operations, increasing efficiencies and stimulating growth of retail deposits. It views these new deposits strategically as new opportunities to cross-sell into credit products.
Royal Bank CEO Dave McKay calls the U.S. its "second home market." The bank recently completed an immediately accretive $5 billion acquisition of Los Angeles-based City National Bank, a private and commercial bank focused on high net-worth clients. Known in Los Angeles as the "bank to the stars" because of its ties to the movie industry and celebrities, City National gives Royal Bank the added opportunity to access high net-worth clients in the United States.
The purchase was RBC's largest ever deal, marking a significant return to the U.S., after it sold its struggling U.S. personal and commercial banking operation in 2011.
The acquisition enables Royal Bank to provide investment banking services to City National's commercial, private banking and entrepreneurial customers, and it opens the door for City National to offer wealth management services to RBC clients.
The acquisition is strategically important on numerous fronts. It expands the bank's presence, capabilities and brand awareness in the most important banking market in the world, providing a powerful platform for long-term growth in the U.S. and presenting opportunities to build deeper client relationships throughout the country. Importantly, it also adds top talent to Royal Bank's depth chart.
Royal Bank recognizes the U.S. as a key growth market to expand its wealth management and capital markets businesses at a faster rate than it could in Canada, where it already has a dominant position. The bank expects the acquisition to drive double-digit profit growth in the U.S. as it expands its footprint of wealthy clients in new urban markets, resulting in more than doubling City National's 2015 pre-tax profit in the U.S. to over $1 billion by 2020.
In turn, City National will benefit from access to Royal Bank's significantly larger balance sheet, giving it the ability to extend larger loans to its clients. As a result, City National is expected to deliver C$350 million of additional profits to Royal Bank in 2016.

At the same time, RBC plans further acquisitions to expand in the U.S., supplementing its organic growth. As RBC CEO Dave McKay stated prior to City National's Investor Day on June 17:
"There are significant growth opportunities for us in the United States... We would consider smaller strategic acquisitions if they accelerate our geographic expansion and our capabilities in the U.S. and provide a good payback to shareholders in a reasonable period of time.

"We have invested in the California economy, which is the size of the Canadian economy, so there is enormous opportunity to grow here and clearly organic opportunity to expand into other cities using RBC's wealth management and capital markets strength to take City National there."
RBC believes that its approach to integration will also drive its success in the U.S. The bank has combined its U.S. wealth management unit with City National, whose long-standing CEO Russell Goldsmith now leads the combined business from Los Angeles. In addition to being chairman and CEO of City National Bank, Mr. Goldsmith is also chairman of RBC U.S. Wealth Management.

In an interview on June 17, Mr. Goldsmith stated:

"Everything we've seen has been very encouraging as to the ability of Royal Bank working with City National to grow in the U.S. We are seeing a lot of opportunities. Royal Bank's capital markets business is very strong in media, entertainment, healthcare, technology - all areas where we are working."
City National has already increased its workforce by 200 employees and expects the number of new hires to rise by 400 by the end of this year, as the combined banking operations pursue a larger net of high net-worth clients in targeted urban areas.
Comparing RBC's share price to its 10-year historical average and to its Big Five peer group, the stock looks attractive at current levels. The current analysts' consensus 2017 earnings estimate for Royal Bank is C$7.11 per share, which means RBC is trading at about 11x 2017 earnings. This is significantly below RBC's 10-year historical average forward P/E of 11.6x. Furthermore, Royal Bank's Big Five peer group is currently trading in line with RBC, with the same average P/E of about 11x 2017 earnings. This represents a discount to RBC's historical valuation, as historically, the bank has traded at a 3% to 4% premium to its peer group.
In addition to the forward P/E ratio of 11x, RBC's five-year projected annual EPS growth rate of close to 10% is attractive. Applying RBC's 10-year historical average forward P/E of 11.6x to analysts' consensus FY2017 EPS estimates yields a 12-month target price of C$82.48, which represents 6.3% upside to Friday's closing price of C$77.60 on the TSX. Adding the current yield of 4.2% produces a total return of 10.5%.
The target multiple is slightly higher than the average of RBC's domestic Big Five peers, given its strong Canadian domestic position in personal and commercial banking, wealth management and capital markets, as well as its significantly expanded exposure to the higher growth U.S. wealth management and capital markets, through its combination with City National Bank. This business can deliver better earnings power once the RBC has fully digested the City National acquisition.
Although the current low oil price environment and high Canadian household indebtedness is a headwind to RBC's earnings growth in the near term, I remain confident in the bank's capital levels and earnings upside. RBC has moved from slightly over 9x 2017E EPS, a 28% discount to the P/B to excess return, and a 4.6% dividend yield to approximately 11x, a 17% discount, and a dividend yield of 4.2%.
If oil prices continue to strengthen, RBC should be able to deliver higher than expected earnings growth, combined with valuation improvement in the form of multiple expansion, reflecting its more positive growth prospects compared to some of its Big Five peers, given its strengthening U.S. presence and disciplined approach to cost management.
The Canadian bank group is currently trading at 70% of the S&P/TSX P/E, almost a full standard deviation below the long-term average. Relative valuation supports the banks over other important sectors in Canada. Upside to my valuation assessment could come from further strengthening of the energy sector, better than expected Canadian and global economic growth and a more normalized interest rate environment than the current situation, which would lead to improved ROEs across the entire bank group, including Royal Bank.
Of the 15 analysts that cover Royal Bank of Canada, the consensus rating is a buy.
Potential Risks
Potential risks include the health of the overall economy, both domestic and international. Earnings challenges remain. Higher oil prices help, but the Canadian credit environment could still deteriorate from the double whammy of continued low oil prices and higher retail losses, with the weakish employment environment in Alberta and Canada more broadly. RBC's higher level of below-investment-grade oil and gas exposure, and high exposure to capital markets earnings, which will likely continue be volatile in 2016, are related risks.
On the positive side of this ledger, the continued lower cost of oil and gas and its impact on other raw materials, reduces input costs, helping to drive growth in other regions of the country.
Royal Bank and its traditional branch-based peers face the same material threat from outside innovators - financial technology upstarts and established technology giants. These disruptors are attempting to eat away at the established banks' market shares, as a growing community is jumping on board blockchain, a peer-to-peer transfer system that eliminates the need for middlemen by trusting the 'power of the crowd' to verify transactions. This is forcing the traditional institutions to spend heavily to defend themselves.
The Bank of Canada, which is Canada's central bank, is growing evermore watchful of "fintechs," including their becoming "systemically important." It is examining the need for a stronger regulatory oversight of new financial technology firms, which are not currently covered by regulation, because of concerns that even small fintech companies could play a critical role within the financial system and potentially increase volatility. More than 100 fintech startups in Canada have raised more than $1 billion and the social and economic impact from these investments is still largely unknown.
The Big Five banks recognize the threat. To understand the risks - and opportunities - that can arise from new technology, they are partnering with the Bank of Canada and R3, a growing consortium now numbering over 40 global financial institutions, to experiment with distributed ledgers, a decentralized technology that underpins digital currencies. Although the banks have understandably been quiet to date about their strategy, the R3 consortium appears well positioned to play a meaningful role in the development of distributed ledger technology, which also has the potential to benefit the banks, as well as consumers.
All Big Five Canadian banks are concerned about housing prices in specific urban areas, notably Vancouver and the Greater Toronto Area, where pricing is frothy, to say the least. Canadians can't keep borrowing as they have. The average household debt stands at a record high of more than 170% of disposable income. When people curb their appetite for borrowing, the mortgage, credit card and auto-lending arms of the banks will slow.
High levels of consumer indebtedness and elevated housing prices leave Canadian banks more vulnerable than in the past to downside risks from the Canadian economy. Earlier this month, the Bank of Canada warned that the rapid pace of home price increases in Toronto and Vancouver is unlikely to continue, with growing potential for a downturn.
However, ratings agency Moody's said on Monday that Canada's biggest banks could absorb the direct effects of a severe housing crisis without incurring catastrophic losses. The ratings agency said the negative effects of a housing downturn in Canada are reduced when compared with those of the United States. Because many mortgages in Canada are backstopped by the federal government, the subprime lending and securitization practices that helped fuel the 2007-09 financial crisis are less prevalent.
Restructuring charges represent a recurring cost pressure that traditional bricks-and-mortar banks, including Royal Bank, face to defend their oligopoly position in Canada from technology upstarts and more established but non-traditional companies encroaching on their oligopoly. Last year, the big banks collectively took more than C$1.2 billion in restructuring charges amid efforts to cut costs associated with traditional banking, where the number of transactions are falling sharply.
The Big Five banks have responded to dimmer prospects domestically in two ways, cutting costs and/or expanding outside Canada. RBC, TD Bank and Bank of Montreal, in particular, are making a push into the U.S.
There is also the relative performance risk that there may be better opportunity in the U.S. banking sector over the next 12 to 18 months. U.S. banks may post better results, given the credit concerns and possible slower loan, revenue and income growth that appears likely for Canadian banks.
Based on price to tangible book value per share, Canadian bank stocks trade at a premium to their U.S. counterparts, at about 2.4x book value, versus 1.53x for the U.S. group. However, this is lower than the average for the past five years, when Canadian banks traded at double the valuation of U.S. lenders, based on this metric. One reason Canadian banks have been more expensive are the less onerous regulatory restrictions they face in their domestic market than in the U.S., which I noted previously in the article.
Other risks include the possibility of a recessionary environment in North America, which would lead to higher unemployment and deterioration in credit quality, as well as impacting the entire banking sector's revenue growth and balance sheets, resulting in lower valuations across the bank group.
From a broader perspective, the global economic environment remains uncertain. While global economic growth is edging up, the pace of the recovery remains slow and stuttered. This low-growth and lower-rate environment continues to affect recoveries in most developed economies.
Additional risks include regulatory standards and political risk, including tax rates; the potential for non-accretive acquisitions and/or related execution and integration risks; litigation risk; rising business loan losses; foreign exchange fluctuations; and the competitive landscape.
The focus of my articles for Seeking Alpha is on attractively valued, large- to mega-cap dividend-growth stocks with sound business models, strong management teams and wide economic moats - "Forever Stocks." I strive to provide an in-depth analysis of the companies I research. I wrote this article from the perspective of a long-term investor who follows a straightforward, four-part strategy:
Identify a company with strong competitive advantages;
Satisfy myself its competitive advantages are enduring;
Invest in this company when it is trading at a fair price; and
Hold the stock forever, unless there is a significant change to the fundamentals associated with the company.
Royal Bank of Canada fits this mold and I will continue to hold my full position.
If you found this article helpful, please "Follow" me on Seeking Alpha to receive notification whenever I publish a new article.
You may also be interested in recent articles I have written for SA, which focus on stocks that fit the investment approach I summarized above.
Disclosure: I am/we are long RY, BNS, TD, BMO.
I wrote this article myself, and it expresses my own opinions. I am not receiving compensation for it (other than from Seeking Alpha). I have no business relationship with any company whose stock is mentioned in this article.