The OPEC Monthly Oil Market Report is a free resource available on OPEC's website. The piece of data that I'll look at in this article is on commercial oil (NYSEARCA:USO) stock movements, which includes both crude and products. The purpose of this exercise is to try to estimate how much the world oil stocks have grown since the beginning of the year until the end of April, which is the most recent available piece of data in OPEC's June report.
The biggest reported group is OECD stocks.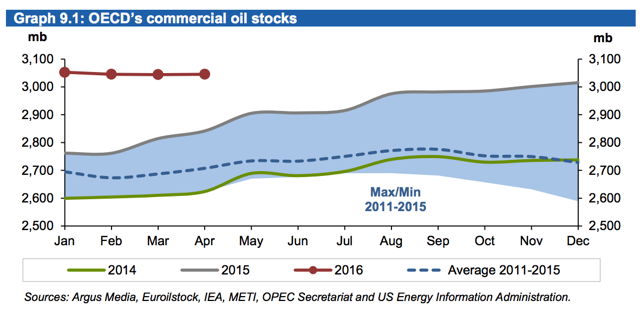 Something already visible in the image above is that OECD's oil stocks have stopped growing in the first four months of 2016. In their February report, OPEC estimated that OECD stocks stood at 2,974mb at the end of December 2015, but that number was revised in their March report to 3,012mb. According to the most recent report, commercial OECD oil stocks stood at 3,046mb at the end of April.
While there is certainly a large chunk of global stocks in the OECD, there is quite a bit outside of it. Luckily, these reports allow us to look at some other regions, to get a clearer picture: the rest of Europe, China, Singapore and oil-on-water (oil used in floating storage and water transit).
The OPEC reports also have data on the entire Europe and on OECD Europe separately, so we can determine how much non-OECD Europe had in stocks. The numbers in the table below are in million barrels and are according to March and June reports, respectively.
| | December 2015 | April 2016 |
| --- | --- | --- |
| total European | 1136 | 1153 |
| OECD Europe | 983.6 | 997 |
| non-OECD Europe | 1136 - 983.6 = 152.4 | 1153 - 997 = 156 |
Moving on to China, OPEC reported in February that at the end of 2015, China's commercial oil stocks stood at 384.1mb. This is one of the few numbers presented here that wasn't revised in the March report. At the end of April, China's oil stocks stood at 397.0mb. Note that these numbers do not include China's Strategic Petroleum Reserve (SPR). It has been reported that quite a bit of oil demand has been created by China while filling up its SPR.
Singapore had 48.9mb in oil stocks at the end of December, and 52.4mb at the end of April. The OPEC report also mentions stocks in the Amsterdam-Rotterdam-Antwerp (ARA) area, but these were flat over the four-month period.
There is one other section which OPEC reports on, which is oil-on-water. "Oil-on-water" is oil used in floating storage and water transit. According to the June report, at the end of 2015, oil on water stood at 1017mb. There is no monthly data available for this category, but we can use the Q1 2016 number as a proxy for April's stocks, which was 1055mb.
So let's recap what we have so far:
| | December 2015 | April 2016 | Δ |
| --- | --- | --- | --- |
| OECD | 3,012 | 3,046 | +34 |
| non-OECD Europe | 152.4 | 156 | +3.6 |
| China | 384.1 | 397.0 | +12.9 |
| Singapore | 48.9 | 52.4 | +3.5 |
| oil-on-water | 1017 | 1055 | +38 |
| Total | 4,614.4 | 4,706.4 | +92 |
Certainly, there is storage out there not captured in here. The most important builds might actually have happened in China's SPR. However, the 92mb build in commercial oil stocks in 4 months imply a build rate of 760kb per day. This was certainly not a steady daily build rate, though. It is my belief that the build rate was higher in the beginning of the year, and has been trending lower ever since. The IEA seems to support my belief (notice how the supply-demand imbalance is getting smaller in Q1 2016):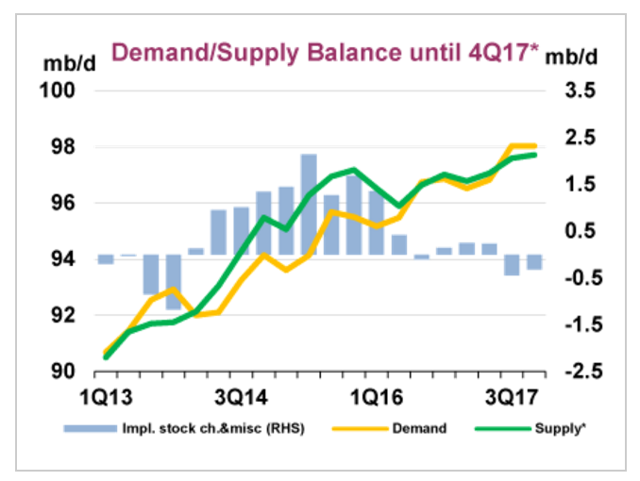 This was all before Nigeria's production was halved by the attacks of the Niger Delta Avengers on its pipelines or the Canadian wildfires. Nobody really knows exactly how much production is offline since the beginning of May, but this chart by Goldman Sachs suggests disruptions are over 1mb/d, and they are here to stay: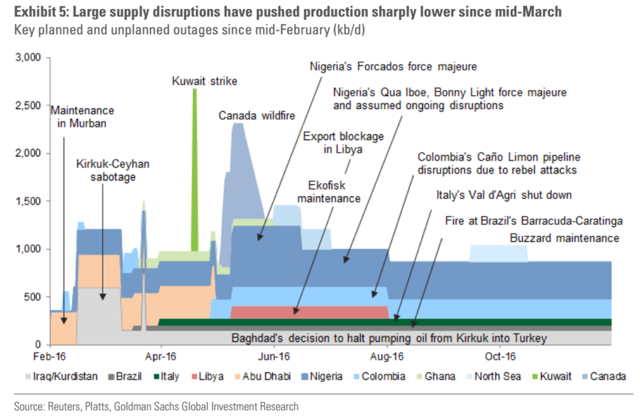 Also, there are some places where production is in decline. Recent news say that Venezuela's production is down 120kb/d in May. Also, the EIA weekly estimates suggest that US production has continued to decline. OPEC expects non-OPEC supply to contract by 750kb per day in 2016.
Conclusion
To conclude, I believe that the oil market is now balanced. This is not to say that prices should be shooting up, because the market still needs to work through all the supply built in the period when there was a glut. Demand is expected to continue to grow this year and in 2017, so I believe it is unlikely the market will return to a glut. But markets are forward looking, and oil prices will increase if more production declines set in, caused by a lack of investment.
$100/bbl has definitely encouraged too much production to come online, but I believe there will not be enough at $50/bbl, and the market will have to find an equilibrium point somewhere in this range in the medium term.
Disclosure: I/we have no positions in any stocks mentioned, and no plans to initiate any positions within the next 72 hours.
I wrote this article myself, and it expresses my own opinions. I am not receiving compensation for it (other than from Seeking Alpha). I have no business relationship with any company whose stock is mentioned in this article.