Well, that was an exciting few minutes there!
On Tuesday, Energy Transfer Equity (NYSE:ETE) and Williams Companies (NYSE:WMB) took part in the second day of a two-day hearing in the Delaware Chancery Court over lawsuits relating to their prospective merger. The most important issue is whether Energy Transfer is within its rights to let the deal expire because it was unable to gain a favorable tax ruling from its attorney, Latham & Watkins, as required in the contract.
Williams argues the tax issue is bogus, and ETE is not acting in "reasonable good faith" to close the deal.
The ETE stock began rising, and WMB falling, early Tuesday after its tax chief, Brad Whitehurst, said he discovered a problem six months after the deal was signed. He said he had originally misinterpreted the deal by assuming the exchange ratio was floating instead of fixed (The idea seems to be that because ETE's stock collapsed after the deal was signed, the cash consideration rose too high as a percentage of the deal to allow it to be tax free).
Since finding this tax problem was clearly in his company's interest, this is sort of like a magician pulling a rabbit out of a hat after he thought he had stuck a chicken in there.
Latham & Watkins partner Laurence Stein also testified the deal would have trouble passing IRS muster, and ETE kept creeping up.
Then, shortly after 11 a.m., the judge weighed in. He said the key issue is whether the attorneys acted in good faith - not whether they are correct on the merits that the IRS would not consider the deal a tax-free exchange. According to Bloomberg:
A key issue in the legal battle between Energy Transfer Equity LP and Williams Cos. over their stalled merger will be the sincerity of lawyers who concluded the deal between the pipeline operators is marred by tax complications, a judge said Tuesday.

"It matters if it was made in good faith," Delaware Chancery Court Judge Sam Glasscock said of the lawyers' findings that the combination can't close because of tax issues.
Another quote from the S&P Global subsidiary, SNL, is more definitive:
"It seems as long as [Latham & Watkins'] decision is on good faith, it holds," the tight-lipped Glasscock said in his Georgetown, Del., courtroom on the second day of hearings on the combined lawsuits of Williams to force ETE to live up to the bargain it made in September 2015 to buy Williams for cash and stock.
Traders took that as a clear signal ETE would win unless WMB could prove bad faith, which is hard to do. You can see the result on the chart below. ETE went parabolic, jumping 10 percent in five minutes.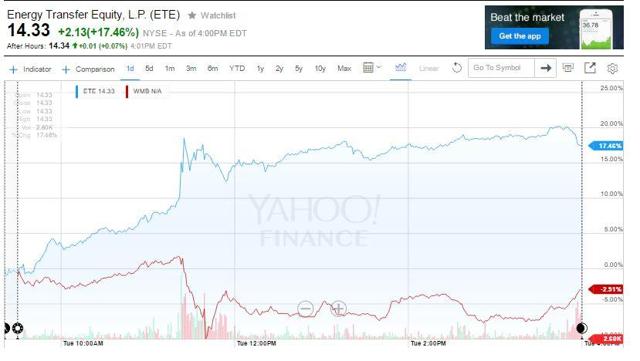 Source: Yahoo Finance
For the day, ETE rose 17%, WMB fell 3%. The merger spread jumped to 38%, the highest it's been in six weeks, indicating the market believes the deal is off.
Date
WMB
ETE
WMB merger value
Spread
6/3/2016
22.83
13.58
28.75
1.259
6/6/2016
23.38
13.72
28.96
1.239
6/7/2016
23.58
13.81
29.1
1.234
6/9/2016
23.28
13.53
28.67
1.232
6/10/2016
22.04
12.94
27.77
1.26
6/14/2016
21.18
12.71
27.42
1.295
6/15/2016
21.77
12.65
27.33
1.255
6/16/2016
22.13
12.96
27.8
1.256
6/17/2016
22.55
12.99
27.85
1.235
6/20/2016
22.32
12.2
26.64
1.194
6/21/2016
21.67
14.33
29.89
1.379
The most likely explanation for why ETE moved more than WMB is although it's very clear the deal is not in Energy Transfer's interests, it's not as certain whether it is good or bad for Williams' shareholders (We've had a lively debate on that in this comment section).
The judge promised a ruling by the end of the day Friday in advance of June 28 when the merger is supposed to close.
For those of us who don't have a representative in the courtroom, the fastest way to get the news is to follow news media Twitter feeds. Write "$ETE $WMB" in the search box.
Positioning: I've owned WMB for a few months, figuring it would recover much of its post-contract loss whether the merger took place or not. However, I bought enough ETE last week to produce a ratio of $2 WMB to $1 ETE. I decided to hedge mostly because the rapid decrease in the ETE short interest indicated big players were betting on that side.
Since ETE moves more than WMB with every new development, less of it is needed to hedge. I'm probably going to keep the 2-to-1 position in place until after the judge's ruling, and then may sell ETE while retaining WMB.
Disclosure: I am/we are long WMB, ETE.
I wrote this article myself, and it expresses my own opinions. I am not receiving compensation for it (other than from Seeking Alpha). I have no business relationship with any company whose stock is mentioned in this article.