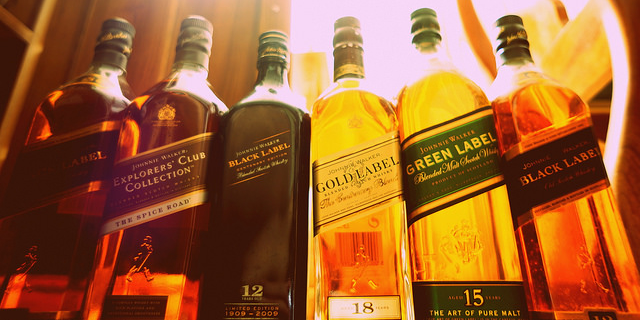 Diageo (NYSE:DEO) has been a major holding of mine for many years. Yet (as I live in Britain) it has always been the London-listed shares that have graced my portfolio. Buying more of the spirits-maker was, therefore, never going to be something to consider "out of character" for me. Unsurprisingly, price weakness on the back of the EU Referendum vote in Britain has meant that I have topped up this London-listed holding. Yet, I have also opened a position in Diageo through their New York-listed shares as well.
Why? It is a good question.
The reason actually goes a little against what may seem to be my generally conservative, long-term, risk-averse investing strategy. I, therefore, thought it worthwhile explaining my logic. The threat of "Brexit" emerging from the referendum has thrown up a lot of potential dangers for investors, yet it has also offered potentially lucrative opportunities. My New York-listed Diageo share move is, for me, a reflection of a potential opportunity here.
With the referendum's result still very much "up in the air" it is clearly a strategy with more inherent risk than my usual fare. Yet, as I explain, I am of the mind that the risk and reward balance with my particular (small) investment is very attractive indeed.
Let me explain what I mean.
Understanding DEO and DGE?
First off, a little explanation of the status of the Diageo shares. Most of you are no doubt very aware that the NYSE-listed DEO shares are ADR's (American Depositary Receipts). In other words, though listed on the NYSE they are actually indirect holdings in the underlying London-listed Diageo shares. Hence, when the London-listed DGE shares fall in price so do the DEO shares. Similarly, if the USD strengthened against the GBP (the currency in which the DGE shares trade) you would also see the DEO share price fall. In this scenario, the DEO shares would fall even if, in GBP, the underlying DGE shares remained at exactly the same price.
In other words, the DEO shares are exposed to both share price risk and currency risk. Buying into the DEO as opposed to the DGE shares (as a British investor) therefore, may appear even more nonsensical. Hopefully, this will become clearer in time, however.
One In, One Out
First off, it may be useful to explain where the capital came from. The capital used for this purchase emerged courtesy of the sale of my holding in fellow consumer staple, Procter & Gamble (NYSE:PG) holding.
Procter & Gamble remains a compelling cash flow investment. Yet, recently I have become increasingly concerned that volume growth has just not been forthcoming. Cash flow growth is great, but without consumers buying more of their products there would be limited upside to come.
I have little doubt that volume and revenue growth will return at Procter & Gamble. Yet, right now, the valuation seemed to have suggested that a rapid rate of growth was expected to be pretty close to certain sooner rather than later of which (as yet) I remain unconvinced.
Sitting on a 30% annualized return and with a growing discomfort about the degree of progress they have been making recently, I had said to myself that an $83 target would see me exit my position for now.
The target arrived, I prevaricated whilst finding a more attractive alternative and then sold.
So what was my attractive alternative? Well, unsurprisingly from the article's subject, it was Diageo. So why did I make this move?
Why Diageo? 1: The Long-term Story
We will open with my long-term reasoning for this move. Diageo has, in recent years, looked in slightly better health. In recent years - although Diageo's performance has hardly been spectacular - it has at least seen its revenue levels stronger than its US peer: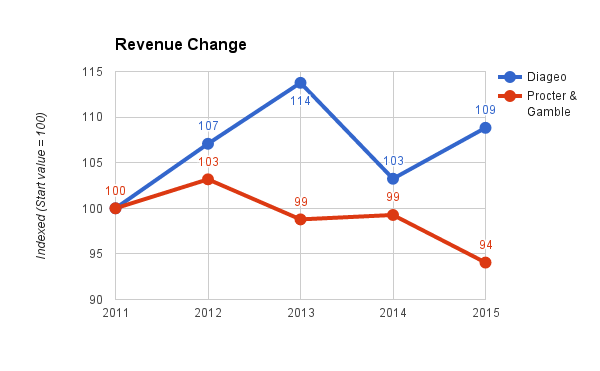 Naturally, Procter & Gamble has been engaging in a fairly dramatic brand cull. Divesting innumerable brands have meant, unsurprisingly, that revenue has shrunk. 2016 is expected to see a similar theme emerge (reflected already in Q3 2016's results). Now, this may well result in greater profitability. Yet right now, what has concerned me is that organic growth (that is stripping out currency and divestment/acquisition effects) has been at best flat at Procter & Gamble. In contrast, recently I have analyzed Diageo and come out with a growing confidence in their future growth potential as well as their attractive valuation.
Although I won't go over my reasoning for finding Diageo more attractive than Procter & Gamble, it is manifold. Diageo's valuation, for instance, is less stretched than Procter & Gamble. Their dividend yields are largely in line with one another, yet Diageo's looks set to continue a faster pace of dividend growth in the near term. Diageo is also, like Procter & Gamble, dominant in its industry. Yet, the spirits industry appears to offer an even wider economic moat than the already impressive one held by Procter & Gamble in the household and personal goods industry. Consequently, even Procter & Gamble's attractive operating profit margins look modest alongside Diageo: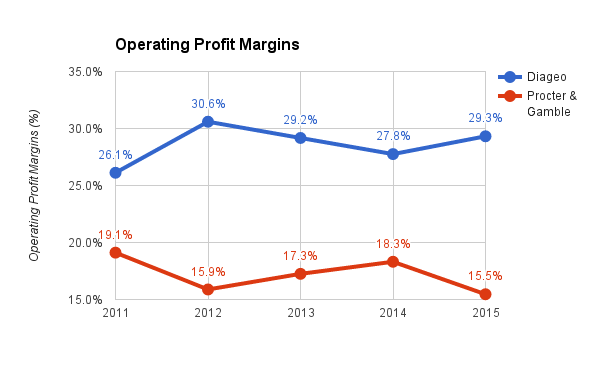 All this helps explain why I find Diageo attractive as a long-term investment. Yet, it does not explain my venturing into the fresh pasture of DEO rather than DGE ownership. To explain that, we need to shift focus from the long-term to a shorter-term perspective.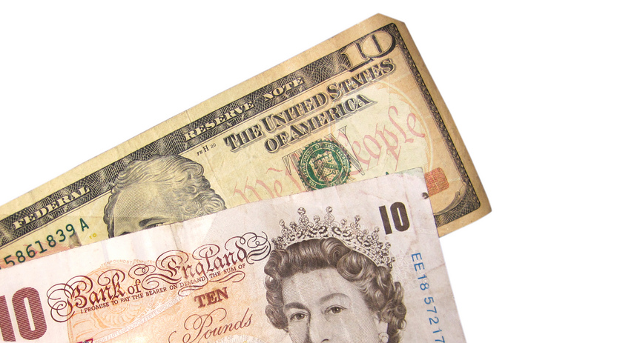 Why Diageo? 2: The Short-term Story
Whilst Procter & Gamble was hitting my target for selling, Diageo was (courtesy of Brexit worries) hitting my target for buying. Starting June at £18.68 per share, it had dropped by over £1 (about 5.6%) by 15 June. This was nicely below my historic top-up point for Diageo.
Yet, although this explains why I might pick up Diageo shares, it does not explain why I should go for the New York-listed shares.
So let's explain why I did. Few of you are likely to be unaware that the USD has been very strong in recent years versus a wide range of currencies. This has included the GBP (or pound sterling) in which DEOs underlying London-listed DGE shares are priced in. Nonetheless, the Brexit threat has accentuated this USD strength in recent months and especially between the start and middle of June (Source: Xe.com):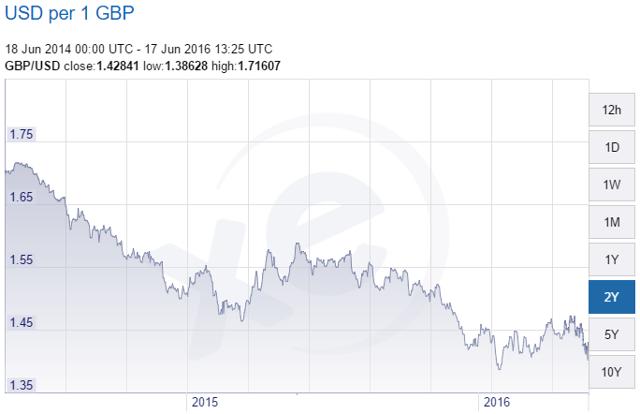 When I sold my holding in Procter & Gamble the exchange rate was around $1.42 per £1 (that is, £0.70 per $1). In contrast, when I built up my Procter & Gamble position in two transactions in September (60% of my holding) and October (40% of my holding) I got a weighted average of $1.54 per £1 (that is, £0.65 per $1).
All told, this meant that for every £100 I invested in opening my Procter & Gamble position, I got the equivalent of £107.80 back on its sale. A nice little Forex boost to what was already a generous share price appreciation. So just cash in my USD as GBP and push it towards the London-listed DGE shares? Maybe. Yet there are two reasons why I was not planning to do this. First, I like to retain a good amount of my capital in currencies other than GBP (USD being the main one).
Yet it is my second reason that really compelled me to do so. I believe that the GBP will strengthen once again in the coming weeks and months as the EU Referendum vote comes and goes. In light of this belief, the DEO shares looked attractive. You see, the weakening pound since the start of June had seen the DEO price drop even more sharply in New York. From $109.15 at the start of June to under $101.75 on 15 June. A drop of 6.8% as opposed to the 5.6% drop in its underlying shares.
My logic was thus: by buying DEO I would hopefully get a nice boost courtesy of the lifted share price with a generous boost courtesy of a strengthening GBP. Should this pan out as I hoped, the already nice currency tailwind I saw with my Procter & Gamble purchase will have an extra gust from my DEO purchase using that capital.
So far, it has panned out quite well. From my $101.75 purchase price, the shares are now (at pre-market prices) sitting at around $108.40. A 6.5% uptick compared to the 2.2% uptick in the underlying London-listed shares. Needless to say, the New York-listed shares have benefited from a hefty lift in strength of the GBP as investors increasingly view Britain as voting to Remain in the EU (Source: Xe.com):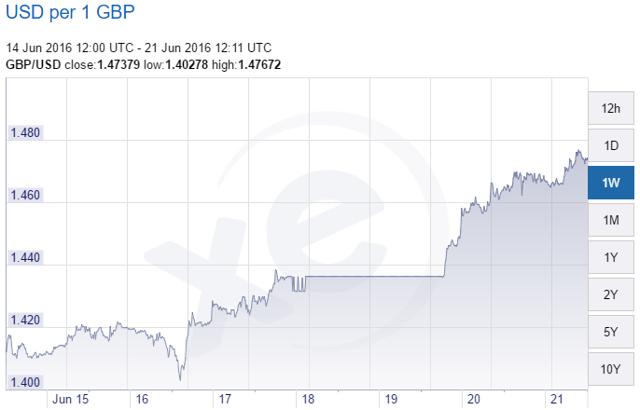 Around 4% of this gain has, therefore, been through Forex changes. Precisely, what I was expecting would happen (so far, so good). Nonetheless, this is just the preamble to the investment story and hardly shows that it is going to conclude how I have hoped.
Brexit Risk Remains
Certainly, to date, it looks like quite a handsome return already. Yet, clearly risks remain. Brexit is still a distinct possibility. I wrote a little while back about why I do view a Remain vote as more likely. Since I wrote that, polls have suggested there has been a modest swing of momentum back to the Remain camp. Should Brexit occur, however, I suspect the GBP will weaken sharply and the FTSE 100 (as well as Diageo's London-listed shares) will follow suit. Needless to say, this would also be echoed in the DEO shares with the effect compounded by the mix of share price and currency declines.
If I felt that Brexit was the most likely outcome, it would be a good idea to move my current DEO holding back into a company whose main listing is in USD. For instance, Procter & Gamble is at pretty much the same price as I sold it. Switching my current DEO holding for Procter & Gamble again would see me with the same stake in the latter (with the same USD value) as before but with an additional 6% or so spare USD. Not bad.
Yet I stand by my belief that Britain will vote to Remain in the EU. Consequently, I would hope to see a little more strength in the GBP boosting what I presume will also be an uptick in Diageo's underlying DGE share price as well.
Medium-Term Plans for My DEO Holding
Nonetheless, I should stress that holding Diageo through its DEO shares is not anticipated to be a long-term move. The long-term attractions of Diageo to me are reflected in my large holding of its main DGE shares. This holding I also topped up a little before I opened my DGE position.
In reality, I suspect I will hold my DEO shares until around the US presidential election in November. Should Britain have voted to remain in the EU, by then I'd expect the GBP to have strengthened significantly. On the other side, I'd expect the USD to have weakened a little more due to the uncertainty that all elections bring. Similarly, share prices of some highly attractive US companies I have been watching may also be depressed providing a nice opportunity to shift my USD cash in DEO over to a USD-denominated company.
In the meantime, I should also receive Diageo's larger final dividend in October.
Conclusion
Clearly there are a lot of "ifs", "buts" and "maybes" wrapped up in my above investment idea. Yet even if Britain votes to leave the EU and the GBP weakens against the USD leaving me below my USD cost price, I will remain happy. Diageo is a company which, as I explained earlier, I am happy to hold long-term. Should short- to medium-term currency headwinds make it unappealing to sell out of my stake anytime soon, I will not begrudge holding onto the shares. Far from it. Indeed, had I converted my Procter & Gamble holding into GBP it seems highly likely it would have been funneled towards topping up my Diageo holding (of the DGE kind) further.
Do I advise you follow a similar investment move as me? Not really. As I have tried to explain, a lot of this decision was predicated on a peculiar set of individual circumstances including:
Wishing to step out of my Procter & Gamble holding.
Wanting to retain the cash in USD rather than convert to my home GBP currency.
Actively looking to build up my Diageo position.
Believing that the EU Referendum vote will likely emerge as a "Remain" and lead to GBP strengthening.
You may not hold all or any of these views. Yet I thought it worthwhile to explain the logic behind what is, for me, certainly an "out of character" move. Maybe you find the decisions I have made an attractive prospect. For me, all I can do is sit back and see how things develop.
If it does not unfold the way I was hoping, then I can take solace in the old investing joke:
What's the definition of a long-term investment? A short-term investment gone bad.
Fortunately, the way I have structured this "short-term" play, is quite deliberate. Should it "go bad" and my short-term investment melds into a long-term one, I am pleased to think that even a "bad" investment outcome would leave me with a healthy consumer defensive company with a 3%+ dividend yield. Now all I can do is wait.
Notes
Unless otherwise stated, all graphs and the calculations contained within were produced by the author. Creative Commons images reproduced from Flickr users aneil4lom (Johnnie Walker) and 59937401@N07 (USD/GBP notes).
Disclosure: I am/we are long DEO.
I wrote this article myself, and it expresses my own opinions. I am not receiving compensation for it (other than from Seeking Alpha). I have no business relationship with any company whose stock is mentioned in this article.