Introduction
Bellatrix Exploration (NYSE:BXE) hasn't really been able to convince me to become a shareholder, but I do realize this company could be an interesting play on the recovery of the Canadian oil and gas market, so I have always kept the company on my watch list. As it has been a while since I discussed the company here on Seeking Alpha, I felt it was time for a substantial update to see how the company performed until now, but more importantly, to find out if the recent acquisition of a new asset will create additional value for its shareholders.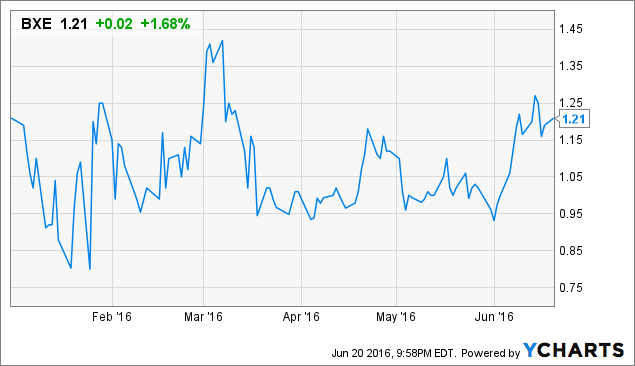 Bellatrix is a Canadian company but it has a very liquid US listing, so there's no need to go 'up north' to trade in the company's shares.
The asset purchase - good or bad?
When I looked at several other oil and gas plays, one of the main points I usually made in my conclusion/investment thesis was why most of those companies were stubbornly continuing to pay a dividend, rather than purchasing new/additional assets whilst the oil price is low. If you're an oil and gas company that really believes in the longer term future of the oil and gas price, it would make a lot of sense to go out on a shopping spree whilst the low prices are forcing your competitors to sell assets to raise cash in order to avoid bankruptcy or repayment problems.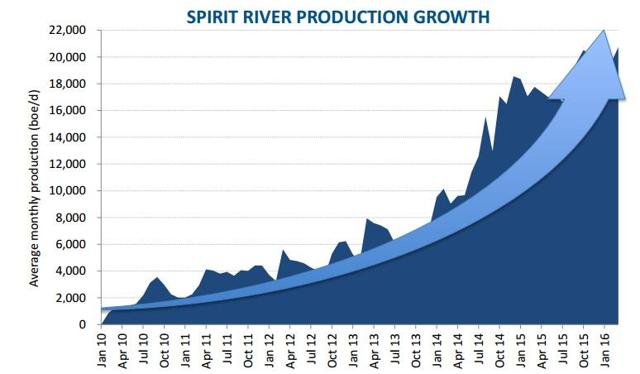 Source: company presentation
It took Bellatrix a while, but at the end of last week, the company did announce it has entered into an agreement with Grafton Energy to purchase assets from Grafton. Grafton will be selling 18 gross wells with a total production rate of approximately 2,000 barrels of oil-equivalent per day, of which approximately 1,600 off the oil-equivalent barrels consist of natural gas. Bellatrix is paying just $23M for the acquisition which implies a price of less than US$12,000 per flowing barrel of oil-equivalent, which is pretty decent. It's also interesting to see Grafton Energy didn't want to sell the asset for hard dollars, but accepted 20.5 million shares of Bellatrix to settle the acquisition price.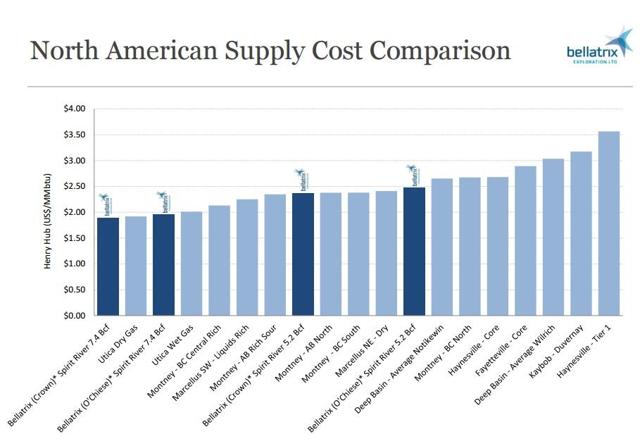 Source: company presentation
This acquisition will also be very important for the company's credit facility, as its lenders have agreed to a one-month extension before announcing the new amount available to Bellatrix under the line of credit it has. As Bellatrix is adding a meaningful production rate without having to incur any cash outflow, this transaction should have a positive impact on Bellatrix' total borrowing capacity.
How did the company do in Q1, and what are the plans for the remainder of this year?
Back in Q1, Bellatrix' operating cash flow was just US$8M, and that didn't even come close to cover the total capex commitments. However, you need to keep in mind the oil and gas price reached multi-year lows in Q1, and I expect the average price in Q2 to be substantially higher, further boosting the operating cash flow. Also keep in mind Bellatrix has hedged approximately 60% of its H2 gas output at C$2.96/mcf, but even more important is the fact it has already hedged 35% of its 2017 production, at a substantially higher price of C$3.37/mcf. This should boost the cash flows, and perhaps convince the lenders to increase the credit facility again. Bellatrix continues to rely on this line of credit as its net debt is still in excess of $500M.

Source: company presentation
Despite the relatively tight financial situation, the company's board of directors has approved a $32M capex program in the second half of this year to capture the benefits of an expected price increase of natural gas towards the end of this year. It will take a few months before the impact of the capex program will be noticeable, and Bellatrix expends the production volumes to trend down in Q3 before picking up again in the fourth quarter of this year, when the gas price is expected to increase again (the AECO gas price for delivery in December this year is trading approximately 60% higher than the spot pricing).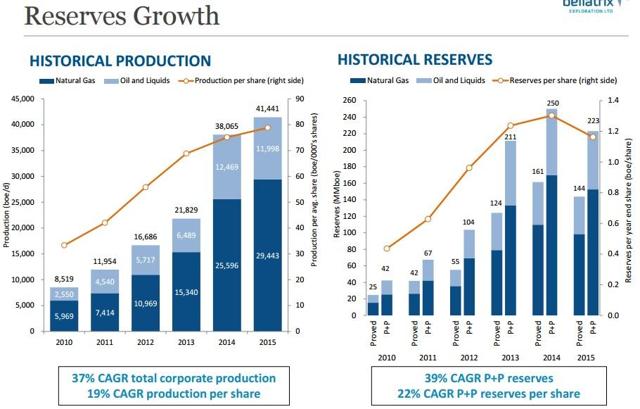 Source: company presentation
With a total FY 2016 capex commitment of approximately $63M, Bellatrix will have to step up the plate to make sure it remains cash flow neutral. The first quarter generated just $8M in operating cash flow, but fortunately I do expect the CF to increase from the current quarter on, as the oil and gas prices have started to trend higher.
Investment thesis
Reducing its net debt should most definitely remain a top priority for Bellatrix Exploration, but acquiring the Grafton Energy asset by issuing new shares could be a good move as a) it reduces the cash outflow and b) should have a positive impact on the line of credit extended by its lenders considering the NAV of Bellatrix' assets will increase.
The jury is still out on Bellatrix, but if the AECO gas price indeed starts to increase towards C$3 ($2.35) towards the end of this year, Bellatrix should generate a positive free cash flow, even as the hedging income will end.
Disclosure: I/we have no positions in any stocks mentioned, and no plans to initiate any positions within the next 72 hours.
I wrote this article myself, and it expresses my own opinions. I am not receiving compensation for it (other than from Seeking Alpha). I have no business relationship with any company whose stock is mentioned in this article.