The argument goes that the rapid decline in China's FX reserves is being caused by the unwinding of renminbi carry trades by exporters and Chinese companies paying off foreign currency debt. This view was bolstered in a report by the Bank for International Settlements in March 2016. The report covered Q3 2015, when reserves fell by $285 billion. It found that net cross-border loans to China fell by $175 billion over the quarter (red line on the left-hand side chart below). Approximately $12 billion of this outflow was due to an increase in the level of China's FX reserves deposited at banks outside the country. Half of the remainder, or $80 billion, was driven by the renminbi carry trade. Between 2005 and 2013, the steady appreciation of the renminbi against the dollar, allied to the higher yields available on Chinese bonds and deposits compared to their US equivalent, encouraged companies and individuals to borrow in dollars and hold renminbi assets. Below is a chart from the report showing banks' reported capital flows.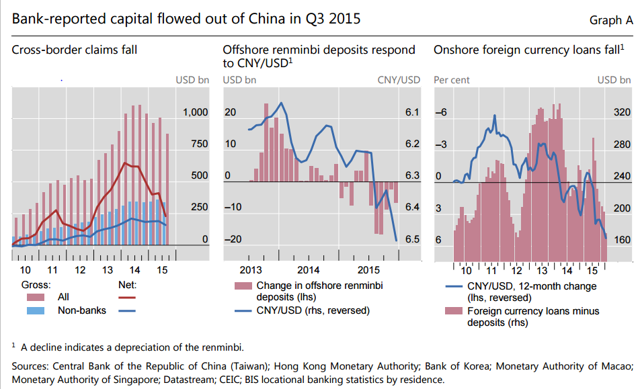 As the dollar began to strengthen against the renminbi, these position holders began to unwind positions (middle chart). As a result, reduced demand for renminbi deposits prompted banks outside China to reduce their renminbi deposits with mainland banks by $80 billion in Q3 2015, with half of these flows emanating from Taiwan, Hong Kong, South Korea, Macau and Singapore. The strengthening of the dollar, causing debt payments to become more expensive, also caused mainland Chinese companies to pay off cross-border debt, accounting for $34 billion (blue line on the left-hand side chart). In addition, Chinese companies reduced their net foreign currency debt to Chinese banks by $7 billion (right-hand side chart). As the mainland banks would then square these transactions with banks outside of China, this would have contributed to the $175 billion of outflows.
Other analysts paint a similar picture of corporate balance sheet adjustment. However, the BIS report only covers Q3 2015. When the last 9 months are viewed in totality, these estimates leave a significant residual adjustment that must be accounted for through capital flight. Haibin Zhu, JPMorgan's Chief China Economist, admits that private capital outflow picked up rapidly during 2015, swinging from a net inflow of $12 billion in Q1 to outflows of $17 billion in Q2, $106 billion in Q3 and $168 billion in Q4. This must be attributed to a loss in confidence in the renminbi.
The backdrop to these flows is a continued loss of confidence in China's ability to deal with its rising debt burden and chronic overcapacity. As investors know too well, currency rates are as much determined by expectations as anything else. Fuel was added to this fear in August, when the PBOC intervened to allow a one-off depreciation. Since the initial depreciation, the currency has recovered somewhat following the dramatic increase in credit liquidity in Q1 2016. While China has significant US reserves, these are comprised of long-term Treasury securities. As a result, the country doesn't have access to short-term dollar liquidity that can be used to meet short-term credit demands and international trade obligations. When trade data presented very weak in late 2015 and early 2016, this likely exacerbated fears that the PBOC would struggle to contain RMB depreciation prompting further capital flight abroad, seeking safe-haven assets.
The below chart from Bloomberg shows total reserves falling to $3.19 trillion last month, down from a peak of $3.99 trillion in June 2014. Recent moves in the global FX market have assuaged pressure on the yuan.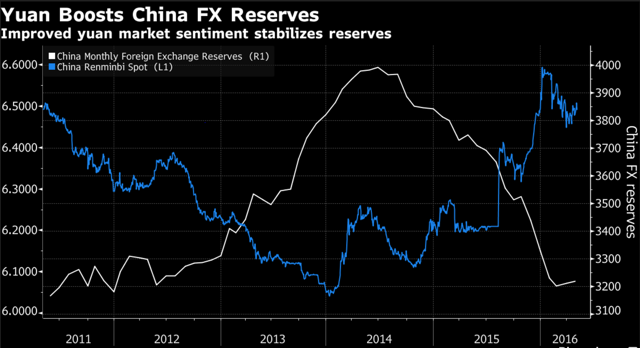 Since the initial august depreciation, the PBOC has spent $473 billion in FX reserves on direct intervention. Below is a chart from the FT showing the fall in reserves and estimated levels of intervention.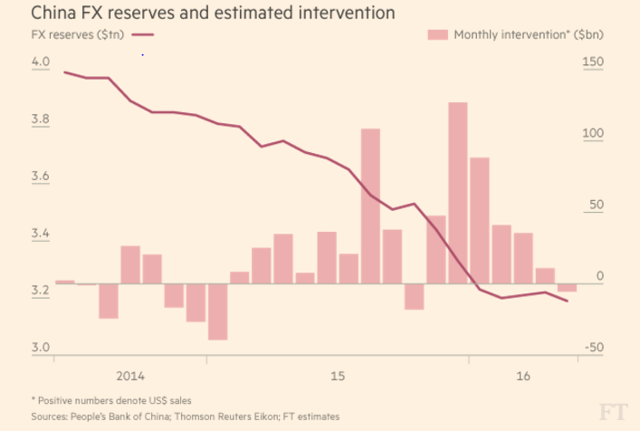 Disclosure: I/we have no positions in any stocks mentioned, and no plans to initiate any positions within the next 72 hours.
I wrote this article myself, and it expresses my own opinions. I am not receiving compensation for it (other than from Seeking Alpha). I have no business relationship with any company whose stock is mentioned in this article.