Overview
FedEx Corporation (NYSE:FDX) always serves as the kick-off earnings report for transports. During the company's fourth quarter, FedEx generated $13 billion in revenue beating estimates by $220 million, and on an adjusted basis, beat diluted earnings per share, EPS by a penny at $3.29. For the fiscal year, the company generated over $50.3 billion and earned $10.80/share on an adjusted basis. Fiscal year results witnessed revenue growth of over 6 percent and adjusted diluted EPS growth of nearly 17 percent.
The majority of FedEx's revenue is driven by Express and Ground services. Freight services which include less-than-truckload, LTL reflected just over 12 percent for the year. But FedEx's LTL results typically serve as an early indicator prior to the company's peer announcements.
FedEx is the leading LTL company by tonnage, shipments and revenue; other public company peers include YRC Worldwide (NASDAQ:YRCW), XPO Logistics (NYSEMKT:XPO) Con-Way, Old Dominion Freight Line (NASDAQ:ODFL), United Parcel Services (NYSE:UPS), ArcBest Corporation (NASDAQ:ARCB), Saia (NASDAQ:SAIA), Forward Air (NASDAQ:FWRD) and Roadrunner Transportation (NYSE:RRTS).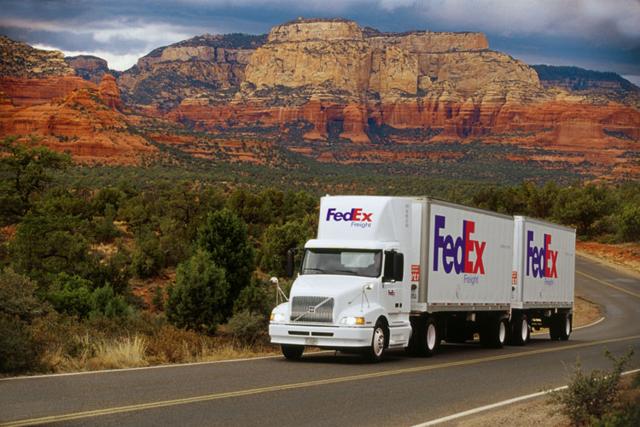 For the fourth quarter, FedEx's LTL revenue increased over 2 percent to $1.6 billion. Operating income remained flat at nearly $140 million and the operating margin and operating ratio decreased and increased by 20 basis points respectively.
FedEx continued to outpace LTL market peers during the quarter for both tonnage and shipments. Total yield performance also remained consistent from the previous quarter. However, FedEx's economy services has displayed trends which have significantly contradicted LTL peer performance, including tonnage, shipments, weight per LTL shipment, revenue per shipment and revenue per hundredweight, CWT.
The LTL market has remained disciplined for the most part when comparing total yield information. Fuel surcharges have weighed, but most companies have disclosed mid-single digit freight rate increases which have offset for the most part the soft demand environment.
FedEx's economy service is consistent with regular or standard services offered by other LTL companies. All LTL companies also offer expedited, or priority as FedEx calls it, services for their customers. In fact, FedEx's priority service reflected nearly 70 percent for both total tonnage and shipments.
During the most recent quarter however, economy service tonnage and shipments grew by 27 and 11 percent respectively, while weight per LTL shipment increased by 14 percent and revenue per CWT decreased nearly 15 percent. Other peer LTL companies do not break-out their standard versus expedited key performance indicators, KPIs. And on an aggregate basis, FedEx's KPIs are in-line with its peers.
For these reasons, it would appear that the upcoming second quarter reports for LTL companies will most likely closely follow the first quarter's performance results. But investors should continue to closely monitor FedEx's priority and economy service KPIs as if the priority segment begins to weaken, the LTL market could be headed for similar challenges currently facing the truckload segment.
FedEx Trends Show Improvement Driven by Volume
FedEx's quarter reporting period is roughly one month earlier than most LTL companies which report on a calendar year basis. As such, despite the fourth quarter ending the company's fiscal year, I typically compare FedEx's third and fourth quarter results against the first and second quarter results for the remainder of the LTL peers.
On an aggregate basis, FedEx's tonnage increased from over 4 percent to nearly 6.5 percent; shipments increased from nearly 6.5 percent to over 9 percent and total weight per LTL shipment, revenue per shipment and revenue per CWT remained mostly flat during fiscal year 2016. Based on these results, one could posture that the LTL market could possibly be in a modest recovery mode driven by volume.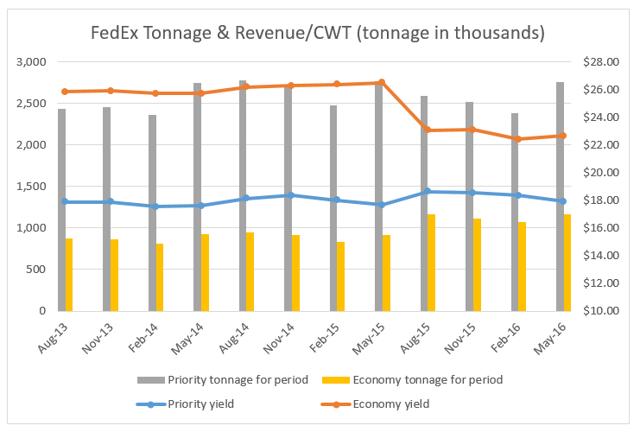 Source: Company financials and personal database
We will need to wait and see the results from other LTL companies before assuming that FedEx's volume improvement is an indication for peers. But the recent trend of economy tonnage is something to keep an eye on. For fiscal year 2015, FedEx's economy tonnage increased 3.5 percent, but during fiscal year 2016, it increased by 25 percent. The average yield for economy tonnage also decreased by over 13 percent during fiscal year 2016, a stark contrast to the over 2 percent increase during fiscal year 2015.
Priority tonnage decreased by over 4 percent during fiscal year 2016, while it increased by over 7 percent during fiscal year 2015. Yield tonange performance has been stable over the previous two fiscal years at just below 2 percent growth.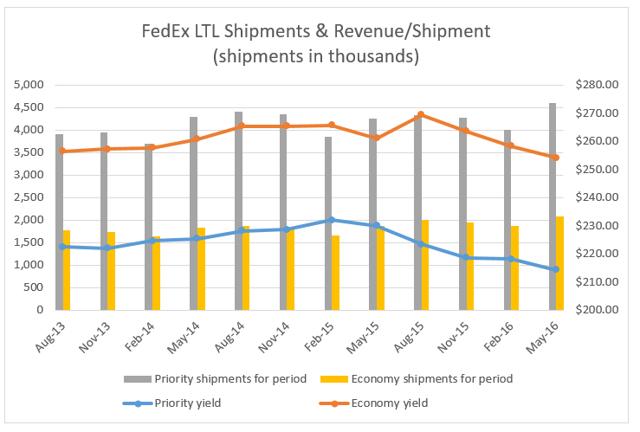 Source: Company financials and personal database
FedEx's economy shipments increased by over 9 and 3 percent for fiscal years 2016 and 2015 respectively. Economy shipment yield increased by over 2 percent for fiscal year 2015 and declined by 1 percent during fiscal year 2016.
FedEx's priority shipments increased by 2 and over 6 percent for fiscal years 2016 and 2015 respectively. Priority shipment yield increased by nearly 3 percent for fiscal year 2015 and declined by nearly 5 percent during fiscal year 2016. Judging from FedEx's shipment yield trends, this is an area that deserves some monitoring as well, most LTL peers witnessed better yield performance during the first quarter.
Overall, from an aggregate perspective, FedEx's fourth quarter was strong on volume, but continued to display declining yields for economy tonnage and both priority and economy shipments. Scrutiny of LTL peers will be key as any further erratic weakness for volume or increasing weakening yields may indicate that pricing has become more aggressive.
Investor Perspectives
Other LTL companies do not break out their standard versus expedited services by KPIs similar to FedEx. Some companies have expressed softening from industrial customers leading to volume declines. Old Dominion Freight Line when questioned regarding the company's expedited service during the first quarter, only stated that performance was similar with all of the company's services.
On an aggregate basis, Old Dominion Freight Line performed very close with FedEx's third quarter results for volume and outperformed FedEx for yield. The fact that FedEx witnessed such strong growth for weight per LTL economy shipment, while priority declined substantially, could suggest that existing customers chose to shift products into larger shipments with a longer delivery time.
The single fact that revenue per CWT for the economy service declined by nearly 15 percent year-over-year, YOY during the fourth quarter does not completely validate that aggressive pricing has occurred, as it just is not clear whether this was primarily driven by customer retention strategies or more directly targeted against the LTL market's pricing discipline.
During the first quarter reports, all we heard was a focus on yield management, increased pricing give or take 5 percent and a disciplined focus on customers within core lanes to improve density. Without an apples-to-apples ability to compare KPIs, we cannot conclude that FedEx is has reversed this course. Average fuel surcharges were down around 14 percent during the third quarter and the price of oil has been fairly stable around $50/barrel. A more stable energy climate would reduce further impacts from fuel surcharges and eventually by next year, possibly see a return to growth.
It is too early to assume that pricing discipline is on the verge of significant downward pressure similar to the truckload segment. But investors with exposure to LTL companies should start focusing closely as each company reports this upcoming second quarter.
Disclosure: I am/we are long YRCW.
I wrote this article myself, and it expresses my own opinions. I am not receiving compensation for it (other than from Seeking Alpha). I have no business relationship with any company whose stock is mentioned in this article.