Fellow contributor Andrew McElroy's recent article - titled Seeking Alpha? Might As Well Buy QQQ - inspired me to pen this rebuttal. In his write-up Andrew checked whether buying a Nasdaq based ETF (NASDAQ:QQQ) would end up yielding substantially different results compared with a portfolio consisting of the top 10 most followed stocks on Seeking Alpha, which are the following: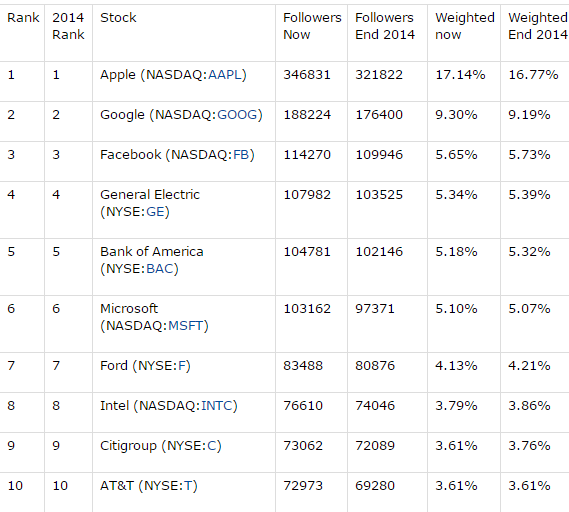 Source: Robert Mattei
Andrew concludes the QQQ ETF and a portfolio of the above stocks does not yield a substantially different result over an 80-day and 200-day period.
That did not surprise me much because 5 of the above 10 stocks make up ~35% of the QQQ.
If Amazon (NASDAQ:AMZN) had been included, (nr.13) on the list put together by Robert Mattei and referenced by Andrew, that would go up to ~41%.
Without doing any backtest, I'll contend the SA Top 10 portfolio would yield substantially different results in a financial crisis, or when the auto industry gets into trouble due to disruption or because of its poor economics.
Except under such specific circumstances, Andrew is right - it really doesn't matter too much whether you invest in the popular mega caps or buy some ETFs. That's not a coincidence. Most of the ETFs out there are chock full of the most liquid stocks. In a recent article titled Exchange Traded Farce, I wrote:
So what assets are most likely propped up by the money flow towards passive and many active managers secretly closet indexing as well? Likely, large cap domestic stocks are a huge benefactor: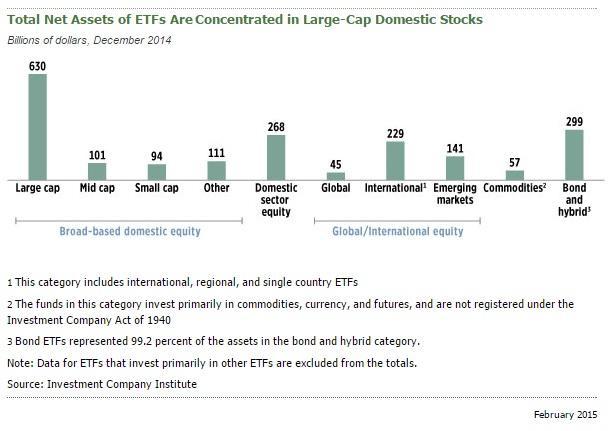 This is caused by the mechanics of ETFs. The instrument makes mechanical trades based on the rules that were set at the time of its design. Even the smallest and most unimportant of its constituents need to be a liquid stock. Otherwise the ETF would be at risk of generating huge unnecessary losses every time it had to trade that stock. The result is ETFs mostly comprise large caps and eschew stocks with limited float (for example with large family ownership).
Where I strongly disagree with Andrew is the conclusion that since it doesn't matter, we should just buy the QQQ and go fishing.We are in the midst of a migration from active management to passive management. Active managers are year after year abandoned in favor of passive instruments like ETFs and index funds. That's great. Study after study has shown most active managers aren't worth their paycheck.
Unfortunately, with the inflows to passive instruments that are forced to concentrate in liquid stocks and the closet indexers, a majority of the remaining active managers distort prices.
For a recent article titled Facebook contraction ahead, I looked up multiples of the top 10 companies by market cap:
Google has a P/E of 28x, Apple (NASDAQ:AAPL) a P/E of 10x, Microsoft (NASDAQ:MSFT) a P/E of 38x, Berkshire (NYSE:BRK.A) (NYSE:BRK.B) a P/E of 14x, Exxon (NYSE:XOM) a P/E of 28x, JNJ (NYSE:JNJ) a P/E of 20x, GE (NYSE:GE) a P/E of 40x, Amazon (NASDAQ:AMZN) a P/E of 287x and Wells Fargo (NYSE:WFC) a P/E of 12x
I don't think it's a coincidence that almost all of them are so high. This is how large cap performed vs small cap value over the past 5 years: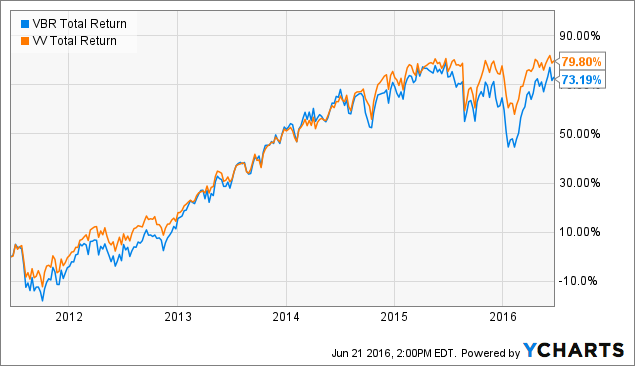 VBR Total Return Price data by YCharts
You can also look at 10 year, it doesn't make much of a difference. Is that outperformance something that's sustainable? I don't think so. It's holding up because the migration towards passive is funneling assets towards these same mega cap stocks. This dampens volatility. With low volatility ETFs and momentum factor ETFs now all the rage, this results in even more assets getting funneled to these same ETFs. It's a virtuous cycle. This explains why stocks are holding up even though it looks like the 2nd quarter of 2016 is going to be the fifth consecutive quarter of declining earnings of S&P 500 stocks. It would be the first time that has happened since Q2 2008 to Q3 2009.
It doesn't have to be that way though. On Seeking Alpha there are hundreds of fanatical amateurs and professionals sharing their best microcap ideas (virtually absent from ETFs). There are terrific newsletters being published. There are lots of companies with high family ownership that are underrepresented in ETFs compared to similar market cap companies with more free float. It is definitely possible to build a portfolio without owning the same stocks everybody else owns.
If you ask me, the correlation between the popular mega cap stocks on Seeking Alpha and the performance of ETFs is likely to continue for a while. The answer is to get out of overvalued correlated assets and buy something that trades at a price relating to the productivity of its assets. Preferably something that trades at a price that's low compared to the productivity of its assets. The odds are against you finding it in the S&P 500. Buying the QQQ and going fishing, is akin to giving up. It means accepting low future returns. That's ok, if you don't care about returns and love fishing.
Disclosure: I am/we are long GOOG.
I wrote this article myself, and it expresses my own opinions. I am not receiving compensation for it (other than from Seeking Alpha). I have no business relationship with any company whose stock is mentioned in this article.