As oil markets have been critically analyzing the effects of supply outages in Nigeria, there is another OPEC- member country whose oil production dropped heavily this May. Venezuela, the country which is in grip of a major political, social and economic crisis, registered a steep downfall of 120,000 barrels per day in May 2016. This was Venezuela's biggest monthly decline in a decade. As per OPEC's monthly oil market report, Venezuela's oil production- downfall was even higher than that of Nigeria (although I am a bit skeptical about this claim). Does this mean that Venezuela's oil industry is finally beginning to crumble because of the social, political and economic crisis that has spread across the nation? And, what effect will it have on the markets?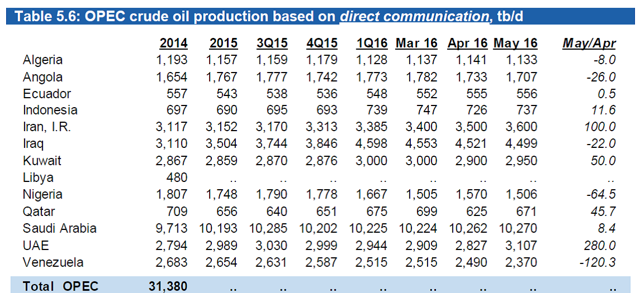 Source : OPEC OMR, June 2016
Is Venezuela's oil industry in trouble?
I had earlier explained how Venezuela's situation can affect oil prices in the coming time. Last month, tensions in Venezuela had escalated to such levels that President Nicolas Maduro had to deploy his troops in the country's capital as well as other strategic locations. Although Venezuela's state owned- PDVSA had earlier declared that its oil production will not be hampered because of any productivity issues and worker strikes, things are looking pretty different now. With a production decline of 120,000 barrels per day in May, this monthly decline has been the biggest for Venezuela since the year 2003. A recent report in Wall Street Journal has also claimed that PDVSA is suffering from a massive cash crunch. "It is very surprising. If you want to point at the main problem, it is the cash flow of PDVSA which now looks worse than we had imagined," said energy policy scholar at Rice University Houston- Francisco Monaldi. Venezuela requires oil price to be in the range of $90 - $100 a barrel to break even and crude oil represents almost 95% of the country's total export revenues. So, it is hardly surprising that Venezuela, which earlier used its oil export revenues to fund its generous social programs, is now in a midst of an severe economic and social meltdown (when oil prices are nowhere near its breakeven levels). Even EIA ,in its latest oil market report, has noted that Venezuela's oil output has declined mostly because of rising power outages and limitations in servicing its oil fields. However, the most significant remark made by EIA was related to Venezuela's rising debts. As per EIA, Venezuela owes huge debts to its joint venture partners. In fact, companies like Schlumberger (NYSE:SLB) and Halliburton (NYSE:HAL) are reducing their operations in Venezuela as the Latin American nation is finding it difficult to pay back its multi- billion dollar debts.
All is well- Says PDVSA
In spite of its troubles, PDVSA officials insist that their company will not default especially when oil is at $50 per barrel level. PDVSA might have to pay around $4.4 billion in form of debt payments this year and as per Venezuela's National Oil Minister Eulogio Del Pino, PDVSA will be able to make these payments. The minister also said that Venezuela will not be selling its US refineries in order to improve its liquidity.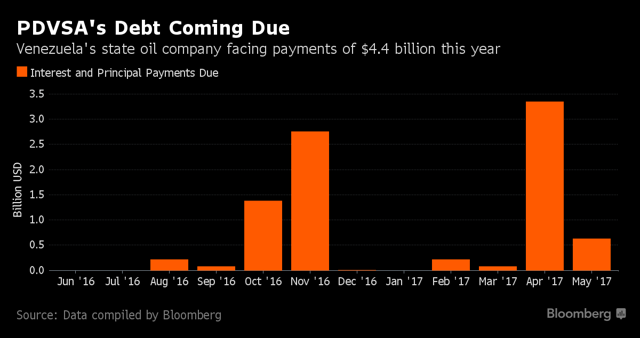 Takeaway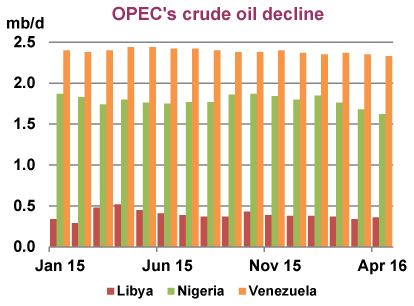 Source : OPEC OMR, June 2016
It is interesting to note that even China ( which has given loans worth almost $65 billion to Venezuela since 2005) has started negotiating with the opposition in Venezuela, making its postion secure in case the current Venezuelan government falls. Even if the state owned PDVSA is able to pay its debt on time and does not default, it does not mean that its cash flows will improve dramatically. With a high break even price level and falling oil export revenues, it is clear that PDVSA is in no position to invest cash that is required for keeping its oil output steady. This simply means that supply outages from Venezuela may increase further and this factor (combined with the other supply disruptions) will definitely push oil (NYSEARCA:USO), (WTI) upwards in the coming time.
Disclosure: I/we have no positions in any stocks mentioned, and no plans to initiate any positions within the next 72 hours.
I wrote this article myself, and it expresses my own opinions. I am not receiving compensation for it (other than from Seeking Alpha). I have no business relationship with any company whose stock is mentioned in this article.