GE's software for digital power plant systems cuts emissions and costs
On June 14, 2016, Steve Bolze, the CEO of GE Power, announced that General Electric (NYSE:GE) will be offering its software for digital power plant systems to coal power plants around the globe. The company says that its software systems can cut emissions of carbon dioxide by up to 3 percent while also trimming costs. According to GE, the software systems also work to prevent power failures and decrease the amount of downtime. Since the Paris climate accords in late 2015, countries around the world have been tasked with reducing their carbon emissions. Coal remains one of the top power sources worldwide, however, and is expected to continue to be so through at least 2030, especially in China and other parts of Asia. The digital power plant software will be available to owners of coal plants that are operated by steam turbines, making it potentially beneficial to GE with its steam turbine business.
GE expands its presence with the industrial internet in Europe
GE also announced a new digital foundry the company is opening in Paris in its effort to expand its presence in Europe with the industrial internet. It states that studies indicate that over the next five years, digitization in Europe will add in excess of 110 billion euros of revenue each year. The Paris foundry will serve as a hub for a network in Europe with GE indicating it plans to add four more in 2016. The company previously announced it is partnering with Hewlett-Packard Enterprises (NYSE:HPE), sharing products in order to further develop the "Industrial Internet of Things." It uses its Predix platform for the Industrial Internet of Things, and it announced two additional software products for it.
GE announces it wants to acquire Adwen from Areva-Gamesa
As we previously noted, GE acquired Alstom in Nov. 2015 for $10.6 billion, giving it an expanded European presence. On June 16, 2016, CEO Jeff Immelt said that the company is in talks with the French government, Areva and the German company Siemens in an effort to also acquire Adwen, a company working on its offshore wind turbine operating on a platform of 8-MW. Alstom's offshore wind turbine is operating on a platform of 6-MW. Both Adwen and Alstom have secured contracts for the installation of 1.5 GW each in French waters.
Recent performance and comparison with competitors
GE ended trading on June 15, 2016, at $30.59. The stock's 52-week high is $32.05 and its 52-week low is $19.37. The company's 50-day moving average is $30.13. GE's market cap is $281.30 billion.
By comparison, competitor Siemens AG (OTCPK:SIEGY) has a market cap of $83.45 billion, a 52-week low of $86.58 and a 52-week high of $111.05. Siemens is close to making a deal with Gamesa Corporacion Tecnologica SA, which would combine their wind turbine business to make it the largest wind turbine maker in the world.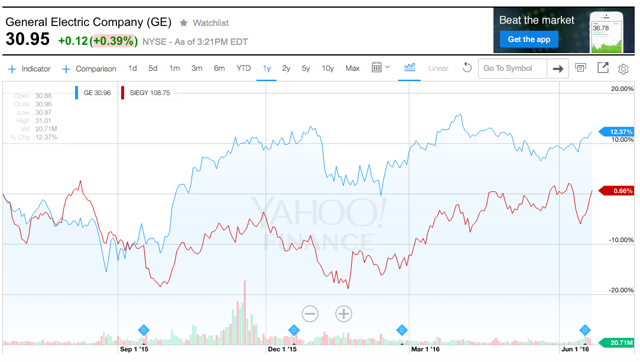 (Yahoo! Finance)
Conclusion: Buy
GE continues to make smart market moves, focusing more on its industrial internet and green energy solutions. With the possible acquisition of Adwen and the company's expansion across Europe with its industrial internet, GE is poised for significant growth.
We believe that investors should consider buying shares of GE at this time.
Disclosure: I/we have no positions in any stocks mentioned, and no plans to initiate any positions within the next 72 hours.
I wrote this article myself, and it expresses my own opinions. I am not receiving compensation for it (other than from Seeking Alpha). I have no business relationship with any company whose stock is mentioned in this article.
Editor's Note: This article discusses one or more securities that do not trade on a major U.S. exchange. Please be aware of the risks associated with these stocks.