Oil prices are rising along with other risky assets as a key risk appears to be coming off the table. With the Fed cleared away (for now) and with Brexit seemingly about to be resolved favorably, oil prices have been freed to fly. Crude also continues to benefit from seasonal favor, though higher prices could eventually draw new supply action from our competitors to the east. As discussed in my last article on that issue, oil should retrace highs near-term nonetheless.
When last we spoke about oil in early June, I told you oil prices had a negative bias even as they were breaching $50 and some business television pundits were talking about $60 and even $80 oil. Trust me friends, it is not easy to go against the tide no matter how strong your conviction, but I do it for you nonetheless when I see opportunity. Still, I admit to breathing a sigh of relief last week after oil was abandoned on concerns about the Fed and Brexit as we expected.
Now that the factors are changing in relevance, we must again alter our perspective. Those two key risks are coming off the table now. Though it's still premature to think in terms of post-U.K. referendum, I continue to expect the U.K. citizenry to vote to remain in the European Union (EU) this week. The market perspective has come in line with that view this week, as polls have shown the "remain" camp to be gaining favor.
As long as the actual vote results in a decision to remain in the EU, oil should be free to fly higher. And given that the Federal Reserve is determined to pause its monetary policy normalization plans once again in June, the path is clear at least through the end of the month. I will address the end of the month caveat in a follow-up report, so stay tuned.
Oil still has seasonal factors working in its favor, especially through the July 4th holiday weekend, which is said to be the peak of the summer driving season in the U.S. Thus, weekly inventory data should continue to tend toward aggregate draws of petroleum and products for now, and further fuel oil price momentum, but now it will be without friction. The pending inventory data for this week, due this AM, has oil significantly higher again in the early going this morning.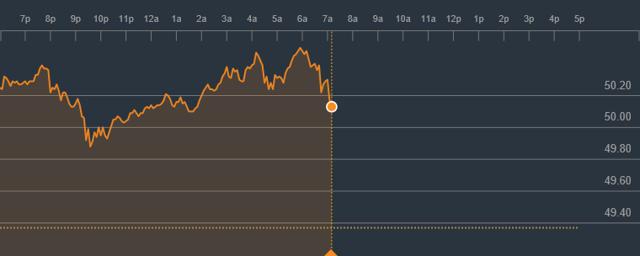 WTI Crude Futures at Bloomberg
Keep my last report in mind as well, which reflected my view that oil prices above $50 and resulting rising rig counts in North America may eventually lead Saudi Arabia to take supply action to suppress its higher cost competitors. There would be a cap on oil prices if such action occurred, though eventually, improving demand should overcome that block. I am fully aware of the recently reported dip in Saudi Arabia's oil exports in April, and still believe it could lift production to guard market share.
| | |
| --- | --- |
| Energy Complex | AM Indication |
| SPDR S&P 500 (NYSE: SPY) for comparison | +0.1% |
| United States Oil (NYSE: USO) | +0.8% |
| iPath S&P GSCI Crude Oil (NYSE: OIL) | +1.6% |
| Energy Select Sector SPDR (NYSE: XLE) | +0.4% |
| SPDR S&P Oil & Gas E&P (NYSE: XOP) | +1.6% |
| VanEck Vectors Oil Services (NYSE: OIH) | +0.3% |
| Exxon Mobil (NYSE: XOM) | +0.1% |
| Chevron (NYSE: CVX) | +0.1% |
| BP p.l.c. (NYSE: BP) | +0.9% |
| Total S.A. (NYSE: TOT) | +0.0% |
| ConocoPhillips (NYSE: COP) | +0.5% |
| Royal Dutch Shell plc (NYSE: RDS-A) | +0.6% |
| Marathon Oil (NYSE: MRO) | +2.1% |
| Pioneer Natural Resources (NYSE: PXD) | +0.3% |
| Chesapeake Energy (NYSE: CHK) | +1.7% |
| Schlumberger (NYSE: SLB) | +0.4% |
In conclusion, the energy complex is higher again this morning along with oil prices as the market works toward pricing in the prospect of the removal of risk relative to the U.K. referendum. Obviously, the risk to this thesis is that the U.K. does vote to leave the E.U., in which case the entire complex would likely unravel quickly. You could hedge against that risk a bit using derivatives or ETFs, but considering my strong conviction for a Bremain vote, I believe the best bet is to stay invested and to have cash on the side to take advantage of any buying opportunity at lower price point, however unlikely near-term. I cover the energy complex closely and invite relative interests to follow my financial column here at Seeking Alpha.
Disclosure: I/we have no positions in any stocks mentioned, and no plans to initiate any positions within the next 72 hours.
I wrote this article myself, and it expresses my own opinions. I am not receiving compensation for it (other than from Seeking Alpha). I have no business relationship with any company whose stock is mentioned in this article.