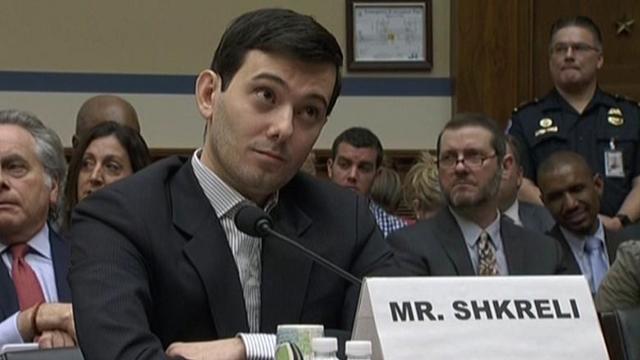 Turing Pharmaceuticals Former CEO Martin Shkreli
Gilead (NASDAQ:GILD), along with Jazz Pharmaceuticals (NASDAQ:JAZZ) and Biogen (NASDAQ:BIIB), have received subpoenas pursuant to their use of charities to help patients pay for their drugs:
Gilead Sciences Inc., Biogen Inc. and Jazz Pharmaceuticals Plc said they've received subpoenas this year for documents related to such nonprofits ... Two companies, Gilead and Jazz, said their subpoenas came from the U.S. Attorney for the District of Massachusetts. The filings didn't disclose names of specific charities.

The new subpoenas follow an October disclosure from Valeant Pharmaceuticals International Inc. that it received subpoenas from U.S. Attorney's offices in Massachusetts and the Southern District of New York, seeking materials related to Valeant's patient-assistance programs.
The drug makers' responses to the subpoenas have not been divulged. However, the investigation could potentially impact their images and their bottom lines.
The Situation
Drug makers have donated billions to charities that help patients with their drug costs. Such donations provide excellent public relations amid an environment where drug costs are soaring. Copays offered by charities allow customers to forego having to seek lower-priced medicines. Given soaring drug costs, a patient's copay could still be $10,000 to $20,000.
That said, the charitable donations may not be out of altruistic motives. The charities help patients afford their copays; funding the charities could be a roundabout way for drug makers to improve their customer retention. According to Bloomberg, such donations are also becoming more popular. In 2014 drug makers' donations to copay charities were $1.1 billion, twice the amount donated four years earlier. The fact that drug costs are soaring and patients have no incentive to seek cheaper alternatives implies that Medicare payouts could also be rising. That could be what has piqued lawmakers' interests.
What Does Gilead And Martin Shkreli Have In Common?
Shortly after Turing purchased Daraprim in August 2015 its then CEO Martin Shkreli increased the drug's price by 5,000 percent. With a $1 million donation to Patient Services Inc. ("PSI") -- a copay charity -- Turing set up a fund to help patients with toxoplasmosis (parasitic infection treated by Daraprim) afford the soaring costs for the treatment. Per Bloomberg:
Those who meet income guidelines can get much or all of their out-of-pocket drug costs covered by a charity: a large initial copay for a prescription, another sum known as the coverage gap or the donut hole, and more-modest ongoing costs. It adds up fast. After Turing raised Daraprim's price, some toxoplasmosis patients on Medicare had initial out-of-pocket costs of as much as $3,000.

That's just a fraction of the total cost. Turing's new price for an initial six-week course of Daraprim is $60,000 to $90,000. Who pays the difference? For Medicare patients, U.S. taxpayers shoulder the burden.
While lawmakers have excoriated the likes of Turing, Valeant (NYSE:VRX) and Gilead for price-gouging, partnering with copay charities has at times put taxpayers on the hook for rising drug costs.
Is Gilead The Next Valeant?
GILD bulls have chafed that Gilead has often been mentioned in the same sentence with Turing and Valeant for price-gouging. The party line has been, "Gilead's HCV drugs were saving lives" and were cheaper than the alternative such as a liver transplant. Meanwhile, "the prices for Turing and Valeant were simply set at whatever they thought they could get away with." However, the fact pattern suggests that the companies' marketing efforts have similarities. Valeant's specialty pharma, Philidor, offered incentives to keep patients from switching to cheaper drugs from Valeant products no longer under patent protection. Valeant eventually cut ties with Philidor over its aggressive sales tactics used to boost payments.
Medicare prohibits drug companies from helping customers afford their copays -- this could be deemed as a "kick back." In my opinion, by using copay charities as a go between, Gilead and others are potentially receiving the same result as if they funded copays directly. At the end of the day Gilead is seeking ways to keep patients from choosing less-expensive drugs which is akin to what Valeant and Philidor were doing.
Potential Impact On Gilead
Much hinges on drug makers' response to government subpoenas and the government's ultimate ruling. The government's investigation could impact Gilead in the following ways:
Donations To Copay Charities Could Be Banned
The government could deem it illegal for drug companies to have undue influence over copay charities. If the government determines that Gilead (or others) influenced the charities to give Gilead's products preferential treatment over competitors', it could ban Gilead from making future donations to the charities. I believe "people are rational" and Gilead would not have made such donations unless it had some positive impact on customer retention rates. However, that may be difficult for the government to prove.
Gilead's Product Sales Could Decline
Ultimately, Gilead patients could seek cheaper products. There are a bevy of scenarios that could trigger this. If the government banned Gilead's donations to copay charities it could [i] reduce funding for patient copays and [ii] prompt patients to buy non-Gilead products. Secondly, Gilead could voluntarily reduce or stop its charitable contributions, which could also cause patients to seek cheaper alternatives.
A decline in customer retention would likely lead to lower revenue and earnings for Gilead. The total impact could be difficult to quantify until said donations were eliminated. To soften the any slide in customer retention Gilead might have to cut prices. In addition to the potential decline in customers, a fall in pricing power could amplify the company's pain. In Q1 2016 the company's HCV revenue fell 12% Q/Q, while non-HCV revenue was down 4%; total revenue was off 9%. I would look to management to speak to this issue during the Q2 earnings call.
Gilead's Reputation For Price-Gouging Could Become Brandished
Gilead has come under fire for its $94,000 headline price for Harvoni and for its dual pricing strategy in the U.S. and emerging markets. Bulls have been vocal about the folly of lumping Gilead in with price gougers like Valeant and Turing. However, Gilead's donations to copay charities puts it in the same company has those firms. I believe this could damage Gilead's reputation.
I also believe Gilead's HCV prices could become fodder for Hillary Clinton or Donald Trump once the presidential debates heat up. Its donation to charities that potentially motivate customers to pay exorbitant prices when cheaper alternatives are available, and create a burden for Medicare could hurt Gilead's efforts to defend itself against price-gouging accusations. It would behoove Gilead to get out in front of this issue before its brand is damaged any further.
Conclusion
In my opinion, the government's investigation into Gilead's donations to copay charities will not end well. Its customer retention could fall, its reputation could be damaged further or both. This, in addition to its declining HCV runway and increasing competition in the HCV space, make GILD a sell. At $81.78 GILD is slightly off its 52-week low of $81.28. The company's Q1 revenue fell by double-digits and the government investigation will not help matters.
Disclosure: I am/we are short GILD.
I wrote this article myself, and it expresses my own opinions. I am not receiving compensation for it. I have no business relationship with any company whose stock is mentioned in this article.
Additional disclosure: I own straddles on GILD