Investors searching for high yield with a dash of dividend growth naturally gravitate towards AT&T (NYSE:T) and Verizon (NYSE:VZ). I'm one of them, but I'll also acknowledge that a saturated US market and slowing growth makes both of these companies arguably only good for the dividend. This is where Singapore Telecommunications (OTCPK:SGAPY) comes into play. Its diversified operations in developed, emerging, and frontier markets keep the company balanced between stable, dominant growth in its home market and rapid growth from developing nations.
Why Singapore?
I like Singapore's fundamentals in general. The City-State has solid laws and regulations in place, including a strong environment for intellectual property rights. In fact, according to the World Economic Forum's Global Competitiveness Report 2011-2012, it has the second best IP protection in the world. This encourages innovation and investment. It's also largely pro-business - the World Bank even named it the world's easiest place to do business in 2012. It's also one of the freest economies globally.
Singapore's market also looks much more attractively valued than the U.S. and the rest of the world. Gurufocus projects 18.7% annual returns based on the GDP/total market cap ratio. This compares to just 0.5% projected returns for the S&P 500. Singapore also has a much more favorable tax structure, and corporate profits aren't taxed twice like in the U.S.
Despite its small size, the island also maintains one of the most attractive geographical locations in the Asia-Pacific region. It's the site of one of the world's busiest - if not the busiest- container ports. Telecommunications is extremely important in linking everyone and everything together in this prosperous and efficient country, and this market is heavily dominated by one large player - Singapore Telecommunications Ltd.
Singtel dominates Singapore, as well as various other foreign markets
The company has broad geographical exposure to various frontier and emerging markets, as well as a lucrative stronghold in Australia.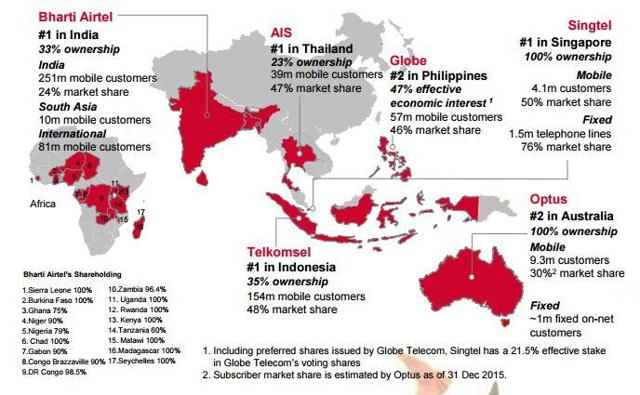 Source: Singtel investor factsheet
It's a $45.71 billion company that many U.S.-based investors probably haven't heard of, but it should probably garner more attention in my opinion - especially from telecom investors. Over half of the firm's EBITDA comes from the already developed markets of Singapore (26% of EBITDA) and Australia (29% of EBITDA), but its other markets have a large potential runway for decades of growth.
This compares to Verizon and AT&T, companies that largely operate in the already saturated U.S. market. At least AT&T is expanding into Mexico, which has opened up the possibility for a growth spurt in the future. Of the three companies, I'd argue that Singtel is entrenched in the most lucrative growth markets, however.
Singtel versus the "big two"
I think Singtel is a superior business compared to AT&T and Verizon, and I think this is reflected in the numbers.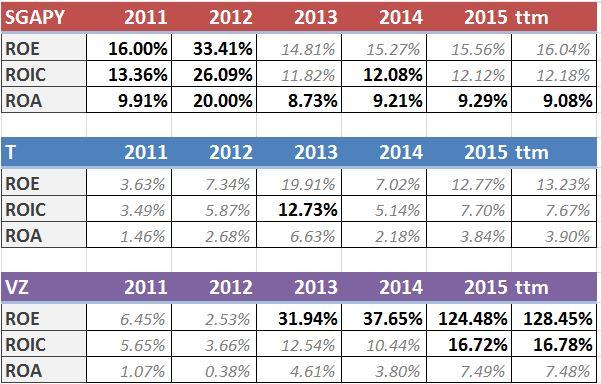 Created by Joseph Harry, data from Morningstar
While the two U.S. operators barely meet their cost of capital if they're lucky (okay, so Verizon's ROIC is the highest recently, but it can be argued that it's mostly due to a large amount of leverage - more on that later), it appears that Singtel is likely earning economic profits. I'd like to dig deeper into Verizon's numbers, as its return on equity and return on invested capital are significantly magnified by leverage.
Leverage multiplies ROE and ROIC, but too much of it also adds to business risk. Of the three companies, Singtel utilizes the least amount of leverage, while still outperforming its U.S. comparables over the last ten years when looking at return on assets. I'd like to expand more on this concept in the next section.
Verizon's magical magnifying glass - leverage
Singtel's leverage ratio (average assets/average equity) sits at roughly 1.79X. This ratio magnifies return on equity, as seen in the following equation:
ROE = net profit margin (net income/revenues) * asset turnover (revenues/assets) * financial leverage (assets/equity).
Its asset turnover is around 0.40X (an improvement from the beginning of the decade) and its net margin is hovering around 22.45%. Multiplying these together we get ROE of a little over 16% for Singtel. We can see that if a firm adds more leverage, it is basically adding more business risk in exchange for magnified returns. Not necessarily a bad thing, but (like most things in life) it's usually healthy only in moderation.
AT&T's ttm asset turnover is slightly better than Singtel's at roughly 0.43X, but its margins are miniscule in comparison, barely touching 9%. Despite utilizing roughly twice the leverage, it can't seem to achieve higher returns on equity than Singtel, though.
Verizon's asset turnover is the best of this telecom trio, coming in at roughly 0.55X. Like AT&T, however, its margins are relatively thin compared to Singtel, at around 13.63%. Then there's the issue of leverage. Verizon's ttm financial leverage ratio sits at a whopping 13.12X, which explains the outrageous return on equity of over 100% in the earlier chart. To put things in perspective, if Verizon carried the same leverage ratio as Singtel, its ROE would be more in the 13.50% range.
Balance sheet balancing act - free cash flow helps a lot
While Verizon has recently been utilizing leverage as if it's a bank, it also gushes cash flow. Much of its large debt load can be attributed to its $130 billion buyout of the remaining stake of its U.S. wireless business from Vodafone (NASDAQ:VOD).
While debt was piled on, it also enabled the company to keep 100% of its free cash flows from wireless going forward. As long as it eventually normalizes its balance sheet, this was likely a pretty smart move, especially because of the cheap cost of debt in the low rate environment.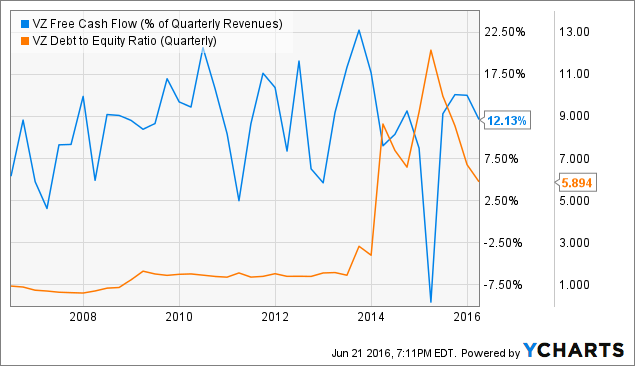 VZ Free Cash Flow (% of Quarterly Revenues) data by YCharts
Still, the balance sheet took a hefty hit, and now Verizon needs to focus on paying down its debt while maintaining its highly capital-intensive business. A delicate balancing act going forward when also factoring in the added cost of distributing increasing dividends. This added debt pile is the primary source behind the pop in leverage. It's likely the root cause behind the artificially boosted ROE and ROIC over the last couple of years as well.
AT&T's free cash flow from sales has dampened down a little bit recently, but it's less burdened by debt when examining its capital structure in relation to Verizon. It's also landed more growth with its expansion into Mexico after its purchase of DirecTV.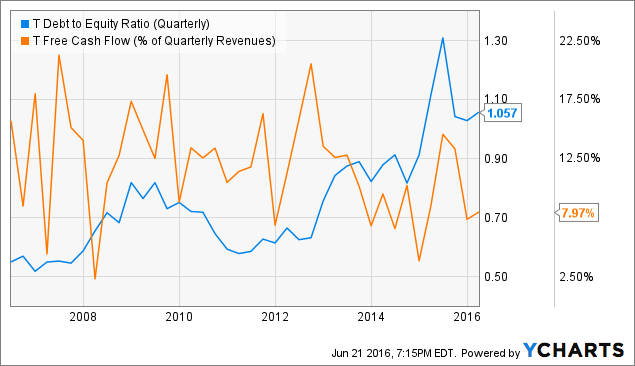 T Debt to Equity Ratio (Quarterly) data by YCharts
It's still second rate to Singtel, however, a company that converts a double-digit amount of sales into free cash flow, often at a higher rate than even Verizon after its Vodafone buyout.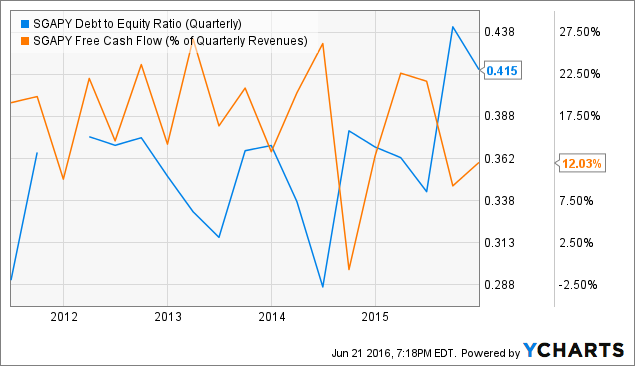 SGAPY Debt to Equity Ratio (Quarterly) data by YCharts
It's also the most conservatively financed of the three telecoms. While AT&T and Verizon barely cling onto their investment grade credit ratings, Singtel maintains its A+ credit rating from S&P and its Aa3 rating from Moody's.
Singtel currently pays a dividend of around 4.31% - in the middle of the pack yield-wise compared to AT&T and VZ. It also carries a higher valuation.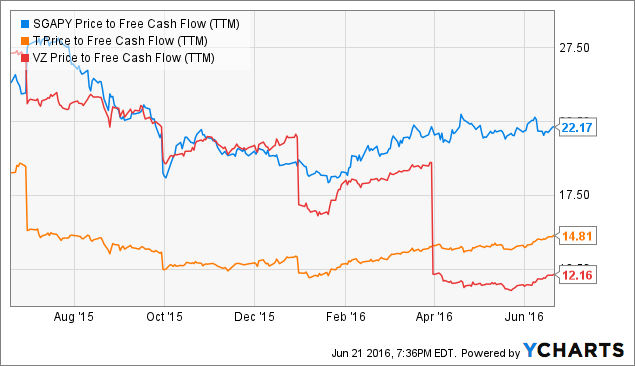 SGAPY Price to Free Cash Flow (NYSE:TTM) data by YCharts
I'd argue that it deserves to be valued more highly, too, but I'd also feel more comfortable buying into the company in the 14-16X free cash flow range.
Conclusion
Singtel isn't a household name in the States, but I think it should at least be considered a legitimate contender for telecom investment dollars. If we adjust Verizon's capital allocation ratios to account for its extensive use of leverage, I'd say Singtel has the most efficient management. It's able to earn excess returns, all while remaining much more conservatively financed than the more popular U.S. telecoms. I also think operating in Singapore with a dominant marketshare and lower corporate taxes is a huge advantage.
It also provides investors with lower-risk exposure to rapidly growing emerging and frontier markets. This could also turn against the company due to negative currency fluctuations, but those tend to even-out over longer time periods. The dividend also fluctuates for U.S. investors, so many might want to continue to flock to the more predictable and ever-rising dividends of T and VZ shares.
For those who don't mind more volatile dividend payments and are looking for a growthier option abroad, I think Singtel fits the bill for further research. It also helps that it's in an overall market that appears to have much more attractive prospects than the S&P 500 going forward, too. It's under-followed and probably under-owned in relation to shares of T and VZ, so it fits the "fish where others aren't fishing" description nicely as well.
If you enjoyed this article and would like to receive further updates and articles in the future, please feel free to hit the "+Follow" button at the top of the page by the author's name.
Disclosure: I am/we are long T.
I wrote this article myself, and it expresses my own opinions. I am not receiving compensation for it (other than from Seeking Alpha). I have no business relationship with any company whose stock is mentioned in this article.
Additional disclosure: Articles I write for Seeking Alpha represent my own personal opinion and should not be taken as professional investment advice. I am not a registered financial adviser. Due diligence and/or consultation with your investment adviser should be undertaken before making any financial decisions, as these decisions are an individual's personal responsibility.
Editor's Note: This article discusses one or more securities that do not trade on a major U.S. exchange. Please be aware of the risks associated with these stocks.