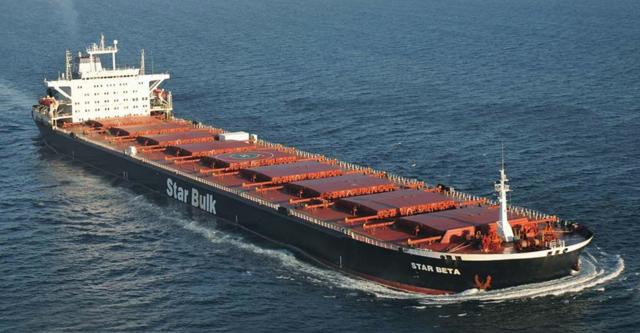 Overview
Star Bulk Carriers (NASDAQ:SBLK) is a dry bulk shipping pureplay, with 64 owned vessels currently on the water, 6 long-term chartered vessels, and 5 remaining newbuilds (3 of which will be chartered/leased). To cope with horrendous market conditions and a declining balance sheet, SBLK has sold off over a dozen older vessels and around half of their planned newbuild fleet over the past year.
Unfortunately these fleet sales were at bargain basement prices and coupled with the operational losses, SBLK stock has declined by nearly 80% over the past year (roughly in line with peers). SBLK has not issued fresh equity since May 2015 (at $16/sh), but I believe a serious dilution is just around the corner and that restructuring efforts are likely behind the delayed Q1-16 report.
SBLK has approximately 44M shares outstanding for a market capitalization of roughly $145M following the latest 1-5 reverse split. This analysis will discuss the current equity gap and likely restructuring events. Other firms in this sector which have undergone similar restructuring efforts and/or bank renegotiations include Genco Shipping (NYSE:GNK), Eagle Bulk Shipping (NASDAQ:EGLE), Safe Bulkers (NYSE:SB) and Scorpio Bulkers (NYSE:SALT).
Crushing Market Conditions
Unfortunately the orderbook was so massive that rates have remained between mediocre and horrendous from 2011 through 2015. There was a light at the end of the tunnel during 2012 and 2013, but a private equity-led building boom led to another sharp crash during 2015. Current prospects are very bleak and even the most bullish supply/demand projections show a dismal market through late 2017.
The Baltic Dry Index ("BDI") is a formulaic metric used to track the spot rates of the larger sizes of dry bulk vessels including Capesize, Panamax, Supramax, and Handysize. Collectively, this index includes vessels which carry from 15K tons to 200K tons of cargo each and is representative of general market conditions. Generally speaking, the majority of firms require a BDI of at least 1,000 just to be cash flow breakeven. It takes a BDI of 1,500 to 2,000 to cover depreciation and a 2,500+ to produce any reasonable level of investment return. As the below Bloomberg chart illustrates, the last 5 years have been dismal. The past two years have been nothing short of horrendous.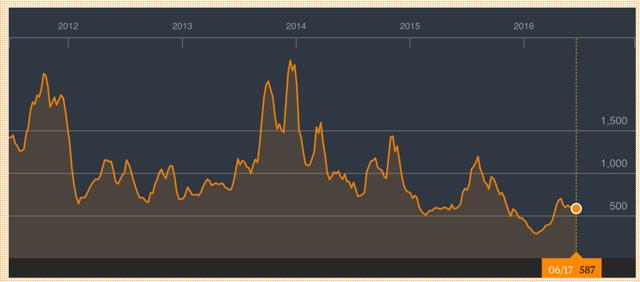 Star Bulk was both an original casualty of the dry bulk boom-and-bust and was subsequently involved in the major PE investment boom, which occurred from 2012-2014. The latest 1-5 split is their second reverse split following a 1-15 move in mid-2012. To illustrate how far SBLK has fallen, in 2008 the stock traded above $1,000/sh, and in 2010 the stock traded over $200/sh. As recently as late 2014, SBLK traded for nearly $75/sh.
Recent Financial Developments
The historical financial destruction at SBLK can be tracked through their annual reports. However, since their Q4-15 report, issued on 29 February 2016, SBLK has not released any direct PR updates, with the exception of a one member change to the board of directors. SBLK did release a new investor presentation in March 2016, which included some updates on order book shifts, but the latest financials available are only valid through 31 December 2015.
Despite the lack of public updates by SBLK, there have been a few 3rd-party confirmed vessel transactions, including the sale of a 1998-built Handymax for $2.3M. Following the latest sale, the company only has two vessels older than 2000-built, both of which are from 1999. Their 1999-2001 vessels are barely worth above scrap value on the secondary market, so I believe it's likely for these 8 remaining vessels to be scrapped over the next 6-12 months if rates fail to markedly improve as the current market is below operational breakeven.
Fleet Valuation Update
The premium source for current market valuations for various shipping assets is VesselsValue.com. Any serious large-scale investors should consider a membership to get the latest data in a rapidly changing industry.
Their latest report on the SBLK fleet is included below, which adjusts for some recent sales transactions, newbuild cancellations, and newbuild deferrals to bareboat contracts. The remaining live fleet is worth approximately $786M and the two remaining newbuilds are worth approximately $73M (vs. the $108M that SBLK originally agreed to pay).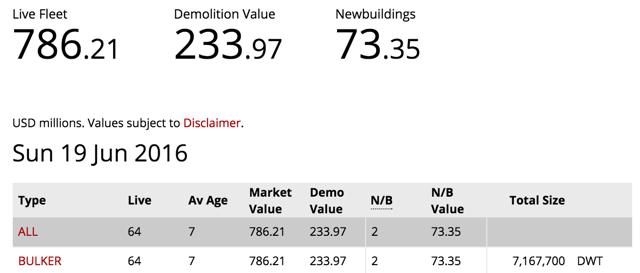 Balance Sheet Overview
As of Q4-15 figures, SBLK had $767M in net debt and had remaining newbuilding liabilities of $393M. In March 2016, as per the latest presentation, SBLK only had $48M remaining due through 2016, followed by $113M in 2017 and $74M in 2018, but it's unclear how exactly the modified bareboat charters (lease agreements) have further shifted these liabilities. SBLK has also received approximately $40M from recent vessel sales in addition to $207M in proceeds from early 2016.
Altogether, I estimate pro forma net debt before 2016 operating losses to be around $760M. This compares to a fully delivered fleet valuation of $860M, which leads to a net debt-to-assets ratio ("D/A") of around 88%, which is an improvement from last quarter, but still places SBLK in 'crisis mode.'
Equity Gaps
If SBLK burns $50M during 2016 and banks demand 75% D/A prior to waiving covenants, then SBLK has an equity gap of approximately $165M just through the end of 2016. This doesn't bode well compared to the current market capitalization of only $145M. Raising enough equity at current market prices would require a dilution of over 50% to current shareholders. If we assume another $40M burnt during 2017, then SBLK might have to raise over $200M, or a dilution of nearly 60% to current shareholders. Since major equity raises typically require at least a 10-20% discount to recent trading ranges, SBLK would be lucky to sell new shares for anything above $2.50/sh. At $2.50/sh, the dilution would be 65%.
SBLK's forward net-asset-value ("NAV") assuming a $50M cash burn during 2016 is approximately $50M, or $1.14/sh. If banks didn't demand a fresh equity raise, the D/A would hit mid-90% by 2017 and SBLK might even be underwater if vessel values decrease further. There's no rational solution to refinance or amend SBLK's loans without a significant equity raise.
Cash Burn Levels
The following table shows the time-charter-equivalent ("TCE") rates and Star Bulk Carriers' corresponding operating cash flows during each quarter of 2015. Cash flows are poised to get even worse during 2016 and 2017 as any gains in operational efficiency have been offset by bareboat lease obligations.

The market rates during both Q1-16 and Q2-16 were far lower than anything seen in 2015, so 1H-16 is already locked as a steep negative. Rates for 2H-16 remain to be determined, but based on the current trajectory, I'm expecting a cash burn of $40-$50M for SBLK during 2016. The comparison across peers is included below to show how Q1 cash burn in many cases was similar to the entire loss of 2015, sometimes even worse for 'outperformers' like DSX and GOGL.

The Exchange-Traded Notes (SBLKL)
The majority of this report has focused on the overall firm and prospects in relation to SBLK common shares. However, Star Bulk also has $50M worth of exchange-traded notes (SBLKL), which carry a par value of $25. The ETNs are unsecured debt, so they are extremely risky at this point. The upside of SBLKL is that it gives Star Bulk some equity raising flexibility with the banks since the SBLKL class is absorbing the majority of the risk at this point. To illustrate, if SBLK went bankrupt at a negative NAV, the banks could theoretically get 100% of their money back and SBLKL could still end up near $0. Since $50M is unsecured, SBLK could potentially bargain for up to a 75-80% secured debt to assets and issue a smaller amount of fresh equity.
Although the overall fate of the firm matters to both SBLK and SBLKL holders, the interests are a bit opposed at this juncture. Holders of SBLKL should want Star Bulk to issue as much new equity as possible regardless of the share price and eventual dilution, whereas holders of SBLK common would want the best share price possible and the minimal amount of new equity to placate the banks so that their ownership interests are not extensively diluted.
SBLKL currently trades close to $17 against a par value of $25, which implies a yield-to-maturity of around 22-23% considering the November 2019 maturity; however, the current yield is shy of 12%, and if SBLK doesn't raise a significant level of equity there's a fair chance SBLKL could end up worthless. Overall, I expect some sort of successful restructuring and fresh equity raise, but my point is to simply illustrate that SBLKL is not a major bargain. There is significant risk here and at least some level of success is already priced in. For conservative investors, the best time to pick these notes up would be after SBLK gets their financial house in order, otherwise its just a major gamble.
Conclusion
Star Bulk Carriers is facing some major equity concerns and their banks are likely to demand a hefty fresh equity raise prior to waiving covenants or extending or eliminating amortization requirements. With Star Bulk set to burn approximately $50M, perhaps more, during 2016 alone, they are in dire straights prior to raising more funds.
The exchange-trade notes (SBLKL) are just a gamble at this point and have already priced in some degree of successful restructuring. Although the common stock, SBLK, might offer some attractive upside after the restructuring is complete, the current entity seems too risky for serious investors and even in a trading sense, there's likely to be continued selling pressure as the reverse split takes effect and the new equity is raised.
This report is meant to update investors and traders on the present situation at Star Bulk Carriers and to prepare them to react accordingly once the banks have made their moves. I look forward to a fruitful discussion below.
Updated Reports
If you find my research reports helpful, please consider following me on Seeking Alpha for free access to future content. This can be accomplished by clicking on my name next to my picture at the top of the article, then just press the "Follow" button which appears on the next page.
If you desire access to the latest research, income ideas, speculative plays, and a rapidly growing community of professional and private deep value investors, we invite you to join Value Investor's Edge, a link is included to a 2w free trial for new members. Here's a link to all of our public reviews.
Disclosure: I/we have no positions in any stocks mentioned, and no plans to initiate any positions within the next 72 hours.
I wrote this article myself, and it expresses my own opinions. I am not receiving compensation for it (other than from Seeking Alpha). I have no business relationship with any company whose stock is mentioned in this article.
Additional disclosure: I am long SALT.
Editor's Note: This article covers one or more stocks trading at less than $1 per share and/or with less than a $100 million market cap. Please be aware of the risks associated with these stocks.