EXCO Resources (NYSE:XCO) has been flying high on the stock market in the past month with gains of over 115%. This massive jump in the company's stock price of late can be attributed to its restructuring efforts and moves to reduce the debt. Moreover, in the first two trading sessions of this week, EXCO shares have shot up almost 19% on the back of an increase in oil and gas prices.
Thus, EXCO Resources has benefited from two factors of late - a rally in oil prices and its efforts to streamline the operating and financial structure of its business. As such, we will take a closer look at both these aspects in this article and see how they might help EXCO improve going forward.
A closer look at the restructuring efforts
Late last month, EXCO reported that it is reducing its capital budget for 2016 by 69% to just $85 million. By doing so, EXCO will be able to free up more cash that it would have otherwise invested in its assets. Now, this is an important move by EXCO since the company has been facing a liquidity crunch and has a huge debt burden, and reducing its capex will allow it to focus on more important priorities.
For instance, at the end of last quarter, EXCO's cash position stood at just $46 million, while its total debt was way higher at $1.16 billion. Additionally, the weakness in oil prices and high interest expenses have taken a massive toll on EXCO's operating cash flow, which has dropped in almost half over the past year. In fact, last quarter, EXCO's interest expenses came in at $17 million, which was slightly less than a third of its overall revenue of $52 million.
Thus, EXCO Resources has been paying out substantial interest expenses owing to its huge debt and this has hurt its financial performance. However, investors should not miss the fact that EXCO has been aggressive as far as debt reductions are concerned. In fact, since the end of the third quarter of 2015, EXCO Resources has brought down its senior unsecured notes by 74%, achieving a drop of $924 million.
EXCO has managed to bring down its debt in such an impressive manner on the back of repurchases, refinancing moves, and maturity extensions, and this is leading to a drop in its interest costs, while liquidity is improving at the same time. For example, EXCO recently repurchased $14 million worth of senior unsecured notes due 2018 and $40 million worth of senior notes due 2022 for just $8 million.
This allowed the company to bring down its interest outlay by $4 million for the entire year. Hence, it is evident that EXCO has managed to repurchase its debt at distressed levels, and this is playing a key role in improving its liquidity situation. In fact, EXCO's current liquidity situation stands at $250 million, which will last for just over two years since the company expects its liquidity utilization rate to come in at $10 million each month.
Moreover, EXCO does not have to meet any debt maturities for the next two years. This means that the company has ample time to improve its liquidity position further by taking advantage of an increase in oil prices.
Better oil prices will accelerate EXCO's improvements
EXCO Resources' financials have taken a massive hit on account of low oil and gas prices. This is shown in the chart given below: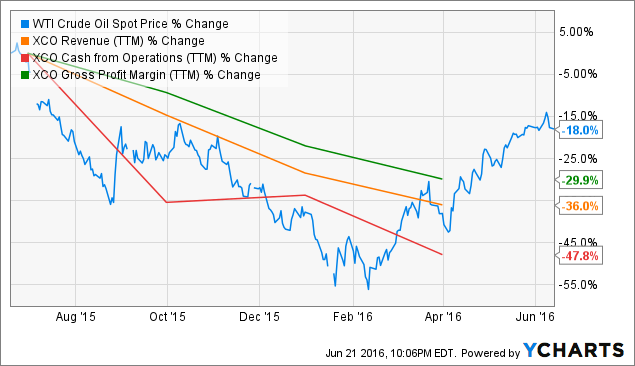 WTI Crude Oil Spot Price data by YCharts
However, as the chart given above shows us, oil prices have started recovering of late and this will allow EXCO to arrest the rate of decline in its financial performance. Currently, WTI oil trades at just under $49 a barrel, having recovered from lows of around $26 a barrel seen around five months back.
Looking ahead, it is forecasted that the strength in oil prices will continue. In fact, Raymond James and Associates forecasts that WTI oil will touch $80 a barrel by the end of 2017. The analyst firm has made this forecast keeping in mind the steep decline in oil production in the U.S. and abroad, which is moving the market toward a faster recovery in the demand-supply balance.
In fact, analysts have reduced their global oil production forecast for 2017 by almost 790,000 barrels per day this month as compared to the forecast issued at the end of last year. The following chart shows the expected decline in crude oil production across the globe going forward: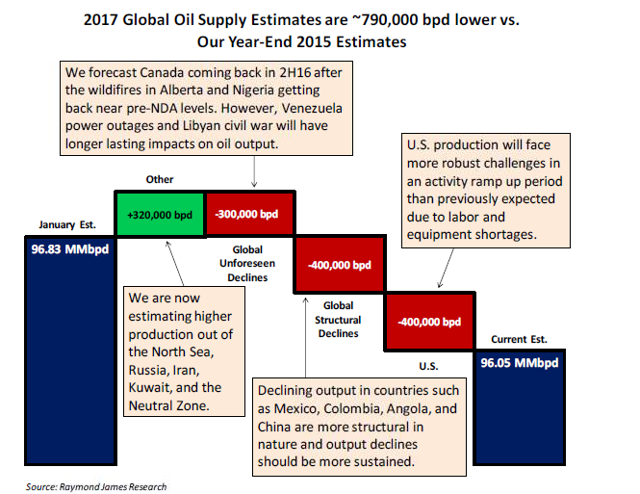 As seen above, the lack of investment in oilfield equipment and services, along with well development, will keep E&P companies from ramping production in an aggressive manner and also lead to structural declines in well productivity. Complementing this decline in production will be an increase in demand, which will create a balance between demand and supply in the end market.
According to the IEA, oil demand in 2016 will rise by 1.3 million bpd and the same rate of growth will be sustained next year. But, as discussed above, oil supply will continue to decline and this will lead to a drop in oil inventories going forward, which will ultimately bring a better balance to the market and lead to an improvement in oil prices. This will eventually allow EXCO to see better oil price realizations going forward, which will improve the company's financial metrics.
Conclusion
A combination of aggressive debt reduction and a rally in oil prices will prove to be a tailwind for EXCO Resources going forward. Thus, even after massive gains in the past month, it might make sense to continue holding the stock as there is the possibility of more upside in the future as the points discussed above indicate.
Disclosure: I/we have no positions in any stocks mentioned, and no plans to initiate any positions within the next 72 hours.
I wrote this article myself, and it expresses my own opinions. I am not receiving compensation for it (other than from Seeking Alpha). I have no business relationship with any company whose stock is mentioned in this article.