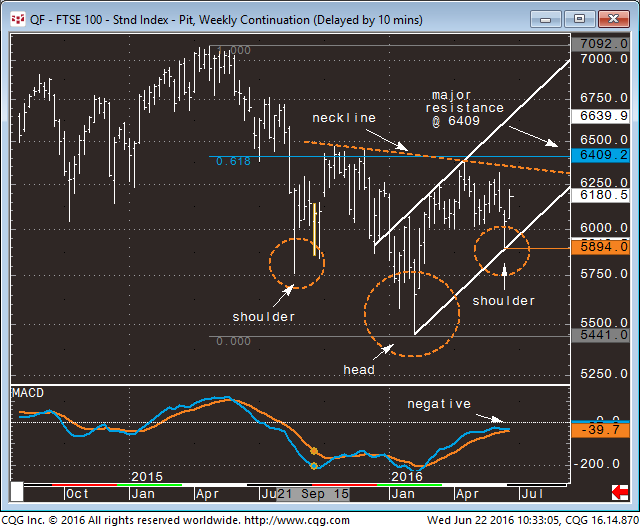 What a boring week so far.
As you can see from the UK's FTSE chart, we are just squeezing into tomorrow's Brexit decision and it's the same in all the World's markets as we await the decision of British voters whether they will leave the sinking ship that is the European Union or whether they will risk it striking out on their own - a tough call given the very turbulent economic waters the Global Economy is in at the moment.
This morning, Credit Suisse (NYSE:CS) becomes the umpteenth Bankster to issue a dire warning of the potential consequences of a Brexit, predicting 2,000 on the S&P if the Brexit goes through. Of course, we're only at 2,088 so -4% doesn't seem all that dire to me and their target is 2,150 without the Brexit so +/- 4% puts them right in-line with our Big Chart prediction.

Speaking of numbers, our Options Opportunity Portfolio exploded, jumping $13,626 (13.6%) this week as our ship came in on TLT (we were short), USO ((long)), FCX , TGT , UNG , AAPL , HOV , LL , TASR and UCO . While this was going on our hedges (TZA, SQQQ, SJB) did not suffer much damage so it's been all good this week and we are now miles ahead of our goal of making 5% per month as we began this portfolio Aug 8th of last year.
Of course it's easy come, easy go in the markets but I think we're well-balanced enough to let it ride as we're well-hedged for the Brexit and it doesn't seem too likely it will happen and, if not, we'll be loving our longs - none of which seem too overbought. UNG, of course, is our Trade of the Year and we made a very heavy play in February, playing for a July high of $8 - that trade alone is going to return $10,000 on a $1,700 bet for an $8,300 profit (488%) since our February 26th entry.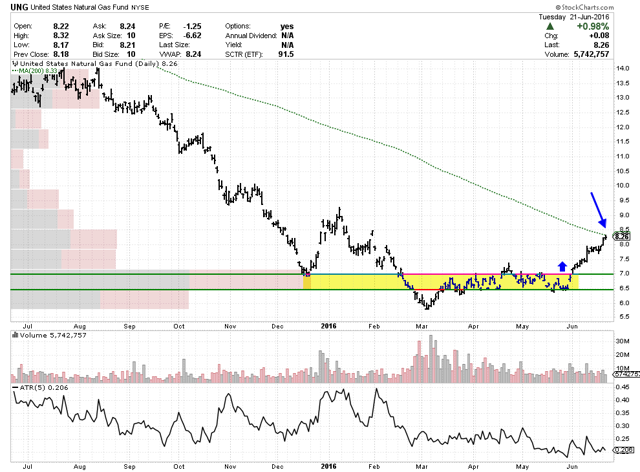 As you can see, our timing was pretty perfect and we selected a spread that was very cheap because it was 33% out of the money at $6 and the Nat Gas ETF (NYSEARCA:UNG) was going the other way when we played it - also giving us a cheap entry. At $1,700 in a $100,000 (at the time) portfolio, we weren't taking a huge risk and we could have pulled the plug with a 50% loss ($850) if the $5 line failed but, FUNDAMENTALLY, I have been banging the table on Natural Gas since the fall and our $9 target on UNG ($3 /NG Futures) hasn't changed since we developed our premise in the Fall.
Making money as a trader is all about to consistently take trades where the potential rewards far outweigh the potential risks. If you start with $1,000 per bet and limit your losses to $200 and aim for gains of $500-$1,000+ you don't even have to be right 50% of the time to make some very good money. When you do happen to get things right (the way our OOP did this week) and go on a winning streak - all those positive reward/risk ratios kick in to produce some outstanding returns (ie. 13% in a week).
Obviously, we don't make 13% every week but it's a lot easier to average 5% a month when you are set up to allow yourself to have weeks like this, isn't it? As the OOP is a teaching portfolio, we employ several basic types of option strategies to leverage our investments and to hedge our positions. As a rule of thumb, we put about 1/3 of our gains back into protection and, just this Friday, we added the following hedge on the Russell Ultra-Short ETF (NYSEARCA:TZA) ahead of the Brexit (as noted in that morning's post):

We were more worried about a Brexit at the time and this hedge pays back $15,000 if TZA takes a dive and we're on a very short time-frame but it only cost us $2,550 to buy that $15,000 insurance policy and that insurance gave us the confidence to hold those OOP longs over the weekend that led to $13,000 worth of gains this week - that's what I call a good investment!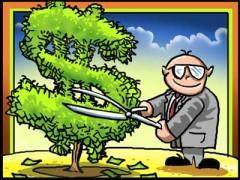 Having the hedge allows us to let our profits run on the long side and, as you can see, we're only down about $165 so far and, if the market doesn't collapse first thing next week (post-Brexit), we'll simply kill the trade and recover most of our money - as it's an insurance policy we no longer need. Hopefully, we'll still have our long profits and our net upside is still fantastic.
Hedging is GOOD! Hedging keeps you balanced and hedging keeps you sane and hedging can be the difference between watching your investment portfolio grow consistently over time vs a lifetime of stress and worry about the daily, weekly, monthly, quarterly and yearly fluctuations in the market. Learn to take control of your trades - if not using our "Be the House - NOT the Gambler" system, then find something that does work for you!
By the way, the UCO trade I provided in that January 20th Forbes interview is on track to make $3,950 in profit (376%) at July expirations. These things aren't flukes - you can learn to do it too!
Disclosure: I am/we are long USO, FCX, TGT, UNG, AAPL, HOV, LL, TASR, UCO, TZA.
I wrote this article myself, and it expresses my own opinions. I am not receiving compensation for it. I have no business relationship with any company whose stock is mentioned in this article.
Additional disclosure: Positions as indicated but subject to RAPIDLY change (currently mainly cash and an otherwise bearish mix of long and short positions - see previous posts for other trade ideas). Positions mentioned here have been previously discussed at www.Philstockworld.com - a Membership site teaching winning stock, options & futures trading, portfolio management skills and income-producing strategies to investors like you.