This is the second of a series of articles I'm writing in response to a growing number of my followers who mentioned the success they've had investing in ETFs that primarily trade and invest in a diverse portfolios of preferred stocks. Although these funds primarily invest in fixed-income preferreds, their distributions are not fixed, which initially, I must confess, discouraged me from investing in them. In addition, I didn't like the idea of management fees, which I felt diluted my gains, and the fact these funds were leveraging my money, when I could do leveraging on my own when directly investing in and growing my own preferred portfolio.
However, these funds did appear attractive, and I considered adding several to my primarily preferred portfolio as a way to further diversify and to add a bit of safety, which many of my followers are certain I need. However, my first review did not quite come out as I had expected. As far as I'm concerned, iShares US Preferred Stock (PFF) did not live up to my expectations. Hopefully others will, which are part of a rapidly expanding list contributed by a number of my followers requesting that I review their funds as well.
Furthermore, I have not, and will not, cherry-pick the funds I review. I've made a list of what I found as I searched them out, and will follow it religiously. Because I have no experience with these funds or the companies that control them, I have no idea as to what my research will uncover. I do the research as I write.
According to Investopedia:
An ETF, or exchange-traded fund, is a marketable security that tracks an index, a commodity, bonds, or a basket of assets like an index fund. Unlike mutual funds, an ETF trades like a common stock on a stock exchange. ETFs experience price changes throughout the day as they are bought and sold. ETFs typically have higher daily liquidity and lower fees than mutual fund shares, making them an attractive alternative for individual investors.

Because it trades like a stock, an ETF does not have its net asset value [NAV] calculated once at the end of every day like a mutual fund does.

An ETF is a type of fund which owns the underlying assets (shares of stock, bonds, oil futures, gold bars, foreign currency, etc.) and divides ownership of those assets into shares. The actual investment vehicle structure (such as a corporation or investment trust) will vary by country, and within one country there can be multiple structures that co-exist. Shareholders do not directly own or have any direct claim to the underlying investments in the fund; rather they indirectly own these assets.

ETF shareholders are entitled to a proportion of the profits, such as earned interest or dividends paid, and they may get a residual value in case the fund is liquidated. The ownership of the fund can easily be bought, sold or transferred in much the same was as shares of stock, since ETF shares are traded on public stock exchanges.
Power Shares Preferred ETF (PGX) was the next on my list, therefore the following description and chart: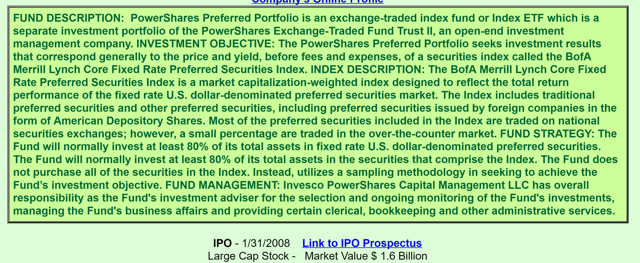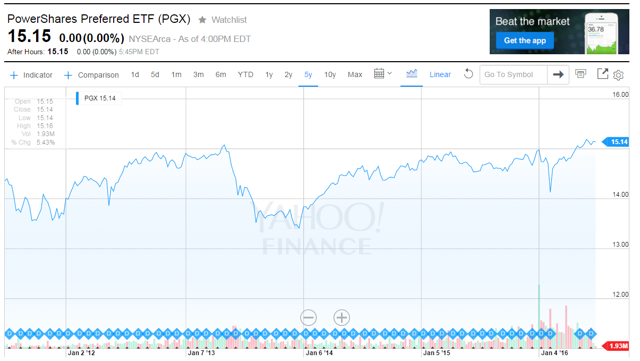 It displays PGX's performance over the past five years. Frankly, as with PFF, I am impressed. Not only had this fund paid out an unbroken series of respectable dividends, it had basically maintained its value. However, when I ran a chart of its performance from its inception on 1/28/08, it did not fare as well, losing $5.46 in value from its $20.61 price to its current $15.15. Yet, because I find it easier to assess the total amount of dividends distributed by this fund, I have decided to stay with the five-year review. I feel it's also unfair to judge the performance of this fund that was devastated by the market crash of 2008-9. For those interested I have provided a link to the above chart.
Consequently, over the past five years, PGX has distributed $4.9745* for each share invested at an approximate price of $14.30 on June 4, 2011.
*Dividend distribution figures from Dividendinvestor.com.
4.9745/14.30 = 34.78% yield over 66 months.
34.78/66 = 0.00527 X 12 = 6.32% per year yield.
Therefore, if my math is correct, the investor would have profited by a yearly dividend yield of 6.32% over the past 5+ years. Respectable, but not earth shattering; yet, it's relatively of limited risk and the need for careful and constant monitoring.
However, over the life of the fund, the figures have not been as kind, considering the $5.46 loss from its price at inception. Obviously, these figures will not be exact, but for our purposes, let's assume that the amount of yearly dividends remained constant. According to Yahoo's interactive chart, this fund was initiated on January 8, 2008 at a price of $20.61. As of yesterday's close, June 21, 2016, its price was $15.15.
20.61 - 15.15 = 5.46 lost since inception.
4.9745/66 = 0.0754 per month per share dividend received.
9.416 (years) or 113 (months) X 0.0754 = $8.52 total dividends.
8.52 - 5.46 (Lost) = $3.06 total gain over 9.416 years
3.06/20.61 (price) = 14.85% yield over 113 months.
14.85/9.416 (years) = 1.58% per year yield.
Not a very impressive profit over the life of this fund thus far. However, the individuals profit or loss will primarily depend upon when he entered the fund and at what price he bought in at. Had he bought in low, say in March 2, 2009, at the very bottom, his gains would be impressive; however, had he bought in at inception, his gains were certainly nothing to brag about, considering during that time, had he invested in the S&P 500 his gains would have been substantial, as displayed below: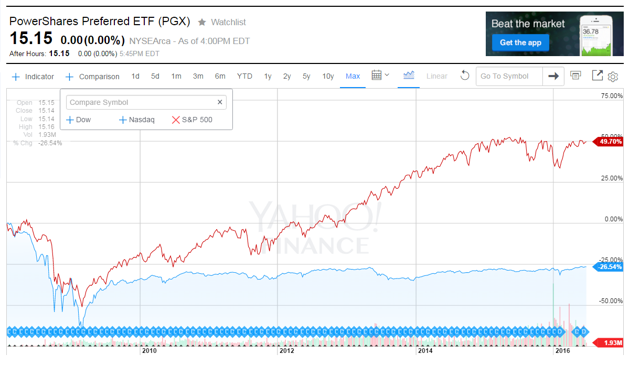 In conclusion, if my calculations are correct (Please review them carefully to determine if any were made in error, and the wrong conclusion was consequently arrived at.), this has not been a good investment had you bought in at inception. In fact, the success of your investment is absolutely determined by the time you bought in and the price you paid for your shares. Therefore, I remain unconvinced at this time that an investment in this fund is a wise decision. However to be completely, let's review the following graph of PGX performance over the past 5 years in relation to the S&P 500.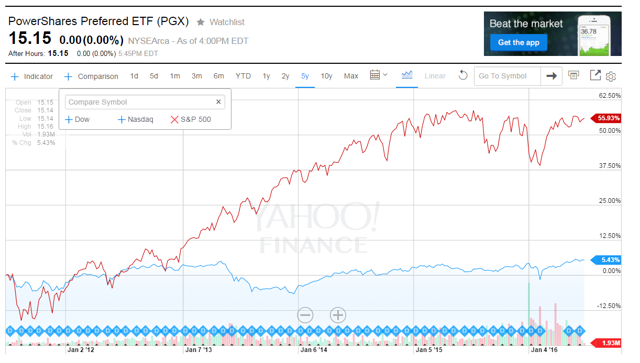 Frankly, another disappointing, sub-par performance.
However, this is the second fund I have investigated thus far. Before I reach my final conclusion, I will do the same for a number of other funds I have already researched the names of: Power Shares Preferred ETF (NYSEARCA:PGX), Global X SuperIncome Preferred (SPFF), PowerShares Financial Preferred Portfolio (PGF), Market Vectors Preferred Securities ex Financials (PFXF), SPDR Wells Fargo Preferred Stock ETF (PSK), PowerShares Variable Rate Preferred Portfolio (VRP), iShares International Preferred Stock ETF (IPFF), John Hancock Preferred Income Fund II (HPF), First Trust Preferred Securities and Income ETF (FPE), Flaherty & Crumrine Total Return Fund (NYSE:FLC), Flaherty & Crumrine Preferred Securities Income Fund (NYSE:FFC), Flaherty & Crumrine Dynamic Preferred & Income Fund (NYSE:DFP), and Flaherty & Crumrine Preferred Income Opportunity Fund (NYSE:PFO).
Disclosure: I/we have no positions in any stocks mentioned, and no plans to initiate any positions within the next 72 hours.
I wrote this article myself, and it expresses my own opinions. I am not receiving compensation for it (other than from Seeking Alpha). I have no business relationship with any company whose stock is mentioned in this article.